If you've ever downed 1L of beer at a German beer garden and then thought, "I wish I could have two more liters of beer and not have to order it", Deutschland beer hall and sausage den Bavaria Bierhaus has you covered via astoundingly large 3L vessels, served in a two-story mansion outfitted with furniture shipped from and built in Erding, Germany.
Floor 1: Basically a big, long, beautiful bar with entrances -- South William St and Stone St -- on both ends.
Floor 2: Same light-wood and tavern-y stylings, but this floor comes with some added table seating, an electric fireplace, and a giant mural of Erdinger Brewery on the wall.
They've got a special relationship with Erdinger, so they've got a robust selection, including the Ur-Weisse and Hefeweizen Dark. They've also got 10+ more German brews on tap, PLUS some lesser knowns by the bottle (Verige Classic, Schonramer, Leipziger Gose...). Oh yeah, and that one on your right... that's a liter.
You're going to want to be very careful with this one.
You can be less careful with their shotskis though. Yeah... they've got those, too.
The food comes from Chef John Vaughan, who's worked everywhere ranging from P.J. Clarke's to The Water Club to Central Park Boathouse. His menu's littered with German standards like a huge, chewy, salty pretzel served with mustard and beer cheese -- the indisputable king of cheese spreads.
The Wurst Sampler? Weirdly, it's actually kinda the... best. You get to choose three from a weiner selection that includes grilled Schaller & Weber knockwurst, bratwurst, Weisswurst, and the beef-and-pork-combining gerauchert.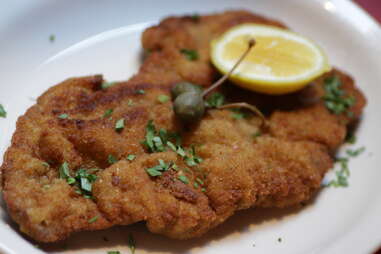 And because man cannot live on giant pretzels and platters of sausage alone, they've got main courses like this huge wienerschnitzel.
And for non-liquid dessert: Hazelnut Waffle Pudding (?!?) with salted-carmel and whipped cream.