From the same merry stein-men who've made the Village a trillion times beer-hall-ier with Houston Hall, Flatiron Hall is sprawling its sudsy glory over two levels jammed with old-timey Americana like antique flatirons (nice) and vintage posters mixed with German drinking ephemera like 150+ why-the-hell-am-I-not-drinking-out-of-them antique steins.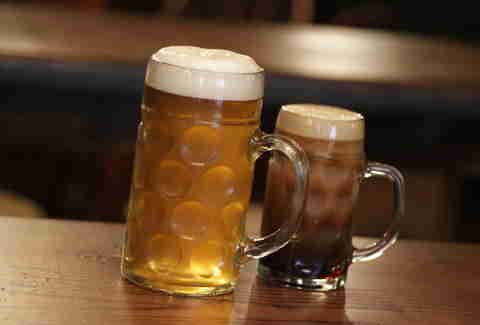 The steins you are allowed to drink from are all filled with beer made especially for Flatiron by Greenpoint Beer Works, like the "bright, floral, and coriander crisp" Blonde or the "silky and complex" Oatmeal Stout. Warning: beer descriptions do not double as pickup lines.
The top floor is a little more polished and a little less raucous than what you'd expect from a beer hall, so you might as well settle in for some eats and a cocktail.
The eats skew towards fusioned-up bar food -- see the signature pastrami egg rolls and chicken tikka masala wontons -- and although they don't have the biggest pretzel we've ever seen, their giant pretzel is damn large and aided by a cheddar ale dip.
You can move past snacks with the creamy three cheese mac w/ bacon, a smothered Steak Diane (you wish you had a steak dish named after you, admit it), and this smoked monster of a ribeye sandwich complete with caramelized onions, aged cheddar, and rosemary Pullman bread. Or Paxton bread. Nobody really can ever tell.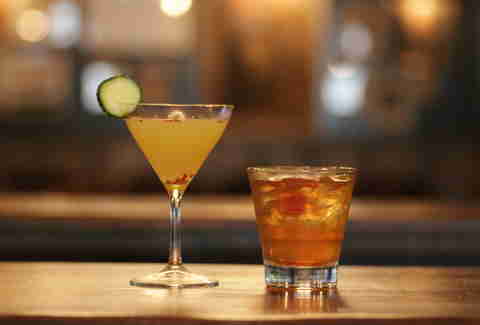 You're right -- these aren't beers. Weird. But the whole lineup is pretty legit, including the Burnham's Folly with Absolut Pears, Bombay Sapphire, cucumber, jalapeno, lemon, and orange, and the grapefruit-bitters-spiked Perfectly Manhattan, which is also what that chick at the end of the bar thinks her outfit is.
But if raucous beer-related activities are both your start and end goals, immediately head downstairs to the "beer cellar", where all the food is still available but the environs are much Hofbräu-ier, including iron chandeliers and huge, wooden, communal tables in a stonework room. Steins strongly recommended down here.