They brew beer with all kinds of crazy ingredients these days, and Dogfish Head is consistently at the forefront. But they may have outdone themselves with Garlic Breadth, a collaboration with La Birreria that'll be at the rooftop bar until it's all gone and everyone is afraid to open-mouth kiss one another.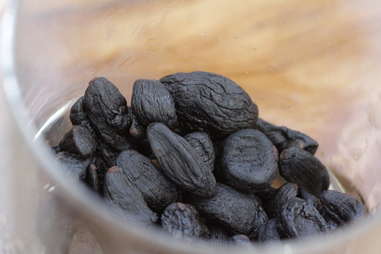 The beer in question actually uses black garlic, which is fermented and aged until it tastes kind of like a garlicky raisin (in a good way) on its own. The idea for putting it in beer got started when Dr. Patrick Lloyd of Obis One knew that Dogfish Head founder Sam Calagione was going to be at an event near his farm. Since he was aware of all the interesting things they've been doing, he thought he'd roll over and pitch him on trying out some sweet-yet-savory black garlic as an ingredient. It worked.
They don't brew with it raw though; it's dried and turned into "Black Crack".
It's mixed in with the dark malts that are used to make a London Porter, which serves as the base beer for this concoction.
They also use Columbus hops, though they are not on the forefront. Woody Harrelson knows what we mean.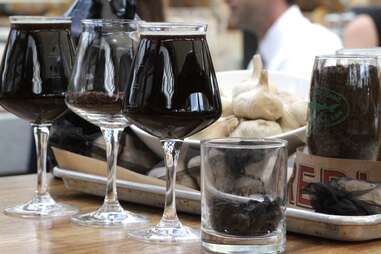 The resulting brew is a dark, roasty, chocolatey, earthy... lots other words ending in "y" porter with the garlic on "the nose and the finish". It also happens to be one of the most "food-friendly brews they've ever cooked up". Looking for a pairing? Eataly's got probusto sausage or fried shiitake mushrooms that work perfectly, unlike your subsequent attempts at making out with strangers.