Steins, 'nog, and 22k gold schnapps: how to X-mas party at Rolf's
Most people know that Rolf's is awesome, and looks like Christmas threw up in it. Some people know that it has the best schnapps menu this side of some bar in Germany that also has a robust schnapps menu. What nobody knows is what the hell authentic schnapps are actually all about... which is why we brought in Booker and Dax's Nick Bennett to explain just that. And then we took a bunch of pictures of Christmas crap.
Just head to 22nd and 3rd, and look for the 40-deep line of Christmas superfans milling about outside before they open at noon.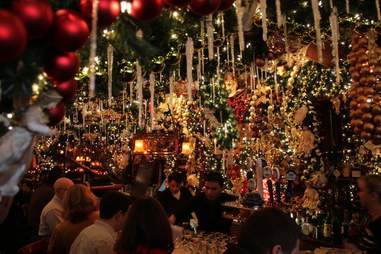 Welcome to the most wonderful place ever on 3rd Ave.
The traditional go-tos here are giant mugs of beer, eggnog, and mulled wine. We're not really here for that. But we will still drink them all.
Here's the real stuff: the best schnapps menu in the city.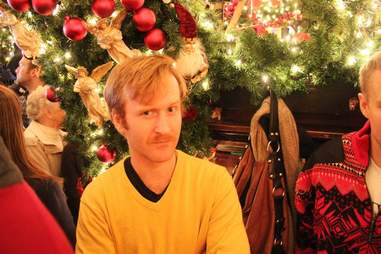 Your Schnapps Spirit Guide: Nick Bennett of Booker and Dax.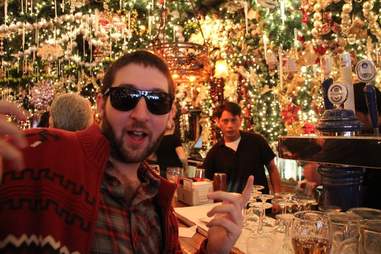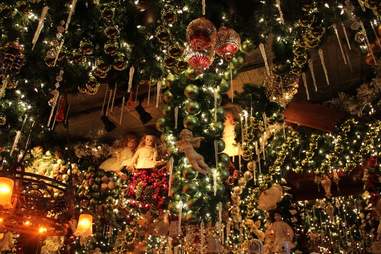 And only slightly distracted by the glorious decoration smut.
Schnapps Flight #1
Things kick-off with a flight of three schnappses (schnappi?) including Kirchwasser. Nick says, "it has a refined sour cherry taste" with just a hint of almond, which comes from "the pits left in during the distillation process."
The sniff test reveals the apfel (apple) schnapps "has a crisp aroma" that indicates a not terribly boozy, "warm and rich" taste. "Perfect for noon".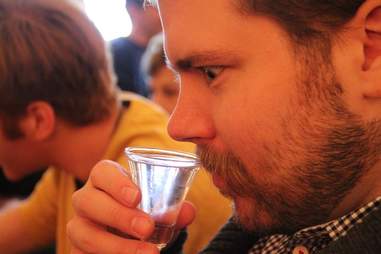 The Himbeergeist Raspberry Schnapps, though, has some serious booze to it. "If someone likes a crisp Hendrick's martini, they'll probably enjoy this", because the flavor holds a clean finish and enjoyable burn. Especially for noon.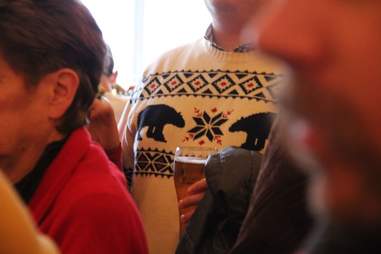 Schnapps Break #1
The first of many beautiful sweaters rolls in.
The first of many creepy dolls is spotted.
Creepy doll sighting number two. These things are literally everywhere.
Schnapps Flight #2
Four choices this time, starting with the pear. Nick's making cocktails in his head. "This would go great with a peaty Scotch".
Helbing Hamburg Hummel has an awesome name, and is made from a secret family recipe involving caraway, cumin, and fennel. As soon as you taste the real stuff like this, you realize "authentic German schnapps are generally less sweet and syrupy than their American counterparts".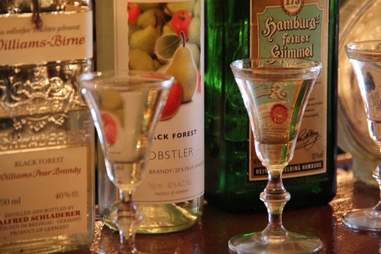 Here's pear and apple, the Boku of schnapps.
It's classified as schnapps on the menu, "but the plum is actually a brandy". It's aged in oak barrels for 8yrs and is "unbelievably enjoyable and can easily stand alone".
Schnapps Break #2
Hey Santa.
Hey actual Santa. This guy almost definitely works here, and definitely-definitely has a killer ponytail.
Time to Get Weird
And boom: you're back in college. "Boozy, thick, and heavily flavored". But with REAL gold!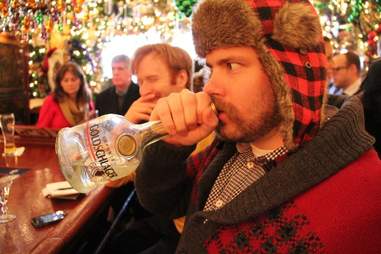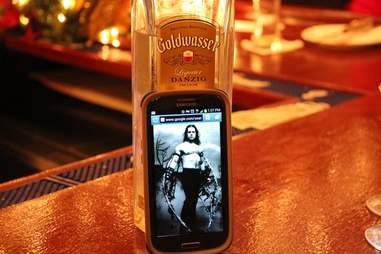 22 karat gold, "soft alcohol burn", and a "complex blend of anise and cinnamon" = one very happy customer.
Schnapps Break #3
Noontime schnapps drinkers should take this to heart.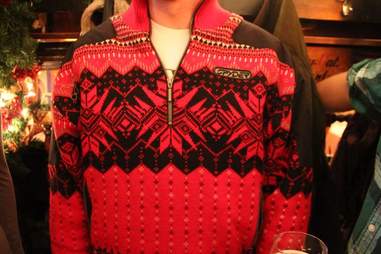 Everyone watches out for this guy's pants, as they are very tight and have spiderwebs on them.
Because Tim Tebow presumably also loves Christmas.
Absinthe Time
Even though it's not schnapps, they've got the green fairy. If you order it, the cute 55yr-old couple across the bar will ask to try it.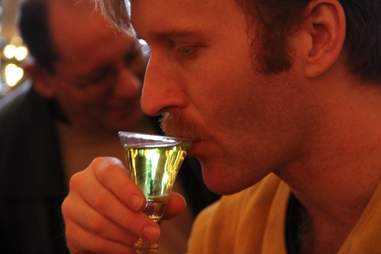 After all the drinks, we had to check in with Nick the next day to get his thoughts on this one. "Absinthe92 - Good" is what we got. And with that, we leave you with tons and tons of Christmas lights.