Brooklyn Barge Bar Is the Barge Bar You've Always Needed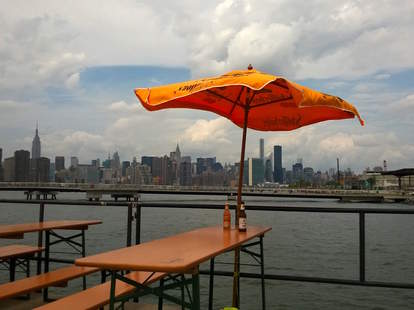 Courtesy of Brooklyn Barge Bar
Drinking by the water when it's warm out is great. Drinking on the water is better. Thus, you have every reason to be excited about a new badass barge bar that's about to take the party to the sea (or at least the East River) near Transmitter Park in Greenpoint, Brooklyn.
Earlier this year, we were teased with a few details about the aptly-named Brooklyn Barge Bar, and now, the wait for knocking back beers on the water with skyline views might soon be over. Like the-end-of-this-month soon, according to the bar's co-owner, William Drawbridge; although, he said a "July 1st-ish" opening is possible, too. And no, it's not a joke that the guy with a barge bar is named Drawbridge. But it is funny.
Open seasonally and featuring 130 seats (about 75 on the barge, the rest on a huge deck), the bar sounds reminiscent of The Frying Pan in Chelsea, where Drawbridge once worked. Expect a variety of beers on tap, including rotating hyper-local options, a pilsner, and your run-of-the-mill light beers, among others. As for food, you can expect "simple" bar grub along with a few vegan and gluten-free options. Basically, you'll come for the views and the cold beers, and the food "will be better than you expected," Drawbridge said.
And somehow, there's more. On top of beer, food, and Manhattan Instagram gold, the bar will take advantage of its waterfront location with morning yoga sessions, fishing lessons, kayak tours, kids sailing lessons, and even real classes and certifications for actual mariners in partnership with the New York Harbor School and the US Coast Guard. Oh, and historic ships will occasionally visit the spot and offer free tours, according to Drawbridge. So you can do more than just drink. Not that you have to.
"The bar and restaurant is probably the easier thing we are trying to do," Drawbridge said.
Follow us on Facebook for a steady stream of daily NYC stories, and be the first to get all the food/drink/fun/news New York has to offer.
Tony Merevick is Cities News Editor at Thrillist and sincerely believes that everything is better when drinking by the water. Send news tips to news@thrillist.com and follow him on Twitter @tonymerevick.