What happens when you equip a lucky contest winner and five Thrillist editors with LG G3 phones and the LG G Watch? A night out fueled on food, drinks, and enough shenanigans to put most people in the hospital. With five stops in some of NYC's greatest locations, these dudes (and ladies!) put this tech (and their digestive tracts) to the test. Here's what went down... besides 1980's-style jumping in unison in front of famous landmarks:
Hate videos? Check out the night in photo form below.
Our contest winner gets equipped with the LG G Watch. We hit up his device all night with clues for each stop in his bonkers journey.
And what better instrument to capture and record the night than the new LG G3?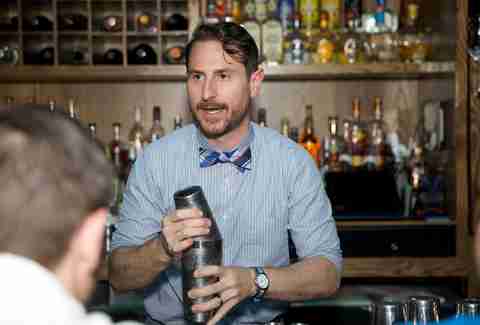 The first stop, a master mixology class with 2012 Bartender of the Year Joaquín Simó. Apparently, yes, vermouth can go bad! Who knew!? (He did.)
An equally delicious 'tail gets the social media treatment courtesy of the G3's 5.5" Quad HD Display.
Our contest winner checks the LG G3's Laser Auto Focus on one of Simó's creations.
Stop two: Duck's Eatery. It's time to wash down those drinks with a heaping side of goat neck. Yes, you read that correctly. Goat. Neck.
Two party goers take advantage of the G3's Gesture Shutter, which allows anyone to go hands-free on any selfie.
"It's not dinner without shots" -- ancient proverb we invented just now.
Stop three: The Wayland. It's time to wash down the earlier wash down with some more washing down (with drinks this time).
Staff Writer Dave Infante and New York Editor Andrew Zimmer enjoy the Gesture Shutter and each other's company, because they're friendly people and that's just a nice thing to do.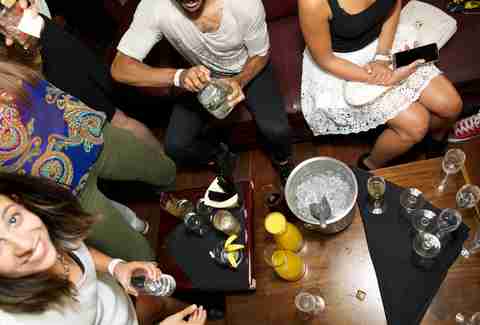 Stop four: Stanton Social for bottle service. Bottle service looks great with a 13 MP OIS+, by the way.
Once the first four bottles were gone, a fifth was "authorized". Yes, we have a guy who authorizes more bottles.
The final stop: Mozzarella Stick Town (actually Sixth Ward for beer towers and the night's final shenanigans).
Getting digits has never been easier thanks to G3's Smart Keyboard.
What better way to finish the night than our contest winner staring in bewilderment at one party goer's ability to make shirts out of money?