If you like to go out and drink lots of wine, but don't do well with the snootiness, pretentiousness, or the high prices all too common at wine bars, a new Alphabet City spot with wine poured exclusively from the tap, could be the answer to your boozy, red-stained teeth needs. 
Introducing Lois, or what could be Manhattan's first all-draft wine bar, which opened its doors Monday at 98 Avenue C (between East 6th and East 7th streets). Longtime friends Phoebe Connell and Nora O'Malley opened the bar, which features 16 wines on tap, two draft lines for beer or cider, and a mission to make tasty foods and wines more accessible with a relaxed, non-intimidating atmosphere and a focus on affordability. Getting wine by the keg lets them charge less per glass with four price points ranging from from $3-$8 for 100ml pouring to $34-$58 for 1,000ml, depending on the wine.
"When I found wine on tap, a light bulb went off and I became obsessed," owner and wine director Nora O'Malley said. "It's incredible how a simple change of format has the ability to lower costs, increase accessibility, and make even the most inexperienced wine drinker feel comfortable."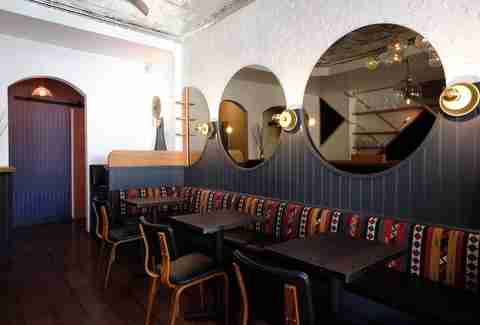 The opening menu includes several red and white wine options, but the selection will likely change all the time as Lois plans to bring in a new wine every time they go through a keg. 
They also want to take the intimidation out of pairing wine and food with their menu of several simple small plates like house-made pork rillettes, olives, bread, even a "school lunch" style striped chocolate and vanilla pudding (can we please get that on tap, too???).
Tony Merevick is Cities News Editor at Thrillist and wants a freaking wine tap in his apartment. Send news tips to him at tony@thrillist.com and follow him on Twitter @tonymerevick.