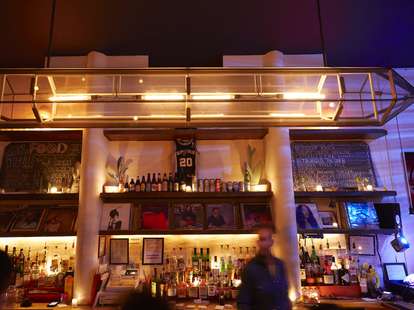 Doris

| Johnny Fogg
Doris

| Johnny Fogg
A few weeks ago, New York Magazine ran a wistful profile on renowned Brooklyn hook-up spot Union Pool which, for reasons that are still a little unclear to me, dominated my Twitter feed for most of the day. Is Union Pool a good bar? Is it an overrated bar? Are we all condemned to futile attempts at recapturing the energy of our youth while we hurtle toward death? Haha it's fun to be online with friends.
While I have no opinion on Union Pool, having never been there myself, I didn't let that stop me from weighing in. Since I am nothing if not generous toward my fellow man, I tweeted out my own patent-pending advice for finding a bar in any city in the world.
The thinking here is pretty straightforward and comes from 10 years of slinging drinks on two continents: Bartenders always know where to drink. Bartenders are also, by and large, big-hearted people who like to facilitate a good time, so provided you are polite and -- I really cannot stress this enough -- tip well, they are also quite likely to send you to a spot you'll enjoy. Now, I'm not saying they will necessarily send you to their favorite bar (it's too hard to tell after a brief interaction if someone can be trusted like that) but even a third- or fourth-favorite spot should suffice.
Now maybe you're the sort of person who feels confident they can find a good bar on their own, and maybe you're right about that. Who am I to say, I don't know your life. But this is worth trying, if only because New York has a nearly endless reservoir of hidden places that don't always show up on Top 10 lists, and just as many places that may as well be chain restaurants. Bartenders exclusively drink at the former.
Yet I'd never actually taken my own advice. So, on a recent Friday, I grabbed a friend and put my money where my mouth is, starting at a place everyone would say is cool and asking the bartender to send me to their favorite watering hole. Then asking that bartender to do the same, and so forth. Here's how the night went.
1088 Fulton Street, Bed-Stuy, Brooklyn
Doris is, by any reasonable measure, a cool bar. It's in a cool neighborhood, the friend I was with is cool, and we ran into some of his cool friends. I've had people recommend I drink there, and I've recommended it myself. However, it's time for me to admit that it's not a fun bar, for all of the same reasons that it is cool. The music is good and just loud enough that it's hard to have a conversation. The backyard is very nice in the summer, and you can never get a table there. The bathroom has selfie lighting Instagram wishes it could recreate, and it is located rather perilously down a flight of stairs. The people are attractive and this makes me uncomfortable. Nobody in their right mind likes to drink around a bunch of attractive people. It's unseemly.
So, after ordering an admittedly delicious margarita with a salted rim, I patiently waited until the cool bartender wasn't busy and asked his advice. I will admit some trepidation here, since nobody likes being wrong! This was, after all, the first test of my theory. Luckily, the only question that remains is who I will thank upon receiving my MacArthur Genius Grant, because he sent me to Tip Top.
432 Franklin Avenue, Brooklyn (four blocks away)
This is one of my favorite places to drink in Brooklyn, and where I have rung in both New Years that I've spent in New York. It's a legitimate dive, so fair warning to those who say they like dive bars but also want to order something muddled. It feels sort of like a VFW that was decorated by a teenager who really loved the Obamas. They have a beer and a shot special, although I can't in good conscience tell you to order a whiskey because the whiskey you'll get is somehow clear?
I stuck with just the beer because, at this point in my life if I am going to more than one location in an evening, and I don't want to die, I need to stick to my old friend Miller High Life. Plus, the whiskey was clear. I'm... not really capturing the magic of Tip Top here. It might be the sort of place you need to experience for yourself, but the bartenders are uniformly delightful and ours was very excited to share her own favorite bars. The integrity of the premise of this exercise was called into question when she mentioned that she generally drinks either at home in Jersey or in Midtown because her day job is at Goldman Sachs. Sensing my trepidation, she was wise and kind enough to give us multiple local suggestions, so we settled on a nearby spot called Mirrors.
284 Grand Avenue, Brooklyn (the time it takes to smoke one cigarette away)
I suspect the bartender at Tip Top thought my friend and I were fucking, because I can only describe this place as "what if a neighborhood bar also felt horny." It's great. There are a few tables, but I always recommend sitting at the bar, especially in places like this where it seems that everyone else there knows each other, so you're almost guaranteed to overhear some great gossip. It's a place where you could easily become a regular, and I'm guessing it would only take three or four visits before Andy behind the bar was handing me a beer before I hit my seat. He also pours very generously, as my friend discovered.
A warning: There is a key to the bathroom that hangs on a wall nowhere near the bathroom. I can't explain this system, only tell you about it in advance so you're not stuck standing outside a locked but empty bathroom, politely trying the door a couple times, like a complete ass. I certainly didn't do this. Once again, my question was well-received, and Andy seemed legitimately happy to chat about his own favorite spots. Looking to switch things up from my beloved Champagne of beers, he sent us to Mayflower.
132 Greene Avenue, Brooklyn (close enough to not have to use the bathroom at Mirrors)
This probably also counts as a cool bar, which I will take as a compliment from Andy. They serve a well-edited menu of cocktails and beer, they played Modest Mouse ironically, I think? There was at least one gentlemen who had a personality mustache. However, it's much smaller than Doris so fewer hot people can fit in the room, which makes it less overwhelming. I would be reasonably pleased if someone suggested this place for a first date. I ordered one of the cocktails, and it was very good, and to the best of my recollection, it was pink. My second piece of advice to you is always remember to eat dinner before you go to multiple bars in a night. This is more advice I have never actually taken myself.
Sitting at the bar instead of a table once again paid off. We had a nice chat with the bartender while he made simple syrup about what constitutes a legitimate dive bar, and what a rare and precious thing they can be. He told us his fiancé is a native New Yorker who basically grew in various bars around South Brooklyn. So, I had high hopes when he sent us to a spot I'd never heard of, that has apparently been around for years.
Nope, not going to tell you.
Here are two true things: 1) the place he sent us to was my favorite bar of the night, and 2) I will probably never go back. An important thing to know about bars, and what makes bartenders singularly good at recommending them, is that it has nothing at all to do with drink menus or decor. A bar is people, resisting all the ways the world tells us we are alone and choosing the spend time near other people. On a good night, the right bar feels like a clemency, and a way to find joy with each other. This particular bar was joyful in a way I was probably fucking up by being there. In the same way, a group of straight girls should think long and hard about making a gay bar their regular hangout, or extremely white recent transplants like myself should think about walking into any old spot like they own the place. I sincerely hope it never closes.
395 Nostrand Avenue, Brooklyn (a three-minute walk from Doris, i.e., we've come full circle)
Since I collect recommendations for five bars but decided to keep the last one a secret, I'll give you my own no-longer-a-bartender recommendation. This is a bar I've only recently started going to but it's one of those places you immediately know you'll come back to again and again. The staff is genuine and welcoming, there are plenty of seats at the bar, and it feels a bit like a hidden gem. Which, strangely enough, speaks to something I started thinking about near the end of this adventure. For all the fun of skipping from one place to the next, there's something undeniably valuable in sticking around. Sort of like endlessly swiping on Tinder because the next person might be better, you can go down a rabbit hole of places and never really feel at home. Now that I've proven to myself my theory is correct, I'm taking renewed comfort in the places that ask me to stay. If you come to The Corners and act like an idiot, please do not mention that I sent you.
Sign up here for our daily NYC email and be the first to get all the food/drink/fun New York has to offer.
Brandy Jensen is a Canadian living in Brooklyn. You can find her at your local dive bar or on Twitter @BrandyLJensen.