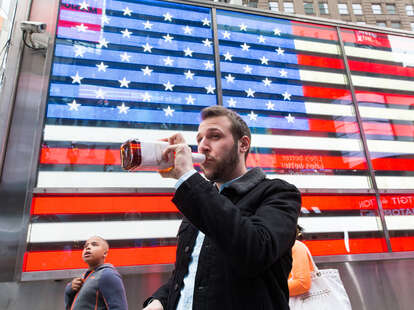 Cole Saladino/Thrillist
Cole Saladino/Thrillist
Despite my interest in shows like Downton Abbey and that "Legalize Crime" air freshener hanging from the rearview mirror of my car, I really do cherish America. Of all the laws that have been passed under the supervision of that great big bald eagle in the White House, there is one that's specifically been making alcohol-scented waves all over Manhattan. Public consumption of alcohol has been, in essence, decriminalized.
That's right, drinking (and peeing) in public will no longer land you in jail -- but, rather, only cause you the grievance of paying off a small fine to the city's finest and soberest. Of course, there's a minor catch with this whole thing: you can still get in trouble if you're caught -- as public consumption is still technically illegal -- meaning you can't be too obvious with your escapades. Exempli gratia, you really shouldn't drink in the middle of Times Square with a ton of cops watching.
Because my love of America trumps my love of laws, I decided to plow through the legal mumbo-jumbo and celebrate the decriminalization of public drinking by drinking publicly, and seeing what would happen.
My journey began within the heart of the New York City subway at Prince St. Nary one stray eye landed on the big bottle of whiskey in my hand, as most New Yorkers are used to people doing lewd and lascivious things in confined spaces. However, unlike most salacious subway-goers, I had my penis tactfully tucked away inside my pants.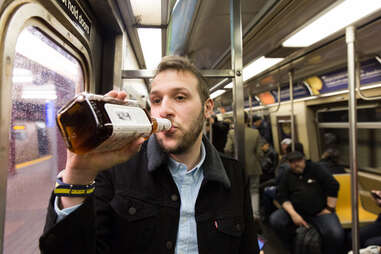 I wasn't new to openly drinking on the train; however, this was the least sneaky I'd ever been with my spirit of choice. While it took quite a while to frame up the shot, I took my first gulp of sweet, cold American justice somewhere between Herald Square and Times Square.
Times Square proved to be a tough environment for public imbibing, as the amount of cops around nearly overtook the number of Times Square Elmos. When I was sure all eyes were averted elsewhere, I took a huge swig of Ol' Papa's Sleepy Juice and gave my thanks to FDR for putting an end to Prohibition.
A Times Square Spiderman graciously allowed me to take a photo with him and shot out a fat five-roper in the face of my photographer, Cole, to celebrate the victory of decriminalized public boozing. I didn't have the heart to tell him the awful truth behind Uncle Ben's untimely death.
Oh, how far we've come! Truthfully, no one in Times Square seemed to even notice the contents of the giant glass bottle in my hand. On the other hand, this was hardly the first time I'd seen someone publicly drinking in Manhattan... so I kind of got that no one was especially impressed.
This is me drinking in front of a large building.
My photographer was a little bit more excited than I was about the notion of drinking in front of Macy's. I was born a Target guy, and I will die a Target guy.
There's a sort of opulence in drinking right in the middle of Fifth Ave, just knowing that wealthy high society snobs were doing the exact same thing indoors to a more receptive crowd. I'm just like you, rich people, except my whiskey only costs $19.
The last stop on my tour was Manhattan's historic Flatiron Building -- which the New York Tribune initially called "a stingy piece of pie." My final swig from the cheap bottle left me feeling optimistic, happy, accomplished, and free. I had conquered a New York City law in the least offensive way possible and gained a brand-new Spiderman confidant in the process.
Of course, that could be the alcohol talking.
Sign up here for our daily Thrillist email, and get your fix of the best in food/drink/fun.
Jeremy Glass is a writer for Thrillist and way less tough than he looks. Here's his twitter, do whatever you want with it: @CandyandPizza