It took a little while, and you know, surviving that cold-ass winter we had, but we've finally hit some consistently beautiful weather (look at this week!), which means it's time to get out and celebrate with drinks and food at some of NYC's many great waterfront spots like apparently everyone else did this past weekend. Check out the pics below, this is you everyday this week if you know what's good for you.
The Frying Pan
Pier 66 near West 26th

Recommended Video
This Tea Changes Color Like a Mood Ring
North River Lobster Company
Pier 81 near West 41st St

Follow us on Facebook for a steady stream of daily NYC stories, and be the first to get all the food/drink/fun/news New York has to offer.
Tony Merevick is Cities News Editor at Thrillist and can't wait to be out on the water this summer, especially on Long Island. Send news tips to news@thrillist.com and follow him on Twitter @tonymerevick.
Previous Venue
Next Venue
Venue Description
1. Frying Pan
205 12th Ave, New York, NY 10001
Located at Pier 66 in Chelsea, the Frying Pan is quite literally a bar on a docked boat. The boat is a historic 1929 lightship, and the outdoor bar juts far out into the pier thanks to a long barge. A center bar and grill serves up beer and bar bites like Pat LaFrieda sirloin burgers, pulled pork sandwiches, and garlic fries. There's a dance floor at the end of the barge, which gets more and more crowded as the sun sets on happy hour.
Previous Venue
Next Venue
Venue Description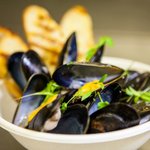 2. North River Lobster Company
Pier 81, New York, NY 10036
This floating lobster shack is perfect if you want a totally unpretentious atmosphere for drinking and eating out on the water. Docked in Midtown West, North River offers 45-minute cruises that serve great seafood -- think four different kinds of lobster rolls and a full raw bar -- as well as a solid bar menu with Mason-jar cocktails, beer buckets, and an ample selection of wine.
Previous Venue
Next Venue
Venue Description
3. La Marina
348 Dyckman St, New York, NY 10034
This multifaceted venue is a great alternative to living in Florida. You get three riverside bars, a man-made beach, and an indoor/outdoor restaurant with views of the Palisades, plus mooring services at the nearby docks, should you happen to have a boat.