Brooklyn Derby at Greenwood Park

| Steve McFarland
Brooklyn Derby at Greenwood Park

| Steve McFarland
The Kentucky Derby is the world's greatest sporting event for anyone feeling "meh" about sports. The race itself is the height of athleticism -- competing thoroughbreds' training regimens rival any Olympian's and their jockey companions are in better shape than most of us could ever dream of. But, for spectators, the first Saturday in May is all about floppy hats and mint juleps.
Why watch a bunch of sweaty dudes chasing balls for hours when you can see majestic horses gallop for two heart-pounding minutes? For those of us outside of Churchill Downs, the Derby is more about the party than the race. Saturday, May 5 is made for fashion and bourbon. Bow ties > jerseys, and silver cups > bottles of Bud all day, every day. If you can't make it to Louisville for the main event, Saratoga Springs is the next best place. And New York City is fine, too! Here are the best places to watch the Kentucky Derby in NYC this Derby de Cinco.
555 Seventh Avenue, Brooklyn
4pm-8pm
Started 15 years ago by a Louisville transplant and his two New York roommates, Brooklyn Derby has grown from a small party with friends to one of the city's most epic Derby celebrations. This year's event is sponsored by Kentucky golden [liquid] child, Maker's Mark, so you know it's the real deal. Expect a four-hour open bar, DIY hat station, live music, and a living bottle-shaped wall of mint for fresh julep garnishes. Both you and your Instagram feed are guaranteed to get turnt. Tickets start at $80 and must be purchased in advance. Hop to it.
124 West 57th Street, 29th floor
Starting at 1pm
The nauticalish lounge at the top of the Viceroy Central Park has the perfect level of yacht-swank to accommodate your big-ass hat. Southern jazz tunes will ring out all afternoon while guests will sample a series of down-home snacks like fried chicken and biscuit sliders, country ham deviled eggs, and fried pickles. Mint juleps start at $16. Bust out that seersucker -- the best dressed Derby-goer will win a venue gift card. Reservations recommended.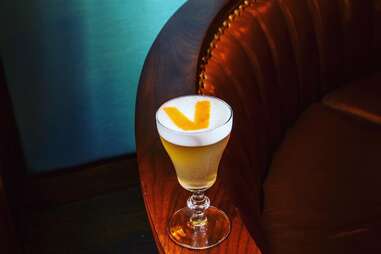 100 Third Avenue
Brunch from 2-4pm
Evening party 5pm-10pm
Why not make a whole day of the most exciting two minutes in sports? The VNYL will kick off its celebration with a "formal" '70s racetrack-themed brunch before pivoting to party time. They're trying to make memories, here, so stick to mandatory suits, dresses, and, most fastidiously, hard-bottomed shoes. (The venue, bless their hearts, provides sartorial inspo here. The bigger the hat, the closer to God, or something!) The specialty drink of the day is a "Julepirinha" -- a mint julep and caipirinha combo with a chocolate twist. Catch all the horsey glory at 6:30pm sharp on a 30-foot projection screen. RSVP early for free admission.
63 West 38th Street
3:30pm-7:30pm
Purportedly the "most unique and immersive Kentucky Derby celebration in NYC," Refinery Hotel has raised the bar for Derby parties with prices to match. Spaces throughout the hotel will be fashioned after Churchill Downs -- The Hat Box remains open to the public as an "infield experience," Winnie's Jazz Bar transforms into a ticket holders' "Winner's Circle," and the Refinery Rooftop will become a poor man's "Millionaires' Row." The $125 tickets include passed hors d'oeuvres, oyster bars, a four-hour open bar, a photo booth, a pocket square monogram station, a hat decorating station, "friendly wagering," and a best dressed contest. And, in a nod to Cinco, expect a secret "margarita speakeasy" -- location disclosed on arrival.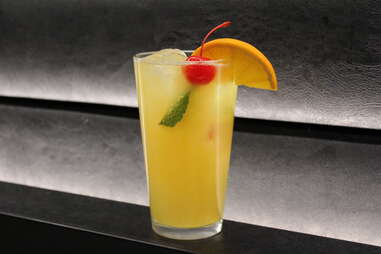 1567 Broadway
Any time
It's a classic NYC conundrum: you want to host a viewing party in your apartment, but you barely have enough space for you and your hedgehog. Hit Times Square's very own living room -- the bar at the W Hotel -- where they're adding juleps and margaritas to the menu. Cozy up with 179 of your new friends for an intimate banquette viewing experience and celebrate the winning pony under the bar's disco ball.
302 Metropolitan Avenue, Brooklyn
All day
Don't be misled by the bar's name: Extra Fancy's viewing party will be one of New York's chiller options. Kick it in the sunshine with icy Redemption mint juleps and outdoor TVs. This is one Derby-watching spot mercifully short on themes, but race day attire is welcome. Let's be real -- if you're hanging out in Williamsburg, you already own a fedora.
132 West 47th Street
Starting at noon
Can't decide between Kentucky and Mexico this May 5? Well good thing this town is big enough for the both of them! Haven Rooftop will host Derby and Cinco parties, because mixing bourbon and tequila is tops. Derby time starts at noon, complete with endless mint juleps and a big-hat contest. At 4pm, the fiesta begins, with ceviche, guacamole, quesadillas, and margaritas. Haven will screen the race on eight 55-inch TVs, and "Derby hat" is just a funny way of saying "sombrero."
Sign up here for our daily NYC email and be the first to get all the food/drink/fun New York has to offer.
Jenny Hart is a Brooklyn-based writer, cat mom, and karaoke enthusiast. Follow her on Instagram at @jennyjhart