King Cocktail tells us 7 spots to drink at this weekend
New York There's a reason Dale DeGroff earned the moniker King Cocktail; the master mixologist has tended bar at notable establishments across the country for decades (including NYC's storied Rainbow Room), and he's penned books on cocktails (the man has a James Beard Award for Chrissake). Now a liquor consultant (awesome job!) and the founding president of The Museum of the American Cocktail (awesome museum!), DeGroff has juuuust enough time on his hands to give us his take on NYC's cocktail scene, including where to go and what to get. (And if anyone wants to turn this into a crawl, feel free!)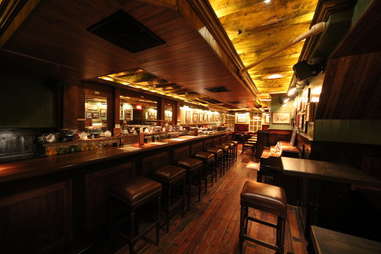 The Dead Rabbit: "This is my go-to spot -- they're the whole package, and they created a new era of cocktails. I call it the '100-year saloon', because it will always be there."
Go-to move: "If I'm on the first floor, I order a Midleton straight with a Guinness back. If I'm upstairs in the parlor, I just have an Irish whiskey."

Continue Reading
Hudson Malone: "This is my favorite NYC saloon, since it's very hospitality driven. It looks like it's been open for 50 years, even though it has only been around for a few months."
Go-to move: "A Manhattan with Bulleit Rye."
Pegu Club: "These are the best drinks in town, bar none. Audrey Saunders is a great bartender. If Audrey created it, I'm there."
Go-to move: "The Old Cuban (rum with lime juice, simple syrup, Angostura bitters, mint leaves, and Champagne)."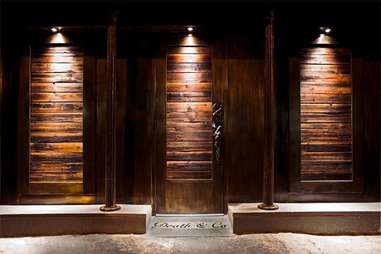 Death & Company: "All of the bartenders here have a wonderful attitude. They do unique versions of strong, stirred cocktails by taking classics and plugging in new ingredients, kind of like a Mr. Potato Head."
Go-to move: "The cocktail list is mammoth, so I just tell the bartender a spirit and let him or her take care of it. That's the way to go."


Fort Defiance: "They have a brilliant selection of whiskeys here."
Go-to move: "An Old Fashioned."
Clover Club: "The best bartenders in town work here. Everything is impeccable, and they're open to experimentation. These people are serious about their craft and approach it like a five-star chef."
Go-to move: "The Clover Club (gin with dry vermouth, lemon juice, raspberry syrup, and egg whites)."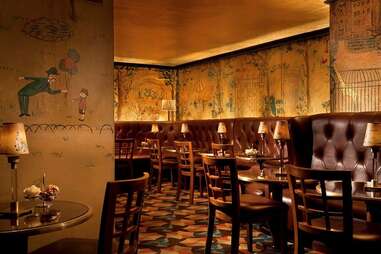 Bemelmans Bar (inside The Carlyle): "I trained the bartenders here years ago when I used to work for Rosewood Hotels. The piano player, Chris Gillespie, is spectacular and a fixture there. I also like the elegance of the space."
Go-to move: "Any of the classic cocktails on the list are spectacular, but I really like the Whiskey Smash."