A biologist, an ad man, and a restaurant manager walk into an empty warehouse in Bushwick: The beginnings of Kings County Brewers Collective sounds like the set-up to a dad joke. A newcomer to the booming NYC brewery scene, KCBC quickly established itself as a respected player in the industry. Recently a panel of judges (including myself) crowned it winner of the Best Brew of NYC in a 5 Borough Challenge hosted by Brookfield Place and Thrillist.
The fledgling Brooklyn brewery advanced through three weeks of public voting at Brookfield Place's Winter Biergarten, ultimately defeating stiff competition from Bronx Brewery, Rockaway Brewing Co., Staten Island's Flagship Brewery, and People's Choice winner Harlem Brewing Company. KCBC's Sonic Rocket IPA won our favor with its combination of balance and classic execution. In the midst of a haze craze, the beer poured clear with fresh tropical fruit aromas. Up against beers of the same style, this one stood out for daring to go back to its roots. It was an impressive victory considering the other contenders and the fact that KCBC sold their first keg barely 18 months ago.
"We all come at this from really different backgrounds," says Tony Bellis, one of KCBC's three founders, who describes himself as a service and retail industry management lifer with "day-to-day expertise." Co-founder Zack Kinney has an advertising background, and Pete Lengyel spent years in labs as a molecular biologist. Together they're a motley crew. "It's like a bad '80s movie," Bellis says. "All we need to do is have an adopted kid dropped at our doorstep: Three Brewers and a Baby."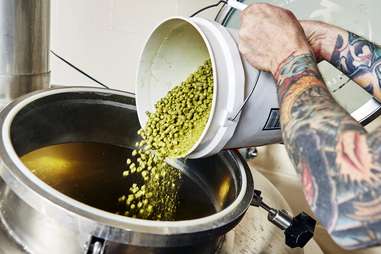 From DIYers to pros
The group met in the early 2010s through brewing clubs in Brooklyn. "We were home brewers, we all went to brewing schools, and then found each other," Bellis says. Back then, the idea of opening a brewery meant adding more work on top of already busy schedules. Still, Lengyel went so far as to ask his employer for a five-week sabbatical so he could take a brewery apprenticeship at Brooklyn Brewery. Bellis took a job driving a forklift and washing kegs at Greenpoint Beer & Ale before working his way up to lead brewer.
Soon, Bellis and Lengyel came up with a business plan and sat down with Kinney, a classmate at the American Brewers Guild in Vermont. They agreed their combined skills would make getting a brewery up and running at least a little easier. "We have this common love," Bellis says. "We all had day jobs, decided we wanted to make beer a career, took the steps to do that, and then met each other through that process and just said 'Let's do this together.' Our collective power has shown it's really good to get multiple minds involved."
Getting the team together was one thing. The next step involved finding a space where they could actually, you know, brew. Despite sky-high rents, utility costs, and the obvious space constraints that come with doing business in NYC, the co-founders were determined to set up shop in Brooklyn. They settled on Bushwick, a neighborhood with plenty of industrial spaces large enough to make beer at scale.
In the late 19th century, thanks in no small part to a large population of German immigrants, Bushwick was brimming with beer. Local demand necessitated local supply, and breweries followed suit: Around 1900, 10% of all beer brewed in America came from Brooklyn, with most made right on Brewer's Row in Bushwick.
Then came that whole Prohibition thing (coupled with a hop blight that crippled New York's crops). A few larger breweries were able to rev back to life when the 21st Amendment arrived, but even they felt the pinch of competition from the Midwest. When iconic local breweries Schaefer and Rheingold closed up shop in 1976, the historically brew heavy neighborhood ran dry of local beer. That was, until three homebrewers signed a lease in 2016.
A new Brewer's Row
The trio is proud to operate the neighborhood's first brick-and-mortar brewery in more than 40 years. "We always knew we wanted to be in Brooklyn, but we wanted something with public access, so people could drink our beer fresh from the tanks, see us, and meet us," Kinney says. "We also lucked out with a great landlord. We named our [Janiak Maniac] pilsner after him."
"I really hope we're a good business and a contributor to Bushwick," Bellis says. "It's a neighborhood that was pretty hard up economically, and a lot of great people have helped build that neighborhood into something really positive. People like Joe [Ficalora] started the Bushwick Collective. Local bars like Pearl's and Heavy Woods have been around since before we started. Places like Bushwick Starr, who decided to invest in that neighborhood before it was a hot place to invest. I just hope us moving in has helped elevate everything else great that's happening there."
Bellis, Lengyel, and Kinney agree that day-to-day business in the neighborhood makes it a great place to brew. "There's a steel company, a paper company, a plastic company, a theater, a smoke shop, and a tile company all literally on our block on Jefferson Street," Bellis says. "It's almost an epitome of Brooklyn, right down to the great street art. It's almost like an SNL sketch."
After they'd brewed their first batches, the team realized they were going to need extra hands to grow. "The only thing we really got wrong in our business plan was assuming we would only have to hire two other people in our first year," Bellis says. "We were really off."
Their hires multiplied. One, Ben Williams, who works on special projects, says he settled in with KCBC "because frankly they're a fucking good brewery." And sometimes it's just that simple.
Each founder humbly hesitates when I ask them to reveal their favorite beer. As adept as they are at making award-winning IPAs, brown ales, fruited sours, or lagers, they're still convinced they're all figuring things out along the way.
"The fact that we're trying to be as fluid as popular has made us easier to get into," Kinney says. "It's consistent with the fluidity of the craft beer scene in New York."
A clear outlook on hazy IPAs
This broad-yet-approachable strategy has helped the brewery since its founding. Kinney points to one of their earliest beers, Beach Zombie, that hit a sweet spot for beer sophisticates and mere drinkers. "It's very tart but very approachable," he says. "It's got complexity and depth, but it's fruity and light. It can be so many things at once. We're going to spin this one off going forward, too. If we can help bring people in with this beer, we're going to keep making it."
So what else is on the horizon for their beer portfolio? "The craft pilsner thing is going to take off," Kinney says. "New York, for whatever reason, has glommed onto it faster than other markets, and we think that's so cool."
The brewers have plans for further expansion. They're setting up a lab in the brewery, collaborating with beer makers in London, and looking to work with more non-brewers, a la their joint imperial stout with Spectrum Coffee. And they're planning for the decades ahead -- all while still shy of KCBC's second birthday.
"New York is an enthusiastic, competitive, expensive, confusing, supportive market," Kinney says. "We're just trying to become a brewery that operates in Bushwick for the next 30 to 40 years."
Sign up here for our daily NYC email and be the first to get all the food/drink/fun New York has to offer.