In addition to the knishes, the skate rats, and the regular rats that mark the area, the LES is also a sea of going-out possibility. But you can't just walk in anyplace and assume that someone isn't going to grind on your femur. You have to choose wisely. Which is why you need this -- from gritty music venues to tiny burlesque haunts, these are the 18 best bars on the Lower East Side.
71 Clinton St
From pork riblets to wings to the whole damn bird, there're plenty of options at this Korean-style fried chicken joint, but the real move is the chicken thighs with a side of fish sauce and a cheap beer. Trust us.

123 Rivington St
Get a PBR for less than a flannel you'd find at thrift store, then promptly go buy a flannel at a thrift store with the money you saved because that's what everyone here will be wearing. The couches are super old and kind of gross, and you probably shouldn't sit on them.
Best bar with an ice cage: Mehanata
113 Ludlow St
You've probably walked past this place a gazillion times without knowing it. Or at least three. Hidden behind a creepy black corridor, behind a sketchy-looking door, behind an even-sketchier-looking human, is the most insanely loud, colorful, and bizarre bi-level Bulgarian party you've ever been to, assuming this is your first Bulgarian party. The vodka ice cage is in the basement. Don't ask questions.

Best bar that's actually a lot of fun: No Fun
161 Ludlow St
Come to booze and dance in the back with sexy LES types who probably live nowhere near there, then become distracted by the surprisingly good Mediterranean tapas. The name is inspired by a sign the previous tenant kept outside that read "Fun", and this Stooges song. The more you know!
Best bar with above-average beer and tater tots: Marshall Stack
66 Rivington St
The beer, tots, and grilled cheese might be tasty, but don't say we didn't warn you that the quaint kitchen is also called "a toaster". Turning things up to eleven (HILARIOUS POPULAR MOVIE REFERENCE!) is all the eponymous amp-friendly decor.

131 Chrystie St
It's pretty much what you'd expect from a subterranean grungy dance dive with taxidermy aplenty and a disco ball. The drinks are cheap and the crowd, which's almost too cool for school (but not quite... they likely all have at least bachelor's degrees), has no problem sweating all over each other as the DJ spins sweet '90s jams. When people love this place, they LOVE it.
217 E Houston St
Expect well known acts and those just about to break. The Strokes got their start at this intimate, dive-y venue -- the ex-booker is the band's manager. Movin' on up, ex-booker! And because there's a separate mini-bar in the music room, it's always easy to get a beer.

121 Essex St
There's zero affectation, a pool table, and plenty of reasonably priced whiskey. Needs = satisfied.
Best bar for groups: Loreley
7 Rivington St
This mellow lil' beer garden has a tucked-away outdoor seating area, gigantic brews, and normal-sized, but highly enjoyable, German fare. And it's great for groups -- bring your own or just count on getting friendly at the communal tables.

Best tiny bar with burlesque things happening: Nurse Bettie
106 Norfolk
Inspired by "Queen of Pinups" Bettie Page, Nurse B's a sexy little spot with tons of character and free live burlesque every Wednesday and Thursday. The nightly happy hour offers $4 cocktails and draughts, which are an even better deal when you realize you're not paying for the show.
Best bar for picking someone up: Spitzer's Corner
101 Rivington St
Expect to be sardined here most nights of the week. Packing into the long wooden communal tables, though, only makes it easier to talk to the stranger you want to bang later after you've had your fill of this impressive beer list.

Best bar for cocktails and po' boys: Black Crescent
76 Clinton St
[Ed Note: Sadly Black Crescent is currently closed due to a fire, they have various fundraisers around the city to help rebuild their excellent bar, follow them on Facebook for updates.]
The right amount of attention is paid to every single detail here, from the hyper-authentic po' boys to the bathroom walls hand-papered in Angostura bitters labels. Oysters and cocktails of rum, tequila, and more are as fresh as they come, and although relatively new, this place is certainly setting itself up to be an old staple. Oh, and it's on our list of the 21 best new bars in the whole damn country.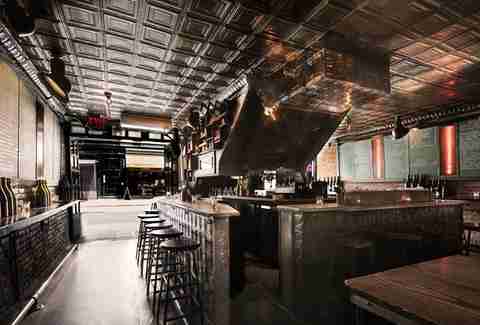 247 Broome St
Dimly lit Ten Bells is more well rounded than most wine bars -- sure, there's an extensive list, but also shrimp nachos and a daily oyster happy hour. The back is great for groups, but the bar is equally excellent for a date. Chicks dig this place, pretty much as a rule. Proof: I am a chick, and I dig this place.

Best bar for hula dancers, dumplings, and cheetah-skinned pool tables: 169 Bar
169 E Broadway
On the edge of Chinatown, Charles Hanson's 169 Soul Jazz Oyster Bar is a 1970's New Orleans-themed (because that's a thing) watering hole that has all of the above plus billiards, an oyster bar, blended cocktails, and a genuinely jolly crowd. It's campy and rowdy and you can even text the kitchen your dumpling order until 4am.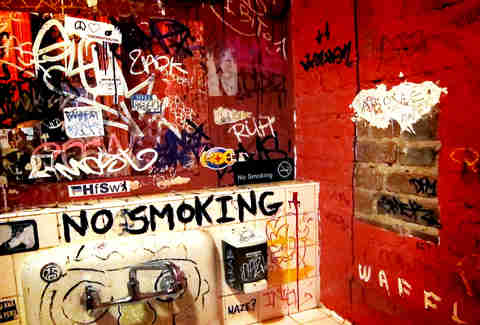 138 Ludlow St
In the mix of all these splashy places, 138's the dark and more-or-less sedate one where you can actually have a conversation. Which is exactly what one of our esteemed employees did when he talked about Tolstoy with a Swedish girl he met by the graffitied bathroom. And then took her to a museum! Who does that? Dreams come true at Local 138, and I haven't even told you about the good and long 4-9pm happy hour yet.

Best bar with a complicated name and shot-and-a-beer special: Leave Rochelle Out Of It
205 Chrystie St
Expect shot-and-a-beer specials, no-nonsense cocktails, and above-average bar food. There's a sign in the bathroom politely asking you to bang somewhere other than the bathroom, which is apt considering the bar's named for a woman both big-bearded owners bedded. Presumably not in the bathroom.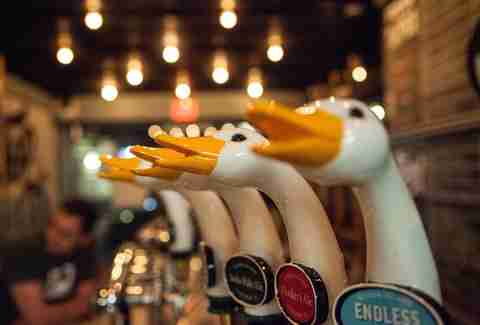 Best bar for beer: Top Hops
94 Orchard St
This place doubles as a bona fide bottle shop, with hundreds of local and imported beers to buy and drink on-site for a nominal corkage fee. You'd be silly to sip the same thing twice, but that won't be an issue since the taps in the bar section change constantly. Also: free hard pretzels!

Best bar for cocktails: Attaboy
134 Eldridge St
In the old Milk & Honey space, beyond an unmarked steel door that you must knock on for entry, lives an unassuming speakeasy helmed by suspendered mixologists who actually have a right to call themselves that. If they want to. If not, that's cool too. There's no menu, but trust that these guys know what they're doing.
Sign up here for our daily NYC email and be the first to get all the food/drink/fun New York has to offer.
Carrie Dennis is an Associate Editor for Thrillist and likes to hit all these spots in one night. Follow her on Twitter @CarrrieDennnis.