Pushing its way onto the balcony next to Blue Ribbon Sushi Izakaya in the Thompson LES Hotel, BRBG is a Summer day-drinking and happy-houring spot of the highest order, in part because of an Asian garden party-meets-Southwestern roadhouse vibe. And in part because of ping pong. See? Ping pong. For people who love games but hate moving, there's this board game shelf featuring Trivial Pursuit, Sorry!, and Would You Rather. By the way... would you rather be taking down craft beers? Luckily, you don't have to choose. They've got a wonderfully strong selection that ranges from cans, to large-format bottles, to everything in between, including the likes of Brooklyn's Sorachi Ace, Evil Twin's "Hipster" pale ale, and Washington's Elysian The Immortal IPA -- but don't worry, there can be more than only one. And since there's nothing quite like eating BBQ on a balcony and dripping sauce onto the suckers below, there are plates like the dry-then-wet-rubbed ribs sided with "gangsta" corn bread. Although this is basically the only other thing on the menu aside from snacks like boiled peanuts and pork rinds (sorry, "market vegetable of the day"), your appetite will be sated thanks to this 'qued-up Cornish game hen. Or would you rather just keep drinking?
Recommended Video
Stay Classy This Winter With a Spiced Pear Tom Collins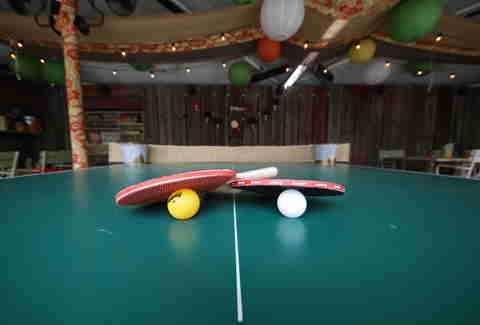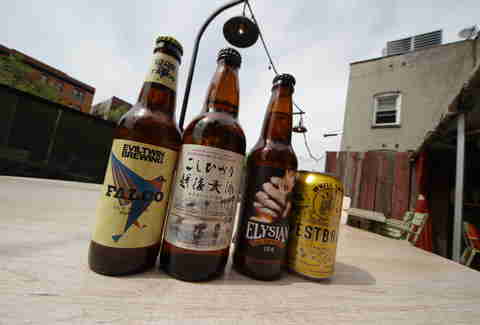 Previous Venue
Next Venue
Venue Description
1. Thompson LES Hotel
190 Allen St, New York, NY 10002
With 141 rooms and a rooftop pool and bar on the bustling LES, Thompson Hotel's surrounded by unique restaurants, bars, and nightlife so you'll have plenty to do in the area. It's also home to Blue Ribbon Sushi Izakaya and, most recently, the Blue Ribbon Beer Garden.