Fully realizing what they started with their adjoining Chip Shop, Eastwood is a hybrid Southwestern cantina/local beer bar where you can hunker down at chess or backgammon tables with a Stillwater Cellar Door saison or their tap Kombucha, while you snag counter-service eats. Some of said eats: pita grilled cheese, fish and chips, and an "Israeli Scotch Egg", which they completely made up and is basically an egg covered in falafel.
Previous Venue
Next Venue
Venue Description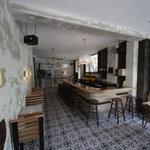 1. Eastwood
200 Clinton St, New York, NY 10002
This Southwestern cantina/beer bar's got a great beer selection, which you can pair with their counter-service eats, like a pita grilled cheese or fish and chips, while playing a game of backgammon or chess.