Named for the technique used to make old-timey records, this Americana-inspired spot is decked with ephemera from the golden age of radio, like dogs listening intently to a gramophone (you know how dogs used to LOVE gramophones) and former radio station signs. They've got a middle bar room with a mirrored ceiling that's bookended by a front sitting area and a back room that's private party-able, thanks to a really cool sliding gate. Food like poutine and grilled wild boar sausage are on hand, but the place is definitely drinking-focused. To wit: an accessible selection of beers, plus cocktails like the Menlo Punch, which is essentially iced tea and lemonade with Pimm's No. 1 and your choice of floater, so feel free to John Daly that bad boy up. Scope the pics for more details:
The Nipper's Tail in a julep cup is made with Lillet Blanc, Carpano Antica, ginger beer, and a splash of OJ. This is the one you want to "sip all day by the pool", except they don't have a pool.
The Floozy: strawberries, lime, and syrup muddled together, then finished with vodka. "It's actually not that sweet", but the fact that they garnish it with an actual flower from a bouquet on the bar will make your date think otherwise about you. Yeah, player! Man, you're good.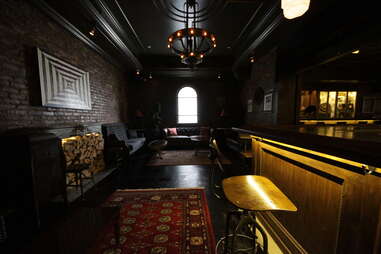 The couch- and wood-laden back party room.