At NYC's Mercury Lounge, a regular (and former CBGB door guy) showed off a beer-drinking innovation that should make every American ashamed for not having thought of it first: resting his Tecate tall boy in a partially ice-filled cocktail tumbler, because otherwise "those last 4oz are murder". To pull this off, you need... well, you need to tell the bartender to give you a cocktail tumbler, and then you need to tell the bartender "no, really, give me a cocktail tumbler".
Recommended Video
The 'Game of Thrones' Pop-Up Bar Is Now Open in Washington, DC
Previous Venue
Next Venue
Venue Description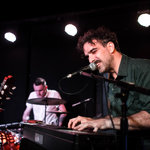 1. Mercury Lounge
217 E Houston St, New York, NY 10002
The Mercury Lounge is an intimate Lower East Side venue with a storied history: the Houston street space was originally part of the legendary NYC Astor family's pied-a-terre and was used to house servants, who reached the main house through a network of underground tunnels. While not quite so mysteriously extravagant these days, Mercury Lounge is one of the city's best spots to check out local and national touring bands up close and personal; it's no-frills (rather than divey) surroundings and quality sound system rightfully put the music center stage.