Because you love cocktails and oysters and sex parties, you're gonna want to drop by Black Crescent on Clinton St (and apparently some sex parties, too). A raw and cocktail bar co-owned by one of the dudes who runs seafood supplier Wild Edibles, BC features crustacean options that're "the same quality as top restaurants on the Eastern seaboard", but somehow still manages to keep everything under $15.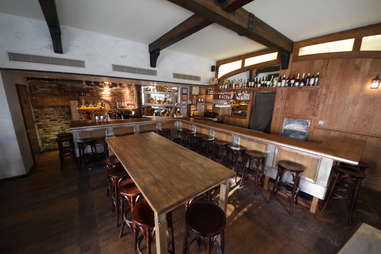 This place just oozes neighborhood cocktail joint.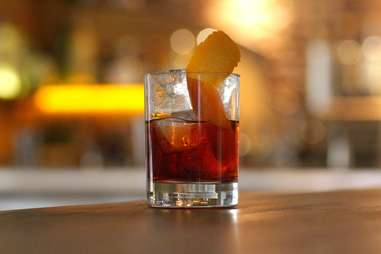 And also, um, cocktails. This's the Hempen Halter (which is what pirates call a noose, apparently) with cold, hickory-smoked Carpano Antica, sweet vermouth, Campari, and gin.
If you want to get something a little less-boozy off the bat (and a little more savory/botanical), dive into the Rabbit Key, which tastes like "walking out into an herb garden in the middle of Summer", thanks to bell pepper-infused gin, lemon, and Yellow Chartreuse.
The Bimini Twist is their Tiki-esque concoction with multiple rums (the best kind), CioCiaro, Velvet Falernum, orgeat, and lime bitters.
Or if you want a little show, point to the wine on the menu that says Txakolina, and they'll do the high pour to give it an almost effervescent quality.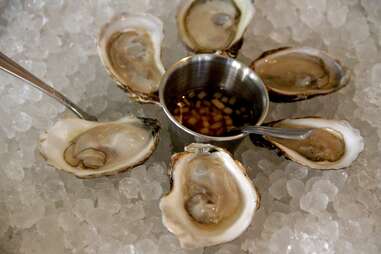 You're gonna want to load up on oysters from 6-8p and 12-1a, Mon-Sun, when they'll run you just $0.99. There're four options, each from the East and West coasts, including the titular namesake Black Crescent, Canada Cup, Fanny Bay, and Royal Miyagi.
All the eats are going to be seafood-inspired small plates. This one here's the pastrami smoked-salmon carpaccio on bluefish pate with a squid ink-infused, toasted brioche.
And then there's this Peruvian ceviche, which's like normal ceviche, except it comes with fluke, charred cipollini, shoestring sweet potato, pimenton popcorn, and a love of ancient Incan cities built on mountain ridges above the Sacred Valley, 80 kilometres Northwest of Cusco.