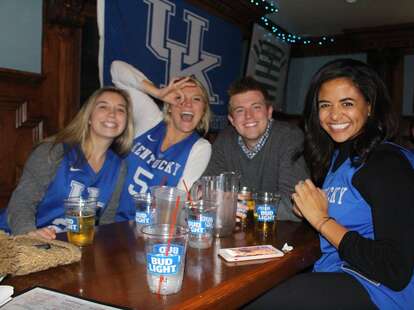 Courtesy of Jack Demsey's
In the New York of yore, those afflicted with March Madness were quarantined well into April. These days, not only do virus carriers walk among us, but we celebrate the disease! Every year, for two short weeks, in the throes of the Madness, we all become experts on college basketball before resuming ignorance for the other 350 days of the year.
During the NCAA Tournament, we furiously fill out brackets, babble about seed upsets, and swaddle ourselves in soothing team apparel. We even feign an interest in Gonzaga, though never cross the line of no return -- learning whether it's in Washington state or DC.
In the months between each annual Madness, we forget that there are people in New York who went to Gonzaga. And Villanova. And Xavier -- schools that most of us only engage with through the lens of sports. And most of these schools, however far-flung, have bars where their fans and alumni gather to cheer on their team.
Look, I went to Minnesota. Go Goph's and everything, but rooting for a lower-tier Big Ten school is demoralizing. And plenty of people went to smaller schools, or no schools at all, who watch the NCAA Tournament every year without a dog in the fight.
So if you're a fan of a major college basketball powerhouse, or if you're looking to adopt a team to root for during the tournament, here are the best places to watch the top-tier teams among true fans in NYC.
Virginia
American Whiskey
247 West 30th Street
Given UVA's rich Southern tradition, it makes sense that their sports fans would flock to straight-shooting American Whiskey. Located a
mere halfcourt shot
from Madison Square Garden, the 6,500-square-foot space has become the de facto Manhattan home
turf for the Cavaliers
. The restaurant/bar elevates standard pub food with fried Brussels sprouts, roasted bone marrow, and venison mini burgers. (It's also located around the corner from
NY Pizza Suprema
, one of the best slice shops in the city.) American Whiskey doubles as a Georgia bar, but don't expect to see
the Dawgs
in the NCAA Tournament this year.
Xavier
The Keg Room
53 West 36th Street
Although this isn't the place for all you nostalgic Xavierians to get
Skyline Chili
, this Irish bar is a fitting place to watch ballers from one of the oldest Catholic schools in the country. Here,
Musketeers fans
can nosh on traditional fare like shepherd's pie and fish & chips, or embrace the game with nachos smothered in cheese, guacamole, sour cream -- and house chili! Tons of TVs enable viewing from every seat at the 100-foot bar, and the space is big enough for a Catholic rabbit.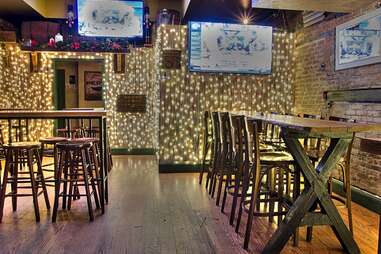 Villanova
Gramercy Ale House
272 3rd Avenue
There are a number of NYC bars jockeying for 'Nova watching dominance:
The Brazen Fox
,
Tempest Bar
, and our pick: Gramercy Ale House. It's a solid bar mercifully removed from Midtown and Madison Square Garden. Plus, they have 10 kinds of fries and the conviction to hang team colors around the bar -- catnip to
Wildcats
.
Duke
The Ainsworth Midtown
45 East 33rd Street
For all of their blustering, it's odd for a passionate fan base like
Duke's
to settle on a bar that plays host to so many disparate college sports fans, but maybe that's the point: to flaunt their Dukeness in front of everybody else. We get it.
Kansas
Cornerstone Tavern
961 2nd Avenue
In the aftermath of the
mysterious
and untimely closure of Mulholland's in Williamsburg,
Jayhawks
fans have flocked to Cornerstone in Midtown East. Mulholland mourners can drown their sorrows in KU game-time specials that include $5 pints and "Jayhawk Shots" in between "Rock Chalk" chants.
Cincinnati
Phebe's
359 Bowery
Now, Phebe's isn't explicitly a
Bearcats
bar. But it is an officially sanctioned Cincinnati Bengals bar, and as a result it has become the natural stomping ground for many Cincinnati alumni events. Featuring higher-end bar food
and
$0.25 wing specials, there's really something for everybody. Unless you're one of those people who really wants Skyline Chili, which again, you won't find here. It's probably for the best.
Kentucky
Jack Demsey's
36 West 33rd Street
When Big Blue Nation made Jack Dempsey's its home for athletics, the bar welcomed them with an honorific cocktail -- the Old Fashioned Wildcat -- and gave website real estate to the UK Alumni Association. So if you're looking to bandwagon the 'Cats or reassemble your Lexington crew, this is the place to do it. Demsey's does all the expected apps -- plus some Emerald Isle
favourites
-- and features every beer and liquor you'd hope for in an Irish bar. They even have their own house ale for a little something different.
Ohio State
Iron Bar and Grill
713 8th Avenue
This Alumni Association-sanctioned bar closes up any schism in the
Buckeyes
fandom, but it's trying to be a lot of things. Located right off Times Square, it's naturally touristy. It skews more toward gastropub than straight-up sports bar. And they have hookah and bottle service for some reason? Maybe it's just crazy enough to work!
Auburn
St. Pats Bar & Grill
22 West 46th Street
Let us pause for a moment and marvel at how cool it is that we live in a city where even Alabama state schools can have its own team bar.
Tigers
fans of all stripes have made St. Pat's near Rockefeller Center their home. The multi-level bar and grill features game-day staples, but what separates it from other Midtown sport spots is an outdoor patio space -- a perk as we ring in spring with March Madness.
Tennessee
Printers Alley
215 West 40th Street
This Nashville concept spot doubled down on its geographical theme when it became home to
Volunteers
fans. True to form, Printers Alley pumps in country music while frying up regional cuisine like Nashville hot chicken, fried green tomatoes, hush puppies, and, of course, Tennessee whiskey.
Michigan
Professor Thom's
219 2nd Avenue
They may never exorcise the ghost of disappointment that hangs heavy in Professor Thom's after favorite Michigan alum Tom Brady's last Super Bowl loss, but it's still the Wolverines' preferred watch spot. For better or worse. They have wings, nachos, burgers, and beer, so at least you can eat your anxiety. Cross your fingers or wear your lucky socks to combat the Pats' bad juju, and
Go Blue
.
UNC
Slattery's Midtown
8 East 36th Street
Slattery's courts a long roster of sports fans. It's a Miami Dolphins bar, a Kansas State bar, and a Creighton bar. And during the Madness, it's the official NYC bar of the
North Carolina Tar Heels
. With a house lager, an outdoor seating area (with a TV!), and a solid menu of both bar food Irish dishes, there's plenty to nosh on as you talk about how Michael Jordan should be put on the $20 bill or whatever.
Sign up here for our daily NYC email and be the first to get all the food/drink/fun New York has to offer.