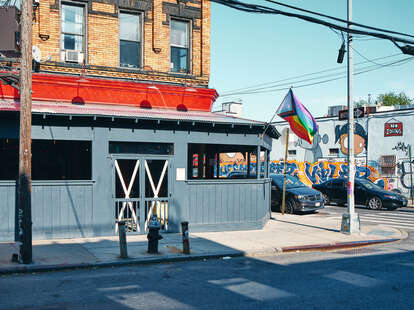 Mary's Bar

| Photo by Cole Saladino for Thrillist
Mary's Bar

| Photo by Cole Saladino for Thrillist
Nestled between East Williamsburg and Greenpoint, Mary's Bar is a recent addition to Brookyn's growing string of queer spaces.
Opened by Dublin native Brendan Donohoe in April, the spot has quickly become a sanctuary for those looking to pull up a stool and leisurely sip on a pint of Guinness amongst a laid-back crowd.
As a former bartender at the now closed O'Brien's Irish Pub in Times Square, throughout his decades-long career in hospitality—and evolution as a gay man—Donohoe found himself drifting closer to Brooklyn, especially finding comfort and solace in the borough's burgeoning queer community.
His entrance into its queer bar scene kicked off after meeting Sheila Frayne, the owner of the beloved Park Slope lesbian bar, Ginger's. Donohoe eventually started helping with the administrative and operational aspects of the famed institution that first opened in 2000.
"Ginger's is such a unique gravitational force," says Donohoe. "It's a piece of history that should be preserved and taken care of."
Inspired by the legendary bar's ethos and Ireland's recent wave of new social and cultural shifts, Donohoe explored his own ways of contributing to this narrative stateside and wondered: "If Irish bars have such a dominance around the world, then why wouldn't queer Irish pubs as well?"
While Donohoe continues to help out at Ginger's, Mary's Bar, which serves as a sister spot, is entirely his own.
Named after his mother, Donohoe opened the bar with the vision of creating a space that mirrors the pubs he cherished at home in Dublin, while simultaneously cultivating a haven for the LGBTQ+ community. The bar even has an official Code of Conduct in order to protect its patrons from obtrusive and unsafe behavior, which insists that everyone uphold their mission statement of maintaining a respectful environment by using gender-inclusive language and people's preferred pronouns.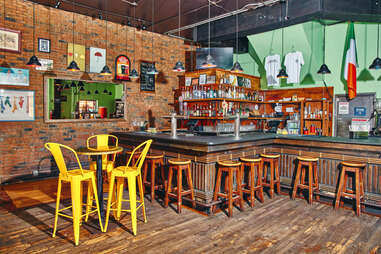 With cheap drinks, a wrap-around porch, and substantial outdoor seating, Mary's Bar is an ideal spot for golden hour hangs with friends—and an absence of TVs particularly encourages friendly conversation between patrons.
Emulating the way of the Irish, Mary's Bar maintains a casual and old-school atmosphere where everyone is welcome. "Irish people don't necessarily take themselves too seriously; when you're being hospitable in Ireland, it just feels like home," Donohoe says.
For June, Mary's Bar is kicking off Pride Month with traditional Irish music sets as well as DJ sessions, and plans to host upcoming events such as karaoke and trivia nights.
Mary's Bar is open now at 134 Kingsland Ave in Greenpoint, Brooklyn.