Billy Potvin is no Satan worshiper, but you'd be forgiven if you assumed the La Cenita bartender promised to at least comp the Dark One a few rounds in exchange for the recipe for Rosemary's Other Baby -- the cocktail that won him the title "Most Imaginative Bartender" in a contest just wrapped by Thrillist and Bombay Sapphire.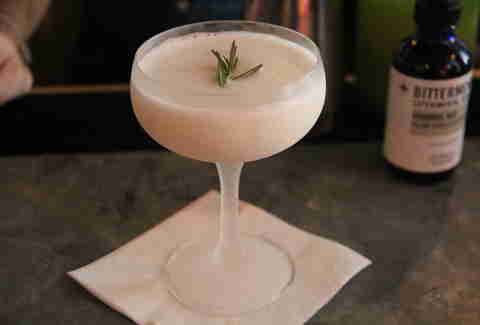 The most popular cocktail at The Dakota

The drink comes with a bevy of influences, obviously starting with the name. "I'm a huge Polanski fan, and Rosemary's Baby is my favorite movie", says Potvin, who's also read the book "at least 5000 times". "He took each aspect of the narrative prose and turned it into a perfect shot with exactly the right angles. I'm the same way behind the bar -- I don't make a drink unless it looks exactly like it should. Also, I was using rosemary, so what the hell else was I going to call it?"

The taste was inspired by a rosemary honey panna cotta at Corsino Cantina on Hudson, but while Rosemary's Other Baby might look like a dessert cocktail, the sweetness is actually minimal, as it is with all of Potvin's cocktails. "I hate it when people say a drink is girly based on its appearance. If you have balance, there is no gender for a drink."
A good egg

As for the eggs the drink requires, he feels like they're still underutilized even after the cocktail renaissance. "You need them for volume and airiness, but there's still a stigma that if you eat raw eggs, you're definitely going to get salmonella. If you put 80-proof alcohol in there and let it sit for a minute, everything's dead."
Two great tastes currently undergoing rigorous testing to determine whether or not they taste great together

The cocktail program at La Cenita was (and is still being) developed by Potvin and EMM Group Lead Bartender Colin Maxwell, mainly through testing every weird fruit, vegetable, and other random foodstuff possible, dropping it in a jar full of liquor, and stashing it in the basement, where many still reside. Bacon, peanuts, coffee, morita peppers... there was even one attempt at something called Peanut Butter Jelly Thyme. "We started out thinking 'this is gonna work!', then ended thinking, 'okay, this is disgusting'."
Just add agave, pineapple juice, and chili foam. Also, subtract thorns.

The fruit & vegetable bent comes from Potvin's parents in Rhode Island, who, for the record, are named Jean and Bill. "We always had huge gardens growing up. My dad and his new wife have one now, and so do my mom and her boyfriend, who's so into bee keeping he started an academy. They all go on vacations together, and my mom's boyfriend helped my dad build his own bee hives -- it's all very modern." Jean actually sent down the honey and rosemary that went into Potvin's winning drink, and is responsible for his emphasis on presentation: "She has a Martha Stewart Living house, with barn doors on walls and old school desks as end tables; she gave me a little OCD and a lot of aesthetic style."
Where we're going, we don't need labels

Of course, Rosemary's Baby was developed while La Cenita was still Abe & Arthur's -- the inclination's to assume that gin wouldn't survive the transition to a Latin restaurant, but apparently that's dead wrong, not least because Sapphire has coriander (aka cilantro) in it. "Gin is my favorite spirit", continues Potvin. "Even with a tequila drink, I make it so that I can sub in gin and it'll still work. With Bombay I try to keep it a little spicy, because Bombay has bite."
"I'm also an actor, and I had to ask myself, would I sell my soul for a part? And the answer is probably yes."

Potvin and Maxwell are still experimenting with Latin gin expressions, with menu candidates including a cocktail with strawberry, cilantro, and black pepper. While they're tinkering with that, you can be tinkering with Rosemary's Other Baby. You won't need to sell your soul, but you will need a strainer.

Rosemary's Other Baby

Ingredients: 2.5oz Bombay Sapphire, 1oz honey syrup, 0.5oz lemon juice, 4 dashes of pecan vanilla bitters, 1 egg white, 2-3 rosemary sprigs

1. Muddle 2-3 rosemary sprigs with honey syrup and lemon juice in shaker.

2. Add Bombay Sapphire, egg white, and bitters.

3. Shake well, and strain into a martini glass, garnishing with rosemary leaves.