A pop-up club in a former loft apartment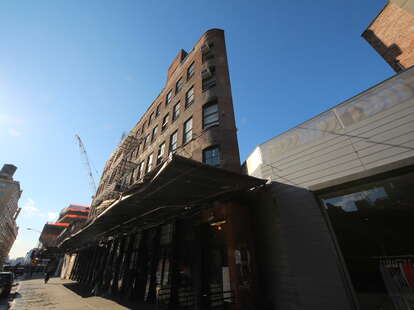 From Michael Shah, Matt Levine and Ronnie Flynn, of Sons of Essex and the #LESBeat parties, HxN is a few-months-only lounge that features crazy DJs and completely legit special guests (Cam'ron and A$AP Mob stopped by #LESBeat) in a redone third-floor residential loft that's now a neon-lit, beanbag chair-laden party den that'll be booming until the fun moves downstairs when the permanent Rowhouse Inn is finished
Just follow this graffiti-heavy stairwell up to main attraction..
... which is actually not these girls. But they do promise snacks from Sons of Essex, including stuff like truffled grilled cheese
Almost there. But first, check out out the moderately frightening art by Ryan Keeley, which makes the hallway look like the entrance to some intergalactic party wormhole
Here's the main room, complete with a highly Instagrammable sign they jacked from Chinatown. They'll be bringing in live acts, plus pulling cool moves like having a drummer play along with what's spun by DJs like Jacques Renault and cougarskin, who definitely wins the name-off against Jacques Renault. Step it up, Jacques
This wonderfully apartmenty side room boasts a bar and a window where you can get the snacks those nice ladies in the stairwell were hinting at
The third room is a bit more chilled-out, and features its own bar, plus huge photos of dudes with cooler hats than you on the wall
Indeed.