Rare things are often the best things, like true love, that one Beanie Baby that's going to make you soooo rich one day, and definitely the bottles at Rarities in The New York Palace, where they're slinging strictly ultra-hard-to-find (and ultra-pricey) pours from their whiskey-centric -- and completely baller -- lounge that's set within the landmarked Villard Mansion part of the hotel.
It's only available by reservation, so make sure to call 917.202.8379 ahead of time to get a spot. You can also throw down a little dough to become a preferred guest (which'll get you to the front of the reservation line), but for now, let's stick with landing that rezzie.
Because shelves are for peasants, they keep all their prized bottles behind lock & key in a shimmering tower of a display case. This right here is the Louis XIII de Remy Martin Rare Cask Cognac, which goes for a cool $3,120 per 2oz glass… so, er, don't forget your wallet.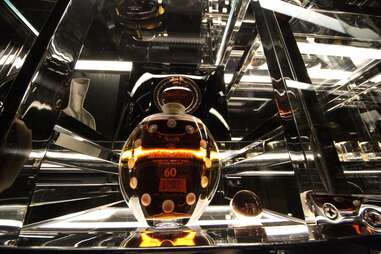 This here's the Macallan 60yr Lalique bottle. Connoisseurs are often impressed when they find out that this bottle exists, let alone that there's one on the premises. Bring $2,835 if you want a taste of the action.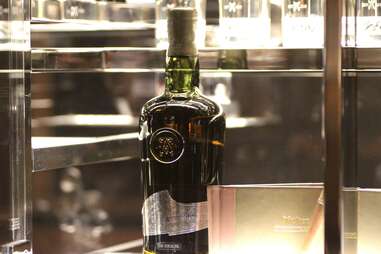 Only 250 of these exist right now. It's the Ardbeg Double Barrel, and if you were to get this yourself, you'd get it in a hand-made leather carrying case along with silver cups, a brother bottle, and a journal, presumably to write down all the IOU's.
At a bargain price of just $125 (!) per glass, this Hannisville Rye is actually one of the most interesting bottles here. It's believed to have been distilled in about 1865, and then aged for 50yrs before being put into a this jug... which appears to have been literally dug up from someone's basement.
After you've perused their list -- which's almost as deep and impressive as that guys voice that sung "Chocolate Rain" (almost) -- and settled on your drink, sit back in one of the plush seats and enjoy. Oh, and if you get it on the rocks, the ice even has a crown somehow imprinted in the center of it, no charge!
Andrew Zimmer is Thrillist's NYC Editor, and he would probably rent out an extra room in his apartment to be able to taste rare bottles of whiskey. If only he had one. Follow him on Twitter and Instagram.