Adding to the Refinery Hotel's arsenal of food and drink spots (Parker & Quinn, their forthcoming rooftop bar), leather bound gentleman's den lobby bar Winnie's has devised a cocktail program that's meant to have aphrodisiacal and relaxing properties beyond regular cocktails. But they didn't just give up on booze.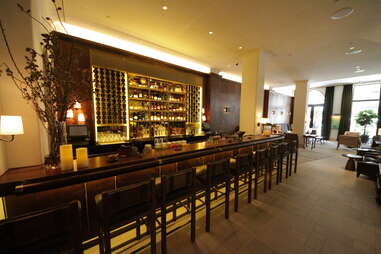 If you were wondering what was glowing behind that beautiful drink up top, it's their beautiful bar, complete with leather-bound bar rails and stools. Said drink is the Luster and, aside from being nice and refreshing, it's also meant to reverse aging -- thanks to the antioxidants in the cucumber and white cranberry mixed with the gin -- as well as be something of an aphrodisiac.
They've produced a selection of brews and concoctions that they craft in-house to up the ante of their 'tails -- this one's their Woodruff syrup, made from a European herb that's said to be a mood enhancer. The barman here also believes it's the secret ingredient in trending bartender fave Chartreuse.
Here's that "Liquid Xanax", aka, the Fiorello, which's specially designed to ease you out of your workday (goodbye drink a 40 in the bathroom stall!). It's made with Irish whiskey, passion flower tea (suck it, passion fruit), and kava-kava, an Indian herb which has been used for 1000yrs as a "mood lifter and anxiety reducer". So, in short, a couple of these and you'll be real nice, in every way imaginable.
If you're just starting your night and in the mood for more of an "upper", don't ask the gum guy in the bathroom, he's a total narc!!, check out the Struggle Buggy made with mezcal (one of the few liquors that gives you a boost sans caffeine), pineapple, tamarind, anise, and ginger (another natural stimulant).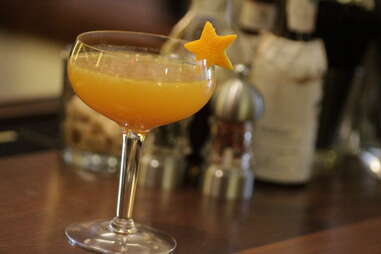 Their drinks also help you work up an appetite for more than just pizza at 4a. Tuck into the Cloche & Dagger, which is made with vodka, pear nectar, mango nectar, and curry, which is a natural appetite stimulant. So is nearby pizza, though, we're pretty sure.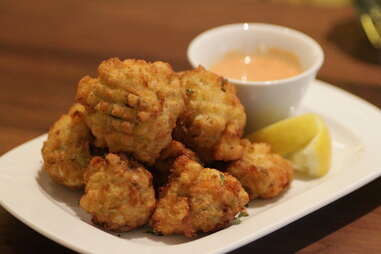 Good thing your appetite is in high gear now, because they've got some killer small plates with everything from charcuterie, to a dip tower of various grilled pita toppables, to these conch fritters with spicy dipping sauce.
Hell yes, they've also got pork buns.