Bacon and eggplant cocktails make this the most interesting hotel bar in forever
The Hudson Hotel does some interesting stuff, but, up until now, it's been mostly in the form of crazy chicken wings, tacos, and beer halls. Well, now they're bringing the crazy to their cocktail game thanks to multiple-time UK Bartender of the Year Ryan Chetiyawardana, whose drink menu is heavy on behind-the-scenes intricacies, unexpected tastes, and creative preparations. Or to put it short: they often contain carrots and bacon.
Although the bartenders there will help guide you through unfamiliar options, you should jump right into the deep end with the Deadly Nightshade, which involves eggplant puree that's been passed through like a billion sieves so it's super creamy, plus aged rum, Lillet Blanc, and egg whites. It's given two shakes -- a dry shake to froth it up, then a wet shake (with ice) so that the consistency remains just right -- then it's topped with a surprisingly delicious candied eggplant slice.
The Living Cocktail gets its name from the shifting depth of flavors that expose themselves as you sip. Also because miso, apparently, is alive. It's described as "a good introduction to vegetables being in your cocktail", and it's made of a house carrot vinegar, the aforementioned miso caramel, and reposado tequila.
The Gold Fashioned is garnished with bacon, so obviously get it, but we'll tell you even more. It's a play on a Singapore Sling Old Fashioned, but the base brown gets swapped for a smoky tequila, which's then mixed with Applejack and house bitters (made by steeping maple wood in Tabasco and Peychaud's), and topped with a piece of bacon wrapped around a slice of rhubarb that's been candied.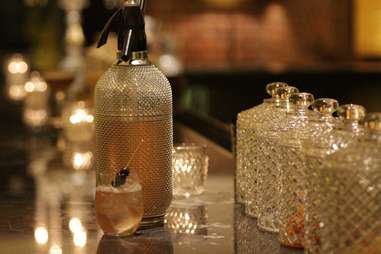 Served for up to four people in a massive old-timey seltzer bottle, the Holy Spritz is a concoction of blowtorched blueberries, house dry-aged apple peel vermouth, St. Germain, fennel shavings, and house rose water seltzer.
Part Bloody Mary, part Hemingway Daquiri (the manliest/most animal-murderous of all Daquiris), the Bloody Ernest is made with "cold dried" tomatoes shaken with red grapefruit, lime, Maraschino, and special edition Bacardi white rum.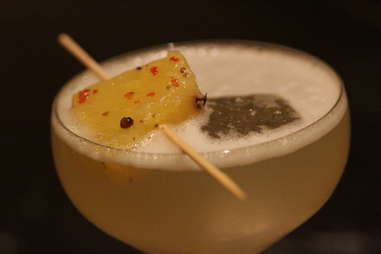 Using three types of celery (you didn't even know there were two!), the Celery Fizz gets mad science-y behind the scenes, where they use a rotovap in the basement to essentially create their own celery liqueur that's then mixed with ver jus, pineapple gastrique, and soda water, then topped with a pineapple that's been compressed in a sous-vide bag with pink peppercorns.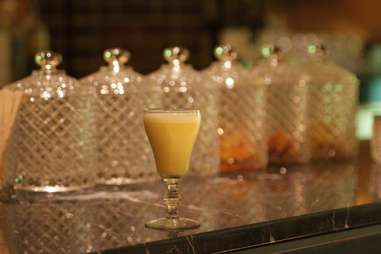 Like the Dr Pepper shots in college, the chocolate cocktails manage to taste like chocolate while containing only a slight dusting on top. Apparently when you mix yellow Chartreuse, a whole frothed egg, and cherry liqueur, it tastes like something Wonka made that doesn't turn you into a blueberry.
The decor is also appropriately quirky: big leather chairs with light bulbs in them...
... and chairs on the ceiling. Of course there are chairs on the ceiling.