Perched way, way, way above 39th and 7th, The Skylark's a multi-level lounge (from a team of nightlife, catering, and real estate players, including club vet David Rabin) on the 30th floor that's going to seriously step up your after-work drinking-game. There's a truly spectacular roof deck, cocktails by Jonny Swet of Rogue & Canon and Jimmy at the James, and mac & cheese cupcakes... all at a place you'd actually go to even if you didn't work nearby. Take a look around
Nice.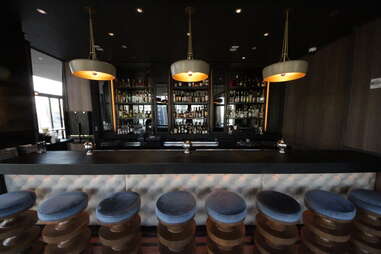 Although they're well-stocked with heating lamps, you might want to head inside and take in the view (and drinks) from their gorgeous, classic bar.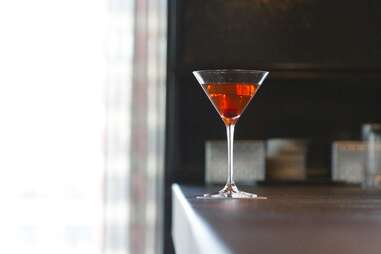 Keep it super classy with this Black Walnut Manhattan, fitting into the cocktail menu's updated classic vibe with a mix of rye, Carpano Antica, Nocello liqueur, orange & Angostura bitters, and a brandied cherry.
The room has a long wraparound layout with windows that actually open up to the outside, plus plenty of plush leather furniture that gives off a kind of art-deco-meets-'70s-living-room-key-party vibe... in the best possible way.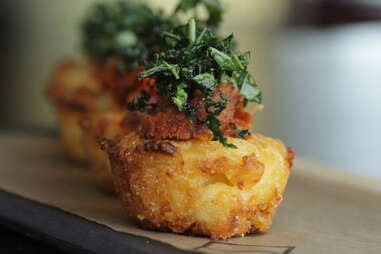 Once you've claimed a seat, it's likely you won't get up for a while, so now's the time to tuck into those mac & cheese cupcakes with tomato confit, "frosting", and kale "sprinkles"... which still haven't caught on at Pinkberry.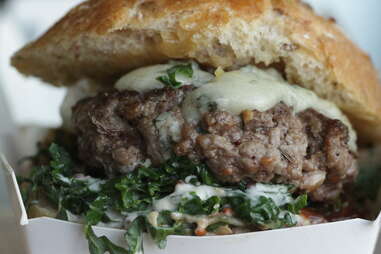 Get the beef sliders (three to an order) "Skylark-style", and you're getting them topped with onion jam, Gorgonzola, and arugula. That's all you need to know.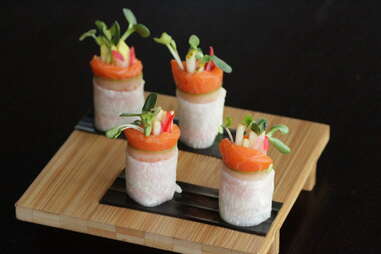 You can even manage to keep things semi-healthy (minus the drinking) if you step up to some jicama wraps stuffed with wasabi, wild salmon, and veggies.
It's not always open, but if at all possible, you're going to want to spend sundown in the pool room, with a cocktail, overlooking the Hudson. It's the happiest of happy hours.