Why the Closure of the Campbell Apartment Should Break Your Heart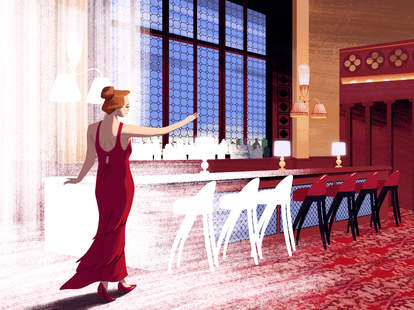 When I learned last month that the Campbell Apartment -- Grand Central's not-so-secret "secret" bar located in the former office of New York railroad mogul John W. Campbell -- would close its doors forever come August to begin a new life as a sibling of the Lower East Side lounge Mr. Purple, it felt like a personal loss. In my favorite ode to New York, Colson Whitehead writes for the Times, "No matter how long you've been here, you are a New Yorker the first time you say 'That used to be Munsey's' or 'That used to be the Tic-Toc Lounge.'... You are a New Yorker when what was there before is more real and solid than what is here now."
As a native New Yorker and self-professed Most Nostalgic Person in the Room (any room), I am in a constant battle between myself and my changing city. I hear the pretension in my voice when I threaten a move to LA, or begrudge another bank, Duane Reade, or Starbucks their new lease. Still, like most of us, I hold tight to my individual truth about what the city is and should be (and most importantly, what it should never be), scrambling to keep the precise skyline I saw from the Uptown 1 the first time I drank a beer, the coffee cart guy who fed me through my first job, the restaurant I'm positive Warhol frequented. In the words of Whitehead, "Never listen to what people tell you about old New York, because if you didn't witness it, it is not a part of your New York and might as well be Jersey."
I'll never know Scribner's Bookstore or the Gaslight Cafe or even really what dating meant before all the Bumbles and the Tinders and the Hinges. But the Campbell Apartment was, in some form or another, a part of my New York and all the New Yorks of the past 93 years.
John W. Campbell originally leased the Campbell Apartment space in 1923 from his friend William Kissam Vanderbilt II, whose family built the Grand Central Terminal where the office was situated. Not much is known about Campbell himself. He was born in 1880 in what is now Fort Greene, one of three children of John Campbell, treasurer of the Credit Clearing House. According to a 2007 New York Timesarticle, he hated socks, even with shoes, and liked his pants so thoroughly unwrinkled that he would work pantsless at his desk while his pants hung in a humidor.  
Campbell commissioned Augustus N. Allen to design his office, with plaster-of-Paris ceilings and the mahogany balcony that has survived the years. Rumor has it that the room-size Persian carpet that lay throughout Campbell's tenure cost $300,000 -- $3.5 million today, according to the Times. He kept an enormous steel safe in the faux fireplace on the back wall, both of which also remained fixtures throughout the space's future transformations. When he died in 1957, the office fell into disrepair. Over the following decades, it had stints as a signalman's office, a closet for the guns of transit cops, and a jail.
"I'm like, 'This is it. This embodies all that I really want my place to be.'"
Seventeen years ago, Mark Grossich of Hospitality Holdings (who has owned the Campbell Apartment: New York Bar and Institution until now), renovated the space for about $3 million and opened it to the public.
"The Campbell Apartment kind of acquired me," Grossich told me. "Back years ago, I started a group of places called Bar and Books, and they were lofty library-like environments back when you could still smoke cigars and all the rest, and they had library backdrops. We were then approached by the MTA about an interest in [the Campbell Apartment] space… apparently there was no one interested in the space at all. It was a completely destroyed room… everything was damaged. The ceiling was damaged. The windows were all broken. It was horrible."
Grossich sought to restore the Campbell Apartment to its days of old New York glamour and antique novelty. "It was a one-of-a-kind space," he says. "We invested [the money] to completely restore it, which in and of itself was a delightful exercise. We spent a lot of time in historical societies, and looking back at that period, and getting the right stuff together, then hiring a bunch of Sistine Chapel-like craftsmen to lie on their backs and repaint the whole ceiling from scratch."
Under Grossich's conscientious touch, the Gatsby-era space came to personify a certain ghost of New York's past. "I saw it, and it spoke to me," he recalls. "I'm like, 'This is it. This embodies all that I really want my place to be.' It has a history to it that gives it some personality, and all the rest."
Anyone who has ever fancied herself a Joan Holloway, hoping for the chance to gaze coyishly down the bar at the ad man in his notched lapels, could feel this fantasy almost fulfilled at the Campbell Apartment (even if he actually worked at Goldman and only looked like Jon Hamm after three Shanghai Margaritas). Its mahogany bar and balcony, massive faux fireplace, and velvet armchairs and booths would have all made Don Draper proud. An (occasionally) enforced dress code and classic drinks like Old Fashioneds and the bar's signature Prohibition Punch added to the illusion.
Being there felt like being connected to a part of New York that existed before me.
I loved the Campbell Apartment before I was even old enough to be allowed inside. I learned about it from my dad as a teenager, undoubtedly as an optimistic aside to one of his rants about how "everything sucks now." The first time I went, one late afternoon just before the after-work crowd arrived, I felt immediately at ease. While that might seem counterintuitive for a place with a dress code and a $400 glass of Cognac on the menu, I felt similarly to how I feel in the reading room at the Schwarzman Library: simultaneously humbled and embraced by its grandiosity, and like I was doing what I was supposed to be doing where I was supposed to be doing it. At this precise moment, that happened to be paying a small dowry for a "cocktail from another era," but being there felt like being connected to a part of New York that existed before me, that I was somehow lucky enough to still experience. And in any case, I'd already been playing (however poorly) the part of someone who put egg whites in her drinks for a while.
After 17 years under Hospitality Holdings' management, the MTA opened up the bidding for the space's lease last year. Grossich says the bidding process was unfair, and he's been in a year-long legal battle with the MTA hoping to stave off eviction. The MTA ultimately awarded the lease to Scott Gerber, whose group runs a slew of bars like Mr. Purple and Irvington at the W that cater more towards the Murray Hill/FiDi set than those looking for a glimpse into the city's past. Gerber plans to begin renovations as soon as possible, ripping out many of the aforementioned classic fixtures of the space and replacing them with more modern touches. According to Town and Country, some of these changes include installing a marble bar and abolishing the dress code. While Gerber told T&C they'd be giving the space "a much needed refresh to help bring it back to its original grandeur," it's hard to imagine that the same people behind a controversial lounge with multiple decks, neon lights, and a rowdy pool scene would hold onto the history of the place (I reached out to Gerber for comment but received no reply).
Grossich is understandably disappointed by the MTA's decision. "We were the darling of concepts, and as I understood it, the darling of the Terminal in terms of an operator. We had great relationships with all the powers that be. I'm on the board of directors of the Grand Central Partnership, and on the board of the Centennial Committee for Grand Central Terminal. Needless to say, we were taken aback that we were a few points out of the winner's circle, and that our experience and the amount of revenue we generated for the Terminal was not considered more seriously in terms of sitting down and having a serious dialogue about it, because the requested proposal made it very clear that the MTA had the power to do that. We were effectively outbid by a quarter of a million dollars, which is nothing over a 10, 11-year period."
In New York, bars and restaurants come to be responsible for both maintaining and showcasing the soul of the city.
To his credit, Grossich harbors no ill feelings towards Gerber or his company. "They have a good business. I respect what they do. Amusingly enough, we took over one of their bars Downtown over the last year, so it's kind of funny," he says, laughing a little. "We know of each other. I've talked to him a few times. Certainly, they leverage the celebrity connections to their best interest, which I can't fault them for doing if that's what you're looking for. In a way, he's -- how do I put it? Collateral damage. He's not done anything wrong, necessarily. He applied for a space and stepped into this world."
But Grossich does feel like the MTA may have had some more fangirl-y considerations in mind. "I will say that the Terminal management is starstruck very easily, and I'm sure that the opportunity to maybe meet George Clooney someday was certainly part of their decision," he said with a slight smirk.
In New York, bars and restaurants come to be responsible for both maintaining and showcasing the soul of the city. There's something magical about a city that can cherish equally CBGB and the Campbell Apartment, dollar pizza and the Plaza, Coney Island and the Hamptons.
Historic New York venues close all the time; this is a sad but unavoidable truth. The July closing of the original and legendary Four Seasons broke a lot of hearts, with "anyone who was anyone" lamenting power lunches of yore. Still, it's hard to reconcile with the fact that establishments like the Campbell Apartment are just a rent hike and $972 worth of bottle service away from vanishing into the proverbial (or literal) rubble.
Landlords and leaseholders that bear the real power over these old New York shrines are not always thinking of, or capable of thinking of, these more human considerations. As Grossich astutely notes, "It's a classic example of when bureaucracy runs the world." Continuing to describe the situation with the MTA, he says, "We actually offered the highest bid in terms of when this whole thing went down. They never even responded to it, but I said that we would pay whatever the high bid is plus two-and-a-half percent. They're also very hierarchically organized, so no one wants to get their boss in trouble or vice versa. It's really a shame when you consider all of the money that's been wasted and what they could've done with it." The MTA, for their part, told me their process is "transparent [and] competitive." When I reached out for comment on specifics, they'd only note that the Gerber Group's proposal "had a net present value to the MTA of $9.95 million. For comparison, Mr. Grossich's proposal for a renewal on his space had a net present value of $6.24 million."
I'm not by any means the only one who feels like the closure of the Campbell Apartment is both a personal and historical loss. A petition started on MoveOn.org has garnered over 1,200 signatures, and countless articles detailing and grieving the closure have been published since the announcement. And despite actually shuttering the doors on July 27th, Grossich assures me he is not done fighting. "We're still very active in trying to turn this thing around," he says. "Our council feels very strongly that we have a very strong chance of winning -- a 50/50 chance. Our principal advisor was formerly an executive with the MTA and Metro-North, so they understand the process very well. We're in good hands, and I remain confident that our chances are very, very good that we'll find ourselves back in there."
There's still something to be said for trying desperately to hold on to the last vestiges of past New Yorks.
I can't help but share in Grossich's optimism. We'll never have John W. Campbell's New York again (with or without the Gerber Groups of the world), and that's not entirely the worst thing (the man didn't wear pants to work!). But there's still something to be said for trying desperately to hold on to the last vestiges of past New Yorks. Even if said vestige came out of the '90s, its roots were still firmly cemented in the past, which can hardly be said for clubby lounges full of Wall Street traders and recent Big Ten grads chugging vodka-Red Bulls.
The night before the Campbell Apartment closed, I put on a dress and heels and dragged my roommate to Grand Central with me at 11:30pm. We stood at the bar waiting for seats to open up, silent and smiling in a way we definitely thought looked wistful and knowing but probably come off as vaguely creepy to our neighbors, two men in suits unapologetically taking up more than their fair share of the counter. The place was full but not crowded, most people having settled in for the evening. It was hard to tell who knew that the following day was the bar's last, but everyone looked content and comfortable and all at once at home and out of time amidst the dim sconces and red upholstery. The closure of the Campbell Apartment doesn't just mean finding a new modern-day speakeasy. The true heartbreak comes from having one of those consummate pieces taken from us, making New York a little less complete, a little less constant, a little less ours.
Sign up here for our daily NYC email and be the first to get all the food/drink/fun New York has to offer.
Emma Holland is a freelancer of many things. She once had a $3 cocktail in Detroit and has been questioning every life decision since. Follow her on Twitter @emmaholland_ and Instagram @etilson.