We've all been there; a few too many chardonnays in us, shirt around our head, squaring off for a good-natured pushup contest on the floor of the bathroom... wait, we HAVE all been there, right? Whatever. There are certain bars that bring it out in us more than others -- the Bad Decision Bars (if you will) -- not the ones that you actually shouldn't go to, but instead the ones that are occasionally too awesome, and leave you 1) without at least one shoe, and 2) with a new number in your phone for "giRl WiTH tHe fACe".
And since there are apparently too many for just one article, here's round two of NYC's Bad Decision Bars.
Murray Hill
Look, if you're over 25, just going here is kind of a bad decision -- but for anyone under that, keep doing what you're doing, THIS IS YOUR BAD DECISIONS WINDOW.
Williamsburg
The staff has T-shirts that say, "Let's get weird", and enough whiskey that everyone actually will.
East Village
There's actually one good decision to be had at Penny Farthing (Buffalo mac & cheese), but also plenty of bad ones -- including you making an ass out of yourself by trying super hard to pick someone up in your best Patagonia.
Hell's Kitchen
In many situations, eating free hot dogs, drinking $8 pitchers, and talking to strangers at one of the best dive bars in the country are good decisions, so why is it so hard to make them here?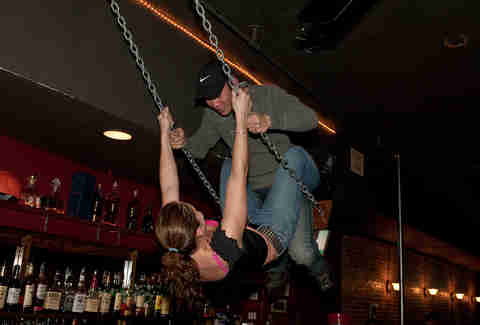 Financial District
Here's a totally not uncommon firsthand story from this Downtown dive: "I got peer-pressured into getting on the bar at a seedy dive in the Financial District where a bartender duct-taped me to a sex swing and made me do shots of tequila out of her boobs. Then she hit me with a belt or something." Yet it seems so right at the time.
LES
This is the kind of place where, TOTALLY theoretically, you might think it would be a good idea to take apart a beer tower and stuff the pieces in your pants (even the giant, 4ft tube), then leave, and reassemble the beer tower on a stoop a block away and fill it with Colt 45 -- but it is not.
Williamsburg
#BourbonSweetTeas.
 
East Village
This is the kind of place where again, theoretically, you could be walking behind two dudes and a girl, and one of the guys would be talking about how you're supposed to account for how fat you are when you measure your wang, and how he wasn't that big, just, like, around the size of a sub from Parisi. Then that same dude and his friends walk INTO Solas. Imagine what happens when they walk out.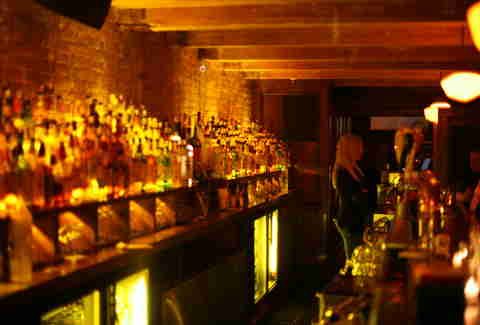 LES
You'll see some awesome music, you'll probably dance, you'll "accidentally" be there 'til 4am, and you'll probably make some questionable choices that require brunch the next day, whether it's Sunday or not.
 
Chelsea
Watching football all day, eating wings, then raging all Sunday night can't be a bad decision, right? Except it kind of is, though.
 
Meatpacking District
If you love the Meatpacking scene but aren't so into the club scene, this is always a great option. That is until you realize you've spent about eight hours in one of those wooden booths up front and you've got cigarette voice and your shirt is covered in at least one vodka soda.
Greenwich Village
One game of beer pong is an "okay" decision. But even though winning feels great, a zillion is not.
 
Midtown East
Good decision: rooftop drinking. Bad decision: rooftop drinking, followed by second floor drinking, followed by first floor drinking, followed by pizza in your bed.
Sign up here for our daily NYC email and be the first to get all the food/drink/fun New York has to offer.
Andrew Zimmer is Thrillist's NYC Editor and he would prefer to leave any theoretical bad decisions he's made in the past, so please stop talking about them. Follow him on Twitter and Instagram.