If you've ever been 1) in your early 20s, and 2) in NYC, chances are good you've taken part in the weekend march of the sobriety-impaired up and down 3rd Avenue. And since there's a chance someone (a hot girl) at some point (at any point, really) will convince you to stumble across 34th Street again, you might as well do it at one of these 11 actually-not-terrible bars in much-maligned Murray Hill.
This spot -- which combines the names of Murray Hill and Kip's Bay -- has turned a space that was once a forgettable Italian restaurant into a memorable neighborhood spot with an inviting atmosphere, a nice-but-small draft list, a solid classic cocktail list, and fortifiers like dope buttermilk-fried chicken, tequila mussels, and a bomb burger on a brioche bun with Nueske's smoked bacon and white cheddar.
This sports bar specializes in soccer (it's a Manchester City bar), has proper (20oz!) pints of English brew, some great eats like a baked Scotch egg and The Cricketer burger with a fried egg, pork, and HP sauce, and this absolutely incredible backyard beer garden.
Whether it's the fact that they're playing The Clash or the actually fun wine bar vibe (maybe the only place where this isn't an oxymoron), the MH branch of this mini-vino empire is every bit as cool as the East Village one, and it's a bit more spacious to enjoy a Summer of Riesling along with charcuterie, meatballs, and banh mi.<br />
&nbsp;
You might miss this hidden gem of a craft beer bar in the former Whiskey River spot (or you may just miss Whiskey River), since it's dimly lit and not particularly well-marked. Head in though, and get one of 30 craft beers or a cocktail in a space that feels an awful lot like the owners' other spot Drop Off Service on Ave A. Bonus: you won't have to worry about having a beer pong ball bounce off your leg.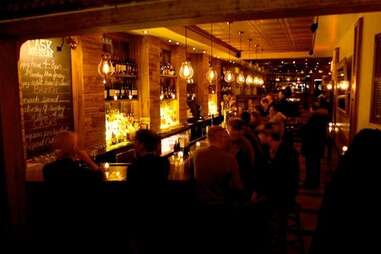 With a classic-but-still-not-too-classic vibe -- that seems to repel the thirsty dude hordes at bars nearby that rhyme with Shmonic and The Shmoshua Tree -- Cask gets busy but never too cramped. The raised dining area has an awesomely rustic décor with wooden tables and a 100-year-old floor that hardly ever gets bombs spilled on it. Enjoy some prosciutto truffle flatbreads and a bottle of Allagash Black.<br />
&nbsp;
You might not expect to find an A-list cocktail bar tucked inconspicuously into a two-story town house-esque spot on 33rd St, but it's there, and the pedigreed team behind it (Little Branch, Milk & Honey…) is slinging amazing cocktails that include both bespoke options and originals like the rum-based Island Old Fashioned or classics like a Sazerac.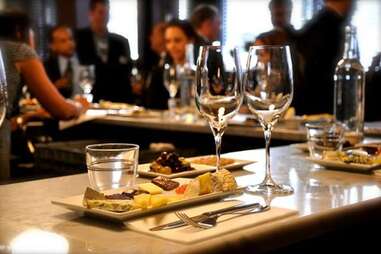 If you avoid walking past the Jersey Shore-esque scene outside of certain bars (you know who you are) on a Saturday night, than you'll love this spot, which feels like something out of <em>Midnight in Paris</em>, thanks to a nuanced French café/jazz bar feel that offers legit wine and small plates like ham, onion, and Gruyere tartes.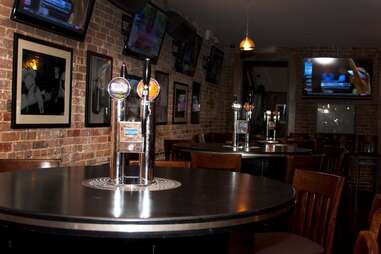 If you're looking for a less-packed and fishbowl-less alternative to nearby sports bars, you could do worse than Tavern on Third; there're up to 70 beers on tap to choose from, and plenty of screens, including individual TVs at tables for you to cheer on the Rangers and Giants or make sarcastic remarks during Mets games. There's also a draft table with personal taps, so you can get beers into your mouth even faster while you munch on fried mac 'n cheese balls.
Replacing the loud, dark club feel of the bar that used to reside in its location with a relaxing décor that will make you momentarily think you took a cab to the West Village, W&B has cocktails that use fruit that's juiced daily (like some neighboring clientele... zing!), and they make a hell of an Old Fashioned with the sweetest boozed-up brandied cherries that might only be surpassed in awesomeness by their own version of the Cronut -- a brunch menu-only Doissant.
This quiet spot won't have too many packs of dudes in suits drinking after work, but it <em>is</em> a nice alternative for brunch or a date. The mushroom ravioli and hanger steak are dinner favorites, and the eggs in a basket and the merguez sandwich on ciabatta with scrambled eggs, Turkish cheese, and tomato is a breakfast <em>favorite.</em>&nbsp;And, as always, you'll have plenty of awesome wines to choose from.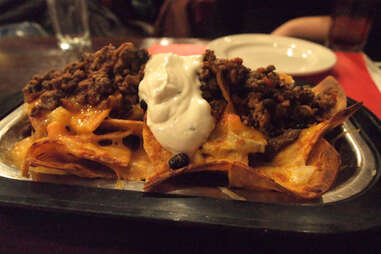 It might look like a college town dive bar, but its food and drink reach way beyond. The whiskey list is insane and the Texas Dip Sandwich and the wild-game burgers are always excellent choices, but the nachos might actually be one of the best in the city. Plus, they've got free popcorn.<br />
<br />
<em>Jeff Finkle is a freelance writer who has been known to name-drop trending celebs like Abe Vigoda and boast about mastering "Hot Cross Buns" on the snare drum in the 5th grade. Follow Jeff on <a href="https://twitter.com/JahFinkle&quot; target="_blank">Twitter</a> and read his mostly fictional tales on his <a href="http://www.dukefinkle.blogspot.com/&quot; target="_blank">blog</a>.</em>