Is there anything better than drinking on a rooftop in NYC? Well, listening to Phil Collins literally anywhere, but that's it. So, like Spiderman, you should make your way from the East River to the Hudson by stopping only on rooftops. Although, unless you produce your own super-strong web-like compound in a laboratory, you might have to get a cab.
Stop #1: Crow's Nest
500 E 30th St; Murray Hill; 212.683.3333
Start off at the Crow's Nest. Sure, it's the roof of a boat, but whatever -- the undervalued gem sits atop the Water Club on the East River, and they've got seafood, booze, and excellent views.
Stop #2: Upstairs
145 E 50th St; Midtown East; 212.702.1600
If you've got a friend in one of the many, many residential buildings with rooftop pools in the area, go there! If you don't have friends who live near Turtle Bay on purpose, make your way to the Upstairs at the Kimberly (or Pod 39, or Rare View) for a lobster roll and what they call the "manliest drink alive": the Rum Service, which somehow manages to be manly and include "zesty lime".

Stop #3: La Birreria
200 5th Ave; Flatiron; 212.937.8910
Keep making your way Southwest and swoop over to La Birreria, where there will likely be a crowd, but the beer is so good you won't care, and it's sample city down in Eataly below.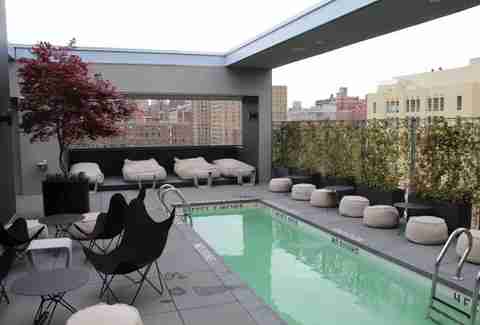 Stop #4: Gaonnuri
1250 Broadway; Korea Town; 212.971.9045
Next stop: K-Town, specifically the top of a 39-story skyscraper for penthouse Korean BBQ, beer, and soju. Score a spot where you can peep the Empire State building.

Stop #5: La Piscine
518 W 27th St; Chelsea; 212.216.0000
Pool party! La Piscine in the Hôtel Americano boasts a pool on its roof (it's heated to hot tub temps come Winter), plus cabanas to chill out on and a grill to refuel/overfuel.
Stop #6: Gallow Green
542 W 27th St; Chelsea; 212.564.1662
It's just a quick swing to the McKittrick Hotel, where you'll be getting your whimsy on at the oft-described "enchanting" Gallow Green, which'll hook you up with light fare like oysters to go down with their excellent 'tails including the Scozzese in the Garden.

Stop #7: Frying Pan
Pier 66a 26th St; Chelsea; 212.989.6363
So it's a boat. Who cares. You know how to do this: Corona bucket, repeat.