This December 21st -- the longest night of the year -- it's time to prove once and for all that the Best Night of Your Life wasn't that one time Elisabeth Shue babysat you in 1987. To help, we're rounding up the city's most Thrillist-approved spots to get your BNOYL on, from the happiest of happy hours, to the greasiest of late-night eats, to way, way, WAY more. Today we check in with a list of NYC's best clubs, and another chance to fully map out a perfect evening with our itinerary builder.
Southside
Nolita
This underground Nolita go-to is just small enough that the totally packed, couch-wreathed dance floor is okay... and sometimes actually awesome.
Bossa Nova Civic Club
Bushwick
Way out in Bushwick, this semi-tropical-themed dance haven is the perfect spot to get weird and see some seriously big-name DJs, without paying some seriously big-name prices.
Output
Williamsburg
This party complex in Williamsburg has a main room for legit, DJ-fueled parties (BYOMouthGlowsticks!), and is attached to The Panther Room and their rooftop, making it a one-stop-shop for blowing out your night.
PH-D
Meatpacking
Located on top of the Dream Downtown, this wide alley of a club has indoor/outdoor space, a front-and-center DJ booth, and completely sick views of the city from its rooftop perch.
No. 8
Chelsea
This project from club master Amy Sacco (of the former Bungalow 8) has brought back some of the former spot's glory, with an opulent/almost tropical steez, sexy vibes, and probably a celeb or two.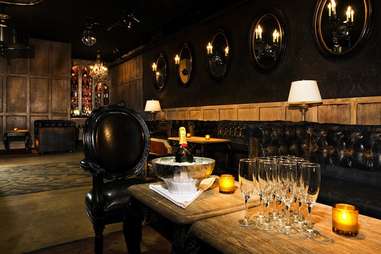 Avenue
Chelsea
Although there's no proper dance floor, you can still get nuts at your table or throughout the mansion-like, chandelier-laden, multi-level spot... and maybe even catch yourself at a party where a dude rides a horse through the room.
Marquee
Chelsea
After going through a design & concept overhaul, this OG club is maybe better than ever, with more of a focus on big-name DJs than models and bottles... though, there are still plenty of models and bottles.
Le Bain
Meatpacking
The Standard's penthouse "discotheque" is definitely worth the trouble it can take to get up there, thanks to a turfed deck, insane views, and the only swimming-pool-on-the-dance-floor in the city.