You know about the Milk and Cookie Shot. You may even love it. But you don't love waiting in lines for it, which's why we found a bunch of equally outrageous shots to try at bars around NYC, all minus the wait, and plus them actually having booze in them. Like a shot should.
HARRY POTTER SHOT
Barcelona Bar (click here for address and info)
Hell's Kitchen
One of the only places in NYC that legitimately specializes in shots, this dive offers a menu of more than 100, including a selection based on pop culture references, like the movie Top Gun and infamous White House intern "Monica Lewinsky". What you came here for, though, is the Harry Potter. The bartender will throw on a sorting hat and a striped Gryffindor scarf, and awesomely ignite your shot of citrus-flavored vodka using a "magic wand". Suck it, butter beer.
SPHERICKLE BACK
Do or Dine (click here for address and info)
Bedford-Stuyvesant
Don't let the establishment's seedy façade fool you -- everything on the menu is a gastronaut's dream (including the foie gras donut!), plus a tongue-in-cheek riff on a pickle back: the Spherickle Back. Owner and molecular whiz Luke Jackson created it by taking pickle juice and, reverse spherifying them with calcium lactate and some other stuff we're too dumb to understand, creating yolk-like spheres that pop in the back of your mouth. Bill Nye would be proud.
MEAN BEAN
One Stop Beer Shop (click here for address and info)
East Williamsburg
Be grateful that the barkeeps at this burger bar/growler filling station have kept your nutrition in mind  with the"Mean Bean", a pickle back variation where instead of a pickle juice back, you get a glass of green beans. And if you're feeling more adventurous/self-destructive? Try the borscht back, a salute to the neighborhood's Polish roots, served with a shot of vodka.
PINK GIN
The Shanty, inside New York Distilling Co. (click here for address and info)
Williamsburg
What makes this one unique is not the 16oz can of Brooklyn Lager (that just makes it awesome), but rather, the shooter of house Pink Gin, which is a blend of the distillery's Dorothy Parker Gin, Campari, and angostura bitters, all dispensed from an antique still sitting on the bar.
THE ASS JUICE
Double Down Saloon (click here for address and info)
East Village
Bartenders won't reveal what's in this dive's popular, scary-sounding shot, which is probably all for the better. Overcome the ick factor, hand over $4, and find out for yourself. One word of warning: don't drink too many of these tropical-flavored shooters, as the one and only rule at this LES institution is, "You puke, you clean".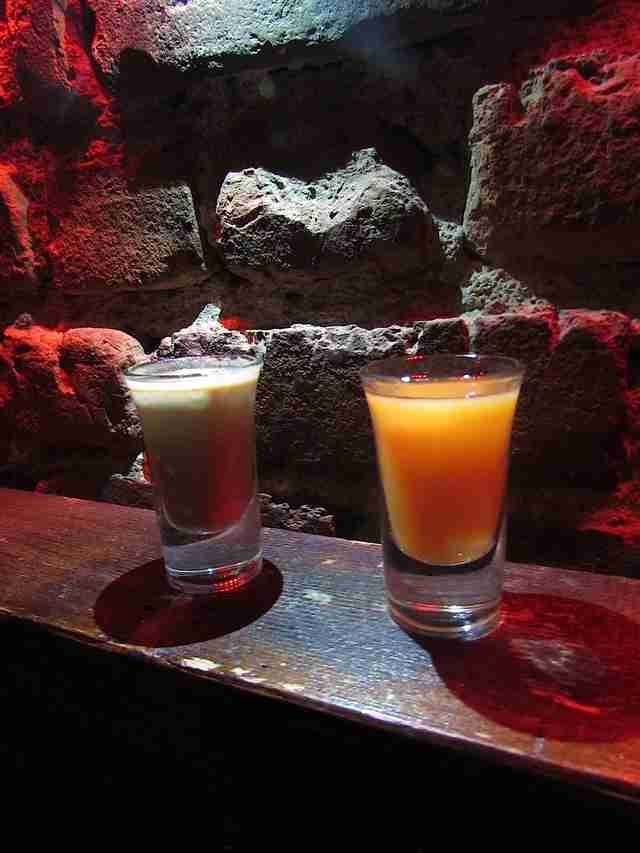 ROLO
Keybar (click here for address and info)
East Village
There's a reason this bar is considered "the ultimate party place". Drinks are two-for-one, seven days a week, including its impressive selection of shots. If your game plan is to drink a lot on the cheap, arrive early and claim a space at the red-lit bar that's home to over a dozen signature shots to choose from, including the chocolaty-caramel Rolo (pictured here to the left... to the left, everything you own in the box to the left).
ROOTBEER MILKSHAKE SHOT
The Stanton Social (click here for address and info)
LES
This restaurant and lounge is known for its creative cocktails, shareable multi-ethnic eats, and fashionable crowd. However, hidden on the dessert menu is a quaff that will not only satisfy your sweet tooth, but also keep your buzz ablaze. The Rootbeer Milkshake Shot -- made with caramel sauce, Michter's bourbon, and whipped cream -- is probably too thick to knock back in one gulp (unless you want a brain freeze, and are awesome), so you can use the mini black straw it comes with and sip it, like you hopefully don't do for any other shot, ever.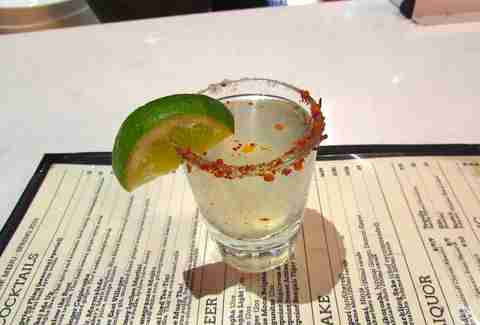 TOM YUM SHOT
NGAM (click here for address and info)
East Village
Bartenders at this Thai restaurant look to the food menu for inspiration when whipping up cocktails, so they use ingredients swiped from the open kitchen (kaffir limes, chiles, and gingery galangals) to create impressive drinks like the Tom Yum Shot, similar in taste to the spicy hot-and-sour soup found at most Thai restaurants, but elevated with a glug of tequila and a salt-and-chile rim.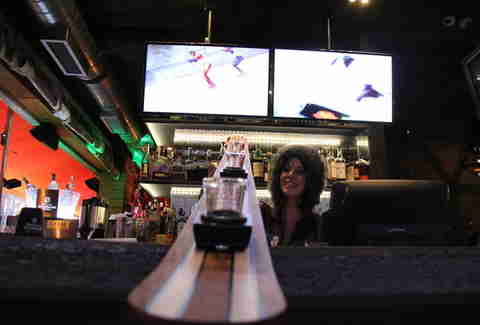 SHOT SKI
Haven Rooftop (click here for address and info)
Midtown West
Coordination is key when doing this round of shots (so do them early). With the help of multiple shot-glass-shaped bindings, bartenders nestle shots of vodka onto a snow ski and on the count of three, you and your friends tip the "Shot Ski" back at the same time, while bartenders shout "shot ski" and light sparklers. BONUS: you can also score shot skis at Reichenbach Hall and Bavaria Bierhaus.
JELLO SHOT
The Meatball Shop (click here for address and info)
Multiple Locations
One of the few places in the city where you can buy a Jell-O shot, this meatball restaurant offers 'em daily for $2 using one of everyone's favorite childhood snacks (someone needs to invent the pudding shot, ASAP!). But don't think you'll be able to get one during your brunch. Unfortunately, the restaurant only serves them after midnight and at all locations, save for the LES, which only serves beer and wine.
Jennifer Nalewicki is a Brooklyn-based freelance writer who has been published in The New York Times, Wine Enthusiast, Esquire, and more. Follow her on Twitter.