Pretty soon, the days are gonna start getting shorter, which means you better start making the most of the longer ones while you still can. Your best bet? Read these essential day drinking guidelines, then put them to good use with this NYC day drinking guide, which outlines the best day drinking bar for each hour of the day that the sun is out.
And even though this isn't a crawl, you could definitely string a few of these together for a nice little afternoon.
Where to drink: Spring Lounge (address and info)
Why? One of the better bars in the city, and one of a select few that open up before noon, the excellent craft selection allows you to pretend like you're getting an early start on a hobby or something, and the big windows let enough light in to ease you into your day properly.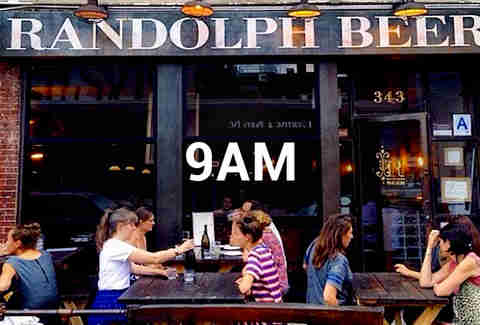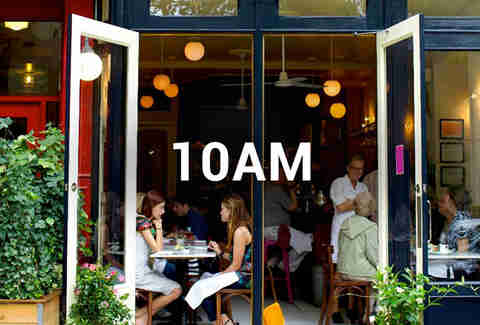 Where to drink: Prune (address and info)
Why? If you want one of the best Bloodys in the city (as well as an excellent brunch) but don't want to wait on the sidewalk for hours, get your ass out of bed and get here at opening time. You won't regret the rest of your day.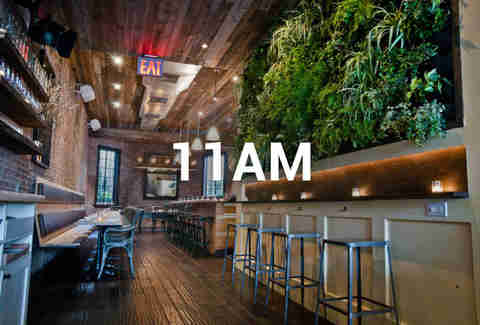 Where to drink: Colonie (address and info)
Why? If you live in Brooklyn and don't want to head into Manhattan, but DO still want an excellent brunch with top-notch drinkables (like an excellent michelada, a Bloody Caesar, and Bloody Mary), get to this normally crowded favorite as soon as it opens. And yes, we know this is about drinking, but have you seen the damn burger here?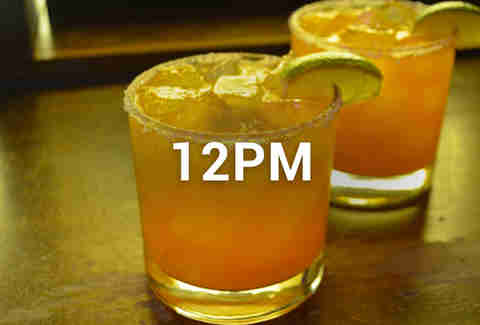 Where to drink: Calle Ocho (address and info)
Why? Calle Ocho is a great example of a boozy brunch with many, many flavors of COMPLIMENTARY sangria. But at noon, just about any boozy brunch is a good move -- it's not too early that you can't get up in time, and not too late to really get your money's worth.
Where to drink: Radegast Hall & Biergarten (address and info)
Why? If you're trying to get rowdy without all the pretense that "eating" brings with it, Radegast is your new best friend. Bring a deck of cards, stake out a massive table, and let the liters start rolling in.
Where to drink: Blind Tiger Ale House (address and info)
Why? You got some things done earlier in the day, and you'd like to reward yourself with an excellent craft beer. Half of day drinking is showing up before the crowds do and feeling like you have free reign, so get here right before it fills up, and really indulge in one of the best beer selections anywhere.
Where to drink: Skinny Dennis (address and info)
Why? It's possible you've never been here before 11pm, but this Radegast-adjacent bar (mini-crawl!) is awesome during the day for a few reasons. 1) Live music, 2) a lively but crazy scene, and 3) one of the best frozen coffee cocktails in the city.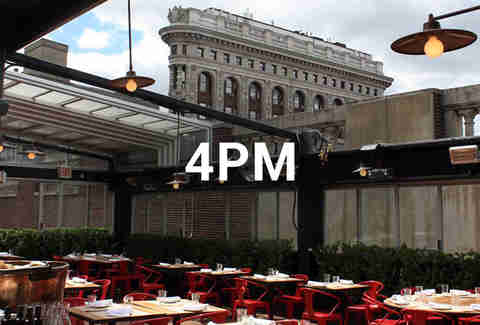 Where to drink: La Birreria (address and info)
Why? Combine the pleasures of a beer garden with the laid-back, late-afternoon vibes of a rooftop barstaurant, and this becomes one of the must-hits if you're starting things up before sundown.
Where to drink: The Cannibal (address and info)
Why? Heated outdoor space if it's chilly, lots of meat if you get hungry, amazing beer... there are a lot worse ways to kick off the late-afternoon.
Where to drink: Top of the Standard (address and info)
Why? Prime. Sunset. Position. Also, if you're wily, you can try and hang out 'til the party gets started later at Le Bain.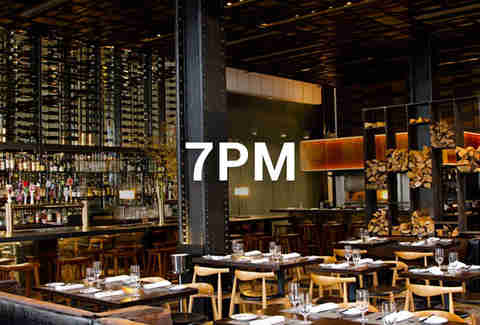 Where to drink: Colicchio & Sons Tap Room (address and info)
Why? More sunset-adjacent drinking here. And it doesn't matter if you're waiting for a table or not, make sure you go to the tap room, make sure you sit at the end of the bar, and make sure it's not a cloudy day -- the massive windows allow for some of the most stunning sunsets you can see in the city, in an under-the-radar drinking spot. Plus it's pretty close to a lot of night-drinking options, too.
Sign up here for our daily NYC email and be the first to get all the food/drink/fun New York has to offer.
Andrew Zimmer is Thrillist's NYC Editor, and he thinks drinking during the day and going home with a pizza before 10pm is not a bad way to spend a day. Follow him on Twitter and Instagram.