Fall is here. It's happening, seriously, stop denying it. To be honest, there are lots of good things that happen in the fall -- there're leaves, there's football, there're vests, but most of all there's a whole new kind of drinking. So, much like in our fall eating guide, we've laid out the next 13 weekends for you again, but this time each has something autumnal for you to drink. Follow it exactly or don't -- either way, these are things you should be drinking before winter hits.
September 26-28: Not iced coffee
You gotta start drinking it without ice again, so cope by adding a little booze and making it an Irish one, either right at your desk (Editor's note: baller.) or from a bar like Sweetwater Social, which's got a new one on their menu for the fall that has house-made cream.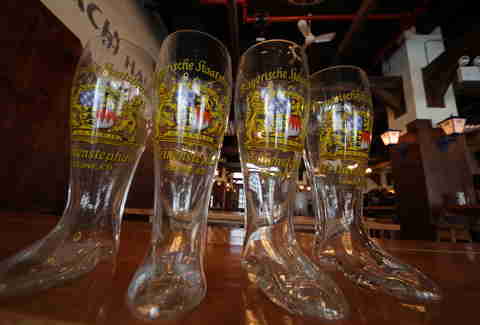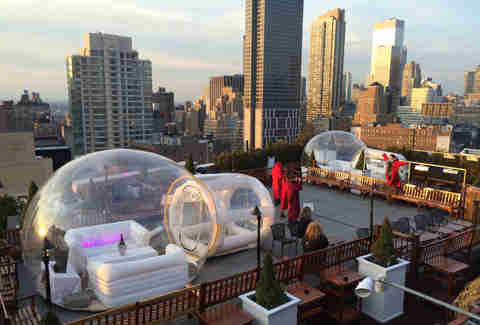 October 10-12: Anything on a rooftop bar that's still open
It's not too late people. Press Lounge, 230 Fifth, Top of the Strand -- those are just a few of the ones that stay open year round. Keep the dream alive.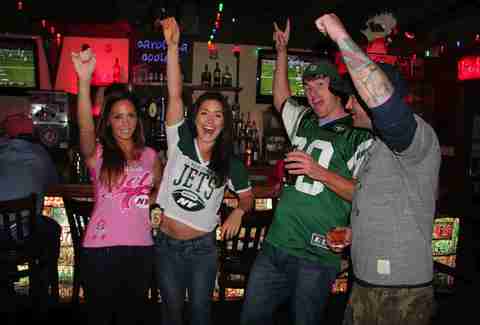 October 17-19: Tower of beer, a fishbowl, endless buckets of beer...
... or some other bro-y football-type stuff. If you're into football, you're probably already doing this, but if you're not, see how the other half lives and get to one of these great football bars, just for a day at least.
October 24-26: A boilermaker
There's a new bar called Boilermaker, and they specialize in boilermakers (!!!) that take you past domestic lights and well booze (though they've got that, too) with options like a Victory Storm King with a shot of Ramazzotti, or Brooklyn Lager with Old Grand-Dad Bonded.
October 31-November 2: Punch
Look. It's Halloween, which means you're probably drinking a lot of whatever it is you pick, and if you're out at a bar, you're probably not being so picky about it. If you're throwing a party though, may as well work up a big bowl of punch -- it's like the "set it and forget it" of party planning.
November 7-9: Rock & Rye
This brand-new offering from Williamsburg's NY Distilling Co. is their first rye release (they also do Navy Strength gin, Dorothy Parker American gin, and Chief Gowanus -- New-Netherland gin), which is created using New York state rye, and yields whiskey that's then tempered with rock candy, dried cherries, cinnamon, and orange peel. Score yourself a bottle or head to the in-house distillery bar, The Shanty, for no-doubt, top-notch 'tails made with the new spirit.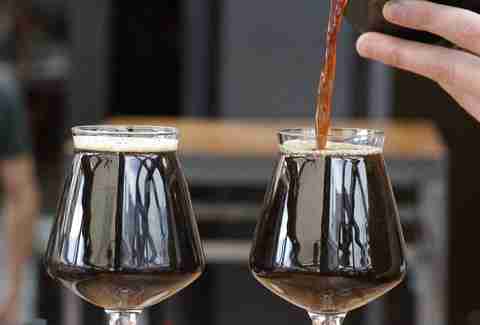 ... preferably in a dive bar that you no longer need to feel guilty about hanging out in all day because it's a little colder, it gets dark a little earlier, and going for a run or whatever sounds horrible.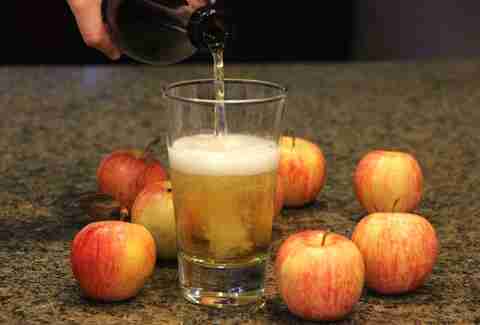 December 5-7: A seasonal cocktail
Fall means a ton of your favorite bars are going to be rolling out brand-new menus fully loaded with an endless array of new libations to try, like the the brand-new Sekend Sun (which should be opening around Nov 1st) in Astoria, which'll be doing a Black Baby Grand with Irish whiskey, China China Amer, orange flower water, and barrel-aged Angostura bitters.
December 12-14: Whiskey
Fact: whiskey warms you up*. Fact: whiskey helps you get through the holidays*. Don't drink it like a dummy, head to one of the best whiskey bars in the city.
*not facts... kinda
December 19-20: Eggnog...
... or anything from Rolf's. We also suggest a schnapps tasting. Really just get there early as hell to make sure you can post up at the bar.
Sign up here for our daily NYC email and be the first to get all the food/drink/fun New York has to offer.
Andrew Zimmer is Thrillist's NYC Editor and he doesn't understand why eggnog is reserved for the cold weather months, 'nog is always good. Follow him on Instagram and Twitter.