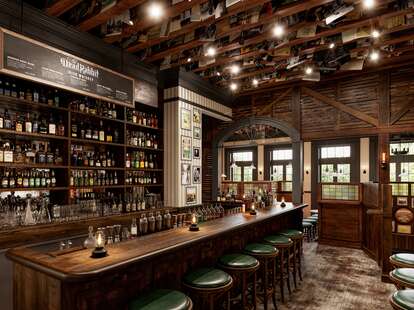 New York City's popular tri-level Irish bar and taproom in Lower Manhattan on Water Street, The Dead Rabbit, has announced plans to expand their operations cross-country.
Led by co-founders Jack McGarry and Sean Muldoon along with beverage director Jillian Vose, "The Dead Rabbit 2.0" program slates a total of six new locations across the U.S. opening over the next five years.
Regularly considered one of the top bars in the world for its high-quality beverage program since opening in 2013, the watering hole, located in a 1828 townhouse, is popular for its first-floor taproom where rounds of Guinness and Irish coffees flow, and live Irish music performances called seisiúns are held every Sunday. The bar is also known for its second floor parlor where expertly crafted cocktails are served up, many using Irish whiskey, out of a menu that resembles a dark-humored comic book.
For the brand's expansion, first up on the docket with a late 2022 launch and helmed by Muldoon and Vose, will be a 270-seat sister-concept pub and cocktail bar called Hazel and Apple in Charleston, South Carolina.
In early 2023, McGarry will then head up the Dead Rabbit's new outposts: one in a three-story 19th-century French Quarter townhouse in New Orleans, followed by another in the Sixth Street District of Austin later in the same year.
"A new vision of The Dead Rabbit emerged, with a goal of spreading the love for the Modern Irish Bar," says co-founder McGarry. "That meant pivoting to a contemporary-focused pub with a gentler touch. We felt it was time to go beyond the overly masculine trappings of the brand, including the comic book Rabbit character."
Although some fans of The Dead Rabbit may lament the loss of the beloved illustrated mascot, there's plenty to be excited about in regard to the future of the brand.
Stay tuned via The Dead Rabbit Instagram for future details on the upcoming openings.