Daytime in NYC is fine. Everything is open, energy is high, and the subway is (sorta) running smoothly. Great. But once work, your commute, and the stresses of your 9 to 5 have dimmed, once the sun goes down and the artificial lights come up, a different New York emerges.
Without the crowds and the commerce, the city comes alive after dusk -- it blushes on its avenues, whispers on its bridges, grumbles in its bars, and roars in its clubs. Walk out onto the shadowy streets, and you'll meet a place and a people whose vibe and verve simply couldn't exist without the cover of darkness. New York's id emerges each night; a nocturnal other half every bit as essential to its identity as its business-hours alter ego.
So, for everyone seeking that restive energy, a glimpse at the face behind the shimmering day-to-day mask; for anyone who isn't afraid of the shadows, here is what to do after hours in NYC.
Recommended Video
Big Boi From OutKast Introduces Cliff to Atlanta's Food Scene
Strut your trivia stuff
Citywide
You know you know it all, but do strangers who may have thought they were heading out for a quiet night at the bar only to find themselves smack dab in the middle of a trivia extravaganza know you know it all? There are trivia nights for all types citywide: Start at Brookfield Place in Manhattan, B61 bar in Brooklyn, The Wolfhound in Queens, The Phunky Elephant in Staten Island, or The Bronx Beer Hall.
Flushing
There are plenty of bowling alleys where you can knock 'em down all over town -- but only one where you can do it all night long. Whitestone Bowling Alley is open 24 hours a day, every day. Outside, Whitestone appears to have been encased in amber in the 1960s. Inside looks... pretty much the same. But it gives the whole endeavor a little vintage kitsch.
Take a bracing bathhouse dip
Citywide
A hot bath before bed is one of life's little pleasures, but a frigid dip is just the thing to gird your body for a long night on the town -- plus it'll make the winter weather outside feel a little warmer. The Russian & Turkish Baths in the East Village has a 46-degree dip and it's open until 10pm every night of the week. The water lounge at Great Jones Spa is replete with a sauna, steam room, Jacuzzi, and an icy plunge pool. And the tile baths at Mermaid Spa is chilled with chopped ice.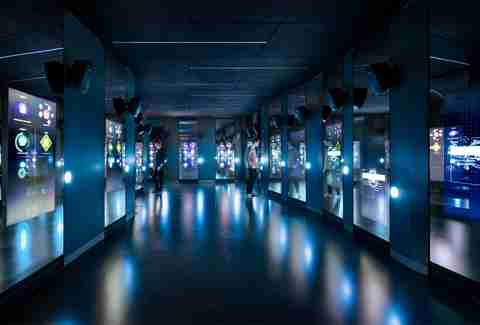 Hell's Kitchen
Everyone knows that espionage can happen at any time of day or night, but it's most effective under the cover of darkness. Learn the ways of deception, code cracking, encryption, spy supplies, special ops, surveillance, and hacking at the interactive Spyscape museum.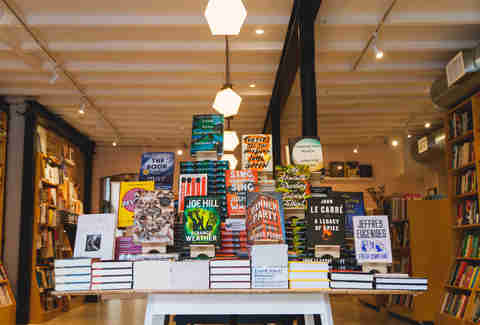 Or tell one of your own
Citywide
Once you've mastered the art of listening (it might be a while), spin your own yarn at an open mic night. Sign up to grace the stage at Old Man Hustle on Sunday nights, the Nuyorican Poets Cafe every Monday, and at Pete's Candy Store on various evenings.
Citywide
Anyone who's braved the Sunday afternoon crowd at a New York museum misses the irony in the old joke, "Nobody goes to that place anymore; it's too crowded." Once the daytime herd has thinned, you'll find a more relaxed space to peruse venerable collections, or boogie at a sweaty, raucous dance party -- programming varies. Check out The Whitney's evening exhibition tours, talks, and readings, or the Brooklyn Museum's first Saturday dance parties.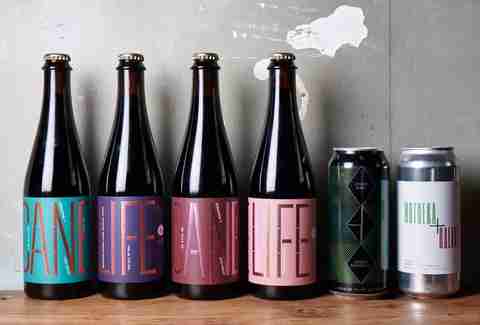 Citywide
New York City's craft beer scene is only getting stronger. Snacks, live entertainment, and the proud product of hyper-localism are all on tap every night in every borough (other than that crowded one). Down a heady IPA at Brooklyn's Other Half Brewing, a smooth lager at Staten Island's Flagship Brewery, a crisp cider at Bronx Brewery, or a velvety stout at Singlecut Beersmiths in Queens.
Get high (literally)
Midtown, Financial District
Trite but true: There's nothing quite like a sky-high vantage from the middle of Gotham at night. Rise above "too touristy" judgements to a panorama of twinkling lights, rivers of traffic on the avenues, and perspective on the city's innumerable lives. Whether it's the Top of the Rock, the Empire State Building Observation Deck, or One World Observatory -- you may wait in line, but your reward will humble even the most jaded among us.
Get nostalgic at an all-night diner
Citywide
Tucked into a booth, doodling on your paper placemat, steaming cup of coffee and slice of cherry pie at the ready: Here you are, among the nighthawks. Doubtless the menu in your greasy-spoon is expansive, but people-watching is the real attraction here. Nighttime at a 24-hour diner is the burnt coffee-perfumed junction between those ending their days and those just beginning them; it is the clean, well-lighted place where the city shifts gears. The Georgia Diner in Queens, Daisy's Diner in Brooklyn, The Waverly Diner in Manhattan, Colonnade Diner in Staten Island, and the Pelham Bay Diner in The Bronx are all late-night staples.
Catch a show
Citywide
Maybe you're looking for punk spectacle on Staten Island, the world's most famous amateur hour in Harlem, an East Village open mic, a drag show in Chelsea, balletic grace on the Upper West Side, sultry mambo in the Bronx, indy riffs in Williamsburg, cool jazz in Park Slope, or comedy capering in Long Island City -- whatever you're into, every single night and in every single borough, someone is doing it in public for you to enjoy. Support local artists and find your scene.
Arthur Avenue
New York's place at the cultural vanguard leaves old-school authenticity in short supply, but anchored by Arthur Avenue, The Bronx's Little Italy is too good, too quintessential to be papered-over by the zeitgeist. No precious, tortured, tweezered amuse-bouches here. Instead, you'll find businesses owned and operated by proud families of born-and-bred New Yorkers offering candlelit evenings of sumptuous food served on red-checkered tablecloths. Head north to find the cannoli; mozzarella; and veal, chicken, and eggplant parm of your dreams.
Citywide
Imagine yourself dancing during the day. There's something… off about the tableau, no? Plus, good luck finding a place that'll bump the soundtrack that your soul is craving before sunset. House of Yes, Analog, Output, and Cielo all feature as hip and as steamy an atmosphere as you could possibly want in a club. If you're looking for something lower-key, spots like C'mon Everybody, Beauty Bar, or The Ditty all keep DJed dance parties on their calendars.
K-Town
As opposed to loosey-goosey dive bar caterwauling (which, for the record, we love), Korean-style karaoke tends to be a more purposeful, polished affair replete with dramatic lighting and private rooms. It's not an activity, it's an experience -- one that can run nearly all night if you've got the wherewithal and a bag of lozenges handy. Favorite spots include Maru Karaoke Lounge, Chorus Karaoke, and 32 Karaoke. Plus, you can get Korean BBQ close by.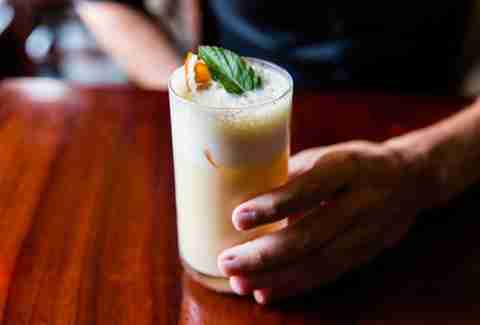 Citywide
New York is a drinking town. The options for where to get weird are seemingly endless and subject to your whim. Whether it be an Irish pub, crusty dive, beer garden, gay bar, pseudo-speakeasy, pickup joint, or each of them in succession -- if you're game, the official 4am last call need only be a guideline.
Greenwood Heights
Not only is peaceful Green-Wood Cemetery Brooklyn's highest topographical point, it's one of the city's great historical sites, and the only place to see wild parrots in the five boroughs. Guided cemetery tours, live music, art installations, and other assorted arcane nighttime programming make this an enduring and singularly fascinating place to spend an evening.
Departing from Lower Manhattan
The Staten Island Ferry is free, runs all night, and has the best views of the Statue of Liberty, and the illuminated NYC skyline. Plus, depending on the hour, they sell beer right on the boat. Am I suggesting that you also bring a flask of liquid warmth, brown-bag a couple of tallboys, or have something pre-rolled for the 50-or-so-minute round-trip ride? No, I am not. Those things are all subject to fines by the NYPD. I am not suggesting them.
Take a hike
Downtown Manhattan
We're a long way from the bad-old-days, which means one can -- and should -- hit the streets with relative confidence after dark. A favorite place to meander is SoHo. By day it's unbearable; a tourist-choked bourgeois shopping mall. By night it's a neighborhood again, its gorgeously adorned industrial facades lit by streetlamps and galleries' big front windows providing an unhurried gander. If the weather is right, walk west across Houston to the pedestrian path along the river -- the perfect post-meal constitutional.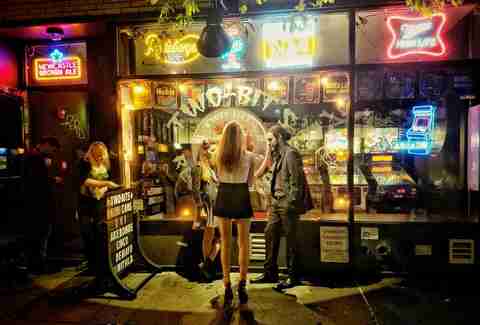 Citywide
Gaming doesn't have to be a solitary, at-home pastime. Any night of the week, in any one of New York's arcades, you can rub elbows with high-score chasers, challenge a friendly stranger, and revel in 8-bit nostalgia. Barcade, Two-Bits Retro Arcade, and Sunshine Laundromat serve booze, while Chinatown Fair, Next Level, and Modern Pinball don't -- but you won't miss it, removed from the world outside in your cacophonous neon bubble.
Your nearest Chinatown
There are few things as satisfying as a late-night pile of dumplings, after which there are few things as welcome as a warm bed. New York boasts what are effectively three different Chinatowns in which you can cap-off your night with comforting old standbys or authentic, novel picks. In Manhattan's Chinatown, Wo-Hop is open until 4:30am; Flushing's Canton Gourmet until midnight; and Hot Space in Sunset Park until 2am.
Watch the sunrise
Coney Island
Coney Island is worth visiting by day, but after the Cyclone is retired for the night and the fun-seekers, freaks, and carneys have packed it in, there is still the beach, and the ocean, and the sky, and you. There are so few places for solitude or recognition of nature's vastness and power in this city, that simply sitting and watching morning's first light bloom over the Atlantic feels transcendent.
Sign up here for our daily NYC email and be the first to get all the food/drink/fun New York has to offer.