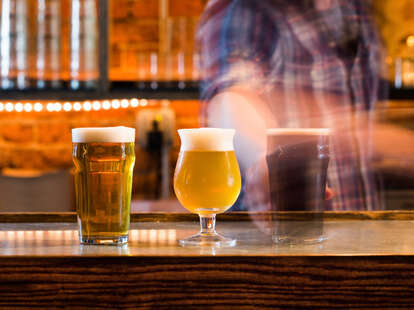 ABC Beer Company

| Cole Saladino/Thrillist
ABC Beer Company

| Cole Saladino/Thrillist
The modern definition of what makes the best beer bar is, at best, a moving target. It's an even more formidable task in New York City, where modern beer-focused bars and restaurants seem to be as ubiquitous as your favorite corner bodega (which are, sadly, vanishing). While there's a widespread belief that the rarity of offerings is the only valid qualification for a great beer bar, there's really so much more that goes into it. Factoring in a great (and well-maintained) beer list, relaxed atmosphere, menu (snacks are a must-have at your best beer bars in 2016, with a few notable exceptions), and that certain je ne sais quoi that makes a great beer bar so appealing, we've compiled our take on the best beer bars in New York City. Brace your livers.
West Village
Arguably the epitome of a New York City craft beer bar and a true pioneer in the NYC craft scene, Blind Tiger's been doling out a fine selection of the top tier libations since it opened in 1995. It's the go-to spot to meet folks from your favorite breweries who happen to be swinging through town, and the tap takeovers are legendary to say the least. Top it off with a knowledgeable and approachable staff, great music, and tastefully worn wood surfaces, and the beer at the Tiger just seems to taste better than it does at other places.
Alphabet City
Part-bottle shop, part-beer bar (a trend that's been taking off recently), this Avenue C haunt is perfect for when you want to grab an interesting six-pack to go from the cooler or belly up to the bar and order one of the 12 rotating drafts on the menu (full disclosure: owner Zach Mack is our contributing beer writer). There's also a laundry list of excellent bar bites -- including some tasty meat and cheese platters and toasted sandwiches that pair perfectly with that saison you're drinking -- plus super-cushy seating, a long wooden table perfect for groups, and free Wi-Fi. It's the kind of place you can stroll into any night of the week and leave all pretense behind.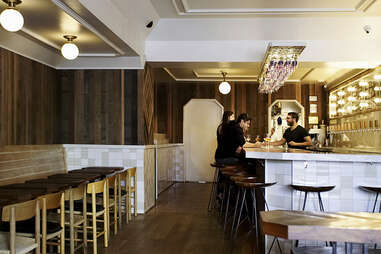 Williamsburg
It goes without saying that Torst is trendy, but the staff here still keeps it refreshingly simple in their approach to a great beer bar. Opened and run by the owners of Evil Twin Brewing, those crazy Danish alchemists of fantastically creative beer, Torst eschews the bullshit nicely, and instead keeps your focus squarely on the beer. With over 20 seasonally focused drafts from all over the world, the beer is always "ekstremt" fresh and unique (we didn't find half of the beers on draft anywhere else in New York). Plus, and we love this from a tasting perspective, they're all offered in three different sizes so you don't have to commit to a pint if you're aiming for more variety during your visit.
Upper West Side
Keeley's is a mainstay and a gem in a neighborhood distinctly lacking in quality beer-focused bars and restaurants. A relative underdog on our list, Keeley's is more than deserving of some love. Quality pub food, nicely positioned TVs, unlimited salty popcorn, and an absolutely inspired tap list with a local focus make it a friendly hangout for anyone looking for a great pint, a football game, and an even better conversation. If you're adventurous, join George Keeley's beer club by consuming 100 different types of beer and immortalize yourself on the wall of fame... if you dare.
Prospect Heights
Really crispy grilled cheese. Fresh and oh-so-soft pretzels. We would normally end it there on the hard sell for any bar sporting a great beer selection, but Covenhoven deserves more. A relative newcomer on the Brooklyn beer scene in the past few years, what Covenhoven lacks in front-of-the-house seating, it more than makes up for in amazing tap takeovers (think seriously rare stuff, like a relatively recent takeover from The Bruery featuring more than 20 of its barrel-aged and experimental offerings) and one of the most eclectic draft towers in the city. It's also got a nice backyard hangout that's perfect for warmer days.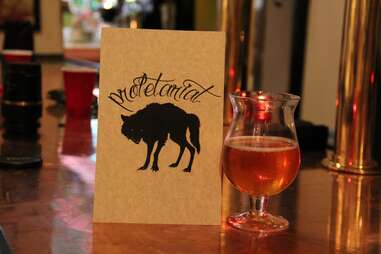 East Village
This tiny little beer bar has quickly made a name for itself amongst NYC's craft beer elite... if such a thing exists. Tucked away, speakeasy-style, on St. Marks, Proletariat might be the most amount of fun you can have in such a small space here in the city. It's known for its incredibly informed and entertaining bar staff, and a draft and bottle list that's always fresh and interesting, with a great combination of local and national beers. A well run-beer bar speaks volumes, and the folks at Proletariat clearly love great beer.
Carroll Gardens
This is the sort of bar that feels way bigger than it actually is, and that's especially true on a beautiful spring day when all the doors are open. Wander into Bar Great Harry and you'll find one of the most relaxed beer bars in Brooklyn, coupled with a superb draft list that rotates on a very consistent basis, making every visit a unique experience. Plus, and we can't emphasize this enough, it's got several pinball machines. Pinball and beer is a combination that can't be denied.
Park Slope/Gowanus
Located inside a former tire shop, Mission Dolores (from the Bar Great Harry team) kills it with an excellent, and usually very local, beer selection in what is arguably the most unique atmosphere on this list, considering you're drinking your beer inside a garage. The front of this 4th Ave bar still maintains its industrial setting, and whether you're a tried and true hophead or a newly minted parent looking to escape diaper duty, it's about as neighborhood friendly as it comes in Brooklyn's burgeoning beer scene.
Hell's Kitchen
Whether you're catching some drinks before a concert at Terminal 5, or just dropping in for a burger and beer around lunch, Valhalla holds it down as one of the West Side's best beer bars. Not for nothing, but 48 nicely curated, mostly local draught choices puts beer geeks and aspiring craft enthusiasts on the same page, and keeps the conversation flowing. In fact, we've never been to Valhalla and not geeked out with our fellow barfly during the visit.
Astoria
Queens is absolutely bursting at the seems with beer bars and taco trucks these days, which is just fine with us (after all, it's science that tacos are the best tasting food after a night out), and Judy & Punch hits all the right buttons. It's got an outstanding draft list and a staff that's armed with all the geeky beer knowledge you could hope for, plus a chill vibe, the occasional trivia night, and one of the best happy hours in the whole city (4-8pm all drafts are five bucks!).
East Village
New York City publican and craft beer maven Jimmy Carbone's signature bar carries his name for a reason. Jimmy's No. 43, a downstairs joint in one of the most bar-heavy neighborhoods in the whole country, has a perfectly sized and approachable craft beer selection without the pretense of being too exclusive. The staff insist that you sample a sip of beer first before committing, and the cozy environment and upscale food cap it off to make Jimmy's a neighborhood mainstay.
Astoria
This place is probably tied with Proletariat for being the most diminutive bar on our list, but it punches way above its weight class with a unique and interesting beer selection for the area, a fun atmosphere, and seriously delicious paninis. Situated slightly off the beaten path and nestled amongst the townhomes of Astoria, Crescent & Vine has an almost Chicago-ish neighborhood vibe to it, with a simple and inviting appeal that makes it a sleeper in the NYC craft beer scene.
Sign up here for our daily NYC email and be the first to get all the food/drink/fun New York has to offer.
Chris McClellan is a contributing beer writer at Thrillist, the founder of The Brew Enthusiast, and a consummate lover of great tales, pale ales, and a really solid deli sandwich. Follow him: @brewenthusiast.