As we inch closer to the proposed plastic straw ban in New York City, I'm already mourning the sweet screechy sound of straw-on-lid that announces my morning iced coffee. Under the proposed ban, any business owner caught handing out plastic straws or stirrers would incur fines starting at $100, effectively destroying our bubble teas and Bloody Marys. Seattle and Portland are already moving forward with their own straw bans, but it's a harder sell in a city that has resisted similar bans on styrofoam and plastic bags.
Is it gross to run a pipe cleaner through a silicone straw and then put it back in your purse? Yes, extremely. Is whipping a foldable straw out on a date akin to pulling a Juul out of the sleeve of your hoodie? I'm afraid so. Do any straw alternatives have BDE? No, they do not. But we've got to face facts: Plastic straws are one of the ocean's top polluters, and Florida's like four years away from getting snapped off America like a Toblerone.
Plastic straws are so integral to these NYC drinks that it's hard to imagine life without them. In order to save the planet and keep sucking, I've identified the best straw alternatives for each one. Even if the straw ban doesn't pass, we can all do a little more to stop New York City from, you know, sinking into the sea. RIP plastic straws. And you're welcome, Earth.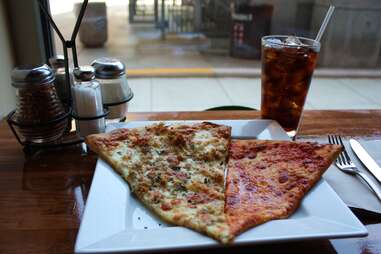 2 Slices and a Fountain Soda Special
Was there ever a meal more suited to Garfielding? Designed to eat standing at a counter, the 2-slice special is quick, filling, and the only time to drink out of a paper straw that turns into a spitball within seconds. Fold your slices, wolf 'em down, and wait until the absolute last second to insert the straw into the lid. Although you can acknowledge that the straw's red-and-white barber's pole aesthetic fits right in at pizzerias, don't chew thoughtfully on it unless you want a mouthful of pulp. Remember, this isn't a meal to be savored; it's to give your gut a base coat so you don't get wasted at your college friend's engagement party.
Winner: Paper straw
Coffee Cart Iced Coffee
This one hurts the most. There's something so appealing about that big clear plastic cup -- sweating already from the ice -- and the straw stuck in the lid with its wrapper half-torn so you can pull off the rest yourself. You need a cup in the morning. You want one in the afternoon. Maybe you have a late dinner reservation -- how about a third cup after work? No single-use straw will last through the commute and morning meetings, but you can hardly be expected to carry a steel straw in your pocket everywhere you go. Luckily, some coffee-loving smartypants has invented a collapsible steel straw that comes in its own palm-sized carrying case. Just attach it to your keys and unfold it like a magic wand whenever you need a cup of the good stuff.
Winner: Collapsible steel straw
Green Smoothie
The idea of tipping kale and spirulina straight into my open mouth is enough to put me off veggies all together. A flimsy paper straw won't hold up to all that sludgy green stuff, and trying to clean crusty chia out of a steel straw gives me the shivers. Enter the compostable, single-use straw made of biodegradable cornstarch. It lasts a little longer than paper, and although it affects the flavor of your drink, you'll hardly be ruining the taste of your morning protein powder mix-in. Now if only we could harness the energy of every spin class in Manhattan and feed it back into the power grid.
Winner: Compostable cornstarch straw
Bubble Tea
Big bright plastic straws are integral to this NYU student staple: How else to suck up those squishy black balls without choking and causing your own undignified death? You'll need something wide enough to accommodate the boba and sturdy enough to withstand both sipping and chewing. If you're a dedicated bubble tea drinker, order a set of extra-wide silicone straws -- with an inner diameter of almost half an inch, they'll suck up everything from jellies to pearls. Plus they're as colorful as the originals and as fun to chew on as the boba themselves.
Winner: Extra-wide silicone straw
Instagram-Bait Cocktails
Is it garnished with edible flowers? Does it have a popsicle melting in it? Did you caption a picture of it "#goals"? You're drinking Instagram bait, friend. If you're carefully curating a life on social media, the disappearance of plastic straws is really going to mess with your #aesthetic. Glass straws, although impractical for everyday use, replicate the crystal-clear look of the plastic straw while proving that you care about the environment. Put in the straw, snap a photo of your hand holding your cocktail up against the sky, wonder if the disconnect between real life and online life will cause lasting damage to an entire generation's psyche, and wait for the Likes to roll in and make you forget the question.
Winner: Glass straw
Bloody Mary
No matter how you like your bloody at Sunday brunch -- clammy, lemony, horseradish-y -- a good one is always thick enough to make it worthy of a straw. It's a sipper, so paper straws are out of the question, and you don't want to get a little sloppy and chip your tooth against steel. Good thing we're alive in the time of the Meat Straw. The tube of spicy jerky adds flavor to your bloody, and what's another garnish on a drink already full of them? Restaurants should stock the straws, and if you throw some in your bag before brunch you're sure to meet a lot of neighborhood dogs. If you're a vegetarian, well. Maybe you can use a celery stalk as a luge?
Winner: Meat straw
Egg Cream
Cold milk. Fox's U-Bet chocolate syrup. Seltzer glugged in. (No egg.) While you could get a fancy egg cream served in a pint glass with a milkshake spoon, the classic of the form is served at a bodega in a paper cup and -- oh no! -- a plastic straw. Order a half-chocolate and half-vanilla at the counter. Grab a bag of Strawberry Twizzlers. Now listen carefully: Bite both ends off a Twizzler. Insert it into your egg cream and suck. Does that Twizzler not have a hole all the way through? No problem! Eat it and make a new one. Now you're drinking a Neapolitan egg cream, and you're welcome.
Winner: Twizzler with the ends bitten off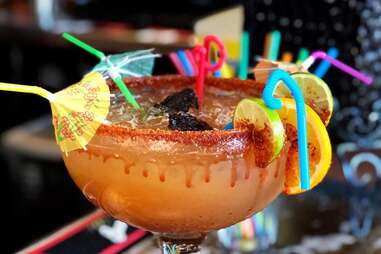 Happy Hour Margaritas
Whether you're commiserating with co-workers or meeting a friend who just got dumped, a pitcher of margaritas is the ideal tequila delivery system. Margarita glasses are awkward to pick up -- they're heavy, and ringed with salt -- making the straw an absolute necessity. For all the many Mexican restaurant owners reading this, here's my solve: Serve without ice cubes (they make it a pain to pour, anyway!) and use straws made of ice, instead. The molds are simple to use, the water costs less than paper straws, and a quickly-melting straw adds incentive to drink it down fast. Brain freezes are always a possibility, but that's a risk worth taking.
Winner: Ice straw
Overpriced Highball in a Club
That vodka-redbull cost like $20, so you're gonna want to drink it slowly. Steel and glass are too dangerous. Paper and cornstarch are too flimsy. Sure, you can drink it with no straw at all, but only if you want to end up with ice all over your face. So let me ask you a question: Are you in this club to be a good person? Yeah, I didn't think so. So hoard plastic straws and put a few in your clutch with your lipstick and ID. Sorry, turtles. We're just here to have a good time.
Winner: Plastic straw you've saved for this express purpose
Sign up here for our daily NYC email and be the first to get all the food/drink/fun New York has to offer.