People like to describe Brian Miller as a pirate. Probably because he is a pirate.
Miller couldn't be easier to spot from across the room -- he towers over 6ft-ers with a goatee and shoulder-length hair often scraped back into a ponytail. Oh, and the eye patch.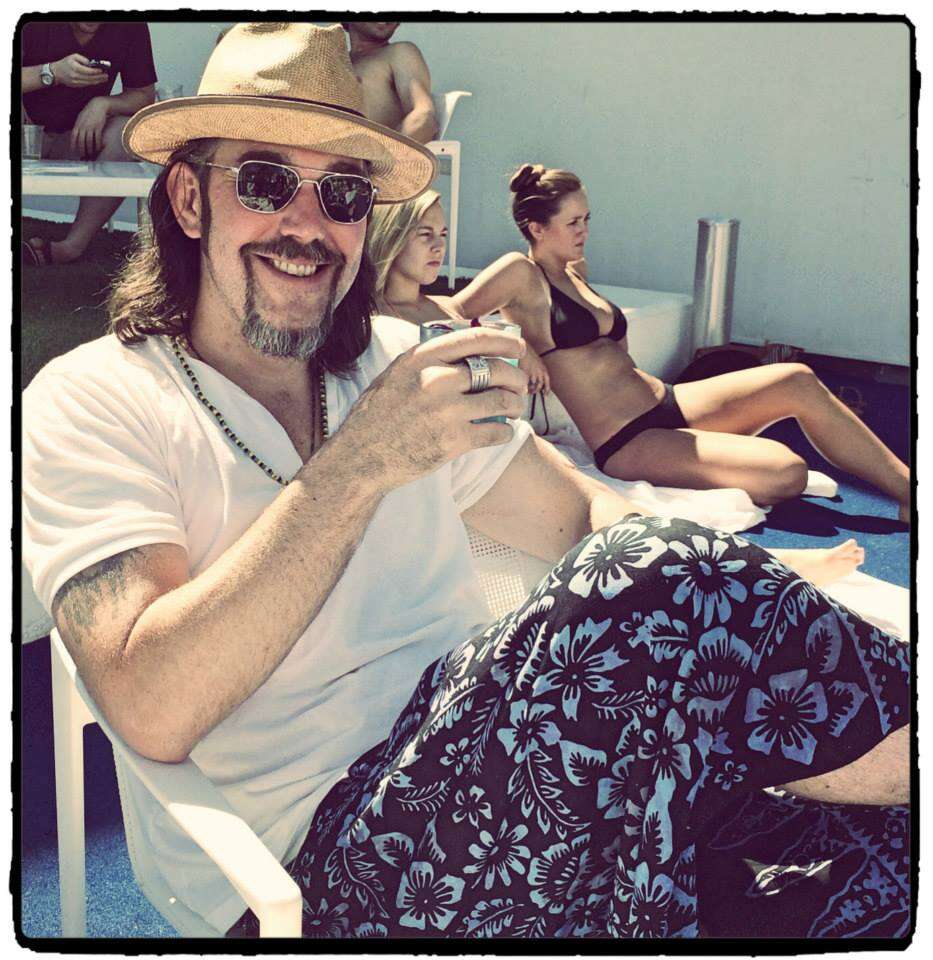 This particular pirate knows that inducing a group of jaded New Yorkers to belt out "Islands in the Stream" (the Kenny & Dolly version, of course) only takes a little rum. Luckily, there was plenty of it at Avenue C restaurant Apartment 13 one recent Monday night. I lifted my Jungle Babbler in the air and sang along. A few refrains later, my glass was empty and my cheeks ached.
The war-painted Miller once again presided over Tiki Monday – a blissfully themed weekly cocktail throwdown hosted by him, and a direct offshoot of the original, same-named party at Lani Kai, once the epicenter of NYC's Tiki universe – and this one felt like a homecoming, with familiar faces interspersed by a few curious newcomers. Parked on a bench out front, a gnome in a lei and his own skull-and-crossbones eye patch seemed to watch passersby with bemusement.
But almost as soon as it had arrived in Alphabet City, Tiki Monday was gone again.
Until about a year ago, a devoted subsection of New York bars focused on the culture of wonderfully silly mugs and the overproof rum that fills them, before the cruel vagaries of Manhattan's real estate market crushed them like fresh fruit beneath its massive muddler. But thanks to Miller and other acolytes, New York Tiki refuses to die, popping up in random restaurants and far-flung pockets of the outer boroughs -- surviving, however it has to.
How did we get here, to this dispersed but still-humming urban Tiki scene? And what might be coming next? Pour yourself a Mai Tai and let's take a trip.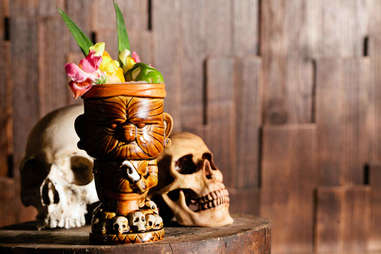 FIRST-WAVE TIKI (1930s-1970s)
Tiki came to us from afar. Establishments peddling tropical cocktails began popping up as early as the '30s, but things really took off after World War II, when servicemen carried home stories of exotic Pacific lands, and the powerful drinks they took down while there. In 1948, James Michener won a Pulitzer Prize for his book Tales of the South Pacific, which made it to Broadway and became a movie sensation in 1958. Hawaii became the 49th US state in 1959. Two years after that, Elvis Presley released Blue Hawaii. Everyone wanted to be on an island.
... though the bar lingered on until Donald Trump purchased the hotel, declared that Vic's had "gotten tacky", and shuttered it in 1993 -- a mortal sin.

In New York, the Hawaii Kai above the Winter Garden Theatre in Times Square was the mid-century grande dame of Tiki restaurants. Though it was preceded by similar joints in that space (Monte Proser's Beachcomber as early as 1940, Lanai in 1961), Hawaii Kai is the one your great-aunt from Ohio remembers for its elaborate cocktails and Polynesian revue.
And of course, the legendary Trader Vic's opened in 1958 at the Savoy-Plaza Hotel. In 1965, the Polynesian-style bar moved to a Plaza Hotel basement space -- described in a 1989 NYT article as a warren of "dim, cavernous rooms topped by thatched roofs and decorated with spears and dugout canoes" -- which it occupied for almost 30 years. After the Trader himself, Victor J. Bergeron, died in 1984, employees lamented that the restaurant no longer attracted a rich and famous clientele, though the bar lingered on until Donald Trump purchased the hotel, declared that Vic's had "gotten tacky", and shuttered it in 1993. Tiki-philes still haven't forgiven him for this mortal sin.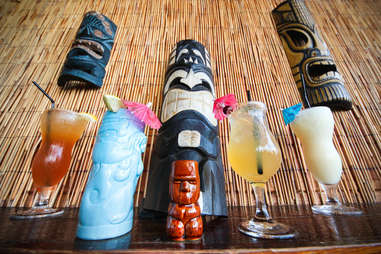 SECOND-WAVE TIKI (2010-2013)
The cocktail revival came first; the Tiki revival followed.
Though throwback cocktail bars became more plentiful in New York's early aughts, Tiki was nowhere to be found in New York's core. Jerry Thomas had overtaken Trader Vic's as the cocktail shaman of the people. Otto's Shrunken Head nobly carried the Tiki torch (sorry), though it's really more of a punk bar that happens to serve Singapore Slings in appropriately ridiculous mugs. It was akin to calling an awesome greasy spoon a BBQ joint just because they have ribs.
But the love for the culture continued, just in a less commoditized way. Enthusiasts like Adam "Tiki Adam" Kolesar and Joe and Nicole Desmond built elaborate Tiki shrines in their own homes. Desmond's private Rhum Rhum Room was even sometimes mistaken for a hidden speakeasy.
Those with a hankering to see a glimmer of New York's once-prominent Tiki scene might have even hopped on the Suburban Tiki Safari, a bus tour offered as part of the Manhattan Cocktail Classic from 2012-2014. Led by Kolesar and Miller, in 2014, the safari escorted revelers to Jade Island (Staten Island), Chan's Dragon Inn (Ridgefield, NJ), Lee's Hawaiian Islander (Lyndhurst, NJ), and King Yum (Queens).
"Do you know how long it takes to make velvet falernum?"

But even those who fought the Tiki fight and attempted to create faithful Polynesian cocktails were thwarted by the often long lists of obscure, then impossible-to-get ingredients.
"Do you know how long it takes to make velvet falernum?" sighs Kolesar, who set off on his personal cocktail adventure after taking a punch-making class with veteran mixologist Dale DeGroff in 2002. He went on to found his own line of syrups, Orgeat Works, laying the ingredient groundwork for yet another boom. A number of other purveyors have since made it easy for bars to purchase "lost" Tiki staples, including Haus Alpenz (allspice dram!) and B.G. Reynolds, a line of cocktail syrups made in Portland, OR.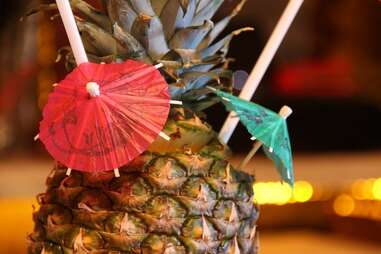 And just like that, it was suddenly back in Manhattan, for real. Raucous, scorpion-bowling PKNY (née Painkiller) opened its doors first, at the corner of Grand and Essex, in the Summer of 2010. The drinks were full of flames, and the narrow space was packed with cheerful, rum-filled revelers. For many New York drinkers, it was their first proper introduction to Tiki drinks made at a supremely high level. PKNY commanded tremendous media attention, and it seemed that a Hawaiian-print gauntlet had been thrown down: no more bad Tiki drinks.
Compared to the gritty PKNY, Lani Kai -- which opened that Fall -- was smooth and polished, a two-tier space on the Western edge of SoHo. Further shifting the geographic balance from Tiki tourist-trap Midtown to a hipper Downtown presence, it differentiated itself with a full kitchen and all the finesse of veteran owner Julie Reiner. From the beginning, Reiner insisted that Lani Kai was Polynesian-inspired, and that it shouldn't be pigeonholed as a Tiki bar.
"I grew up in Hawaii, and always wanted to do a modern tropical cocktail bar, like the way the homes and hotels are in Hawaii," she remembers. "I wanted to utilize the tropical elements of the island, but in a more modern way. While I love Tiki and Tiki cocktails, I was looking to do something different."
The Hurricane Club, a colonial-cum-Disneyland vision of Tiki, also opened that Fall at the corner of Park Ave and 26th St. Even though it wasn't respected in some cocktail circles -- the crowd leaned to bachelorette parties in tiaras and wolfish packs of off-duty stockbrokers -- it was still a sanctuary to grab a stiff Mai Tai after work, surrounded by oversized palm fronds.
IT'S ALL OVER, AGAIN
Almost as soon as the Tiki wave crested once more, it crashed.
Lani Kai was the first to leave the party, closing in 2012. PKNY followed in the Summer of 2013, and The Hurricane Club lingered on until late that year. Just as New York's Tiki scene evaporated, the drinking genre showed renewed signs of life in other cities: Three Dots and a Dash in Chicago; Smuggler's Cove in San Francisco; Jeff "Beachbum" Berry's forthcoming Latitude 29 in New Orleans.
"... New Yorkers may be 'too uptight' to give over to the joys of true Tiki escapism..."

Why didn't the city's nouveau Tiki palaces stick around longer? Like most New York stories, it all comes down to real estate.
PKNY had its share of bitter times behind the scenes, including a ridiculous lawsuit from Pusser's Rum asserting that it had trademarked the recipe for a Painkiller cocktail in 1989, which resulted in a name change from Painkiller to PKNY. In the end, though, it was simple: the lease at the Essex Street space was not renewed.
"Had it been, we would have gone on for another 10 years," former owner Richie Boccato vows, "but perhaps in a different direction."
Across town at Lani Kai, it was more of the same.
"In hindsight, we should have done a different location and a smaller space," Reiner laments. Though the bar was popular and the cocktails received glowing press, Lani Kai never gained the necessary traction as a dining destination to make the space work.
In the end, almost everyone I spoke with for this article concluded that Tiki's second wave ended due to purely circumstantial reasons -- primarily rent and other real estate issues -- rather than a lack of demand or enthusiasm for Tiki cocktails and culture. (The one exception: Boccato, who surmised that New Yorkers may be "too uptight" to give over to the joys of true Tiki escapism.)
In the end, perhaps "no bar can afford to be so narrowly focused in NYC," says the Rhum Rhum Room's Desmond. "Sky-high rents, significant pre-opening costs, and extraordinarily stiff competition make opening any type of high-end bar a very risky proposition in NYC." And a specialization like Tiki is "difficult to sustain for any extended period of time."
Brian Miller thrives on reviving Tiki for short periods of time.
After Lani Kai closed, the self-described "Tiki derelict" held his rum-fests at Goldbar for a while, then at Mother's Ruin in Nolita. Apartment 13 hosted only two Tiki Mondays full of "a little eyeliner, war paint, and men in sarongs thrown in for good measure", before its own closing. For now, the series is "in dry dock", but Miller recently announced it will sail once more come September. "I can't give out the location at this moment," he said, "but get ready."
And there are others.
On Sundays, Lani Kai vet Ryan "Corporal Captain" Liloia makes Tiki drinks at Clover Club -- although that night swings more towards the cocktail purist rather than someone in it strictly for the kitsch factor. On the second Wednesday of each month, Natalie Jacob (formerly of Lani Kai and Painkiller, and currently with Boccato's Dutch Kills), hosts a Tiki night at Ba'sik in Williamsburg, dressing up the bar for the night with leis and island-themed decor.
"We'll set stuff on fire..."

Joining them is Tiki Takeover at Prime Meats in Carroll Gardens, a once-a-month Thursday night affair hosted by Garret Richard, an alum of Reiner's Monkey Bar as well as Tiki Mondays. A hand-illustrated menu at the first festivity highlighted seven cocktails loaded with garnishes like syringes and gummy sharks.
There are two weekly games left in town -- the newly launched Tiki Tuesdays, which is more alliterative than Miller's to-dos and goes down at the East Village's Jeepney, plus a Thursday night throwdown at Red Hook's Fort Defiance, where Bar Manager Zac Overman hosts "The Sunken Harbor Club" (just look for the torches out front). What started as a "really mellow" night now serves White Zombies: 5oz of booze spread between white rum, Pisco, Navy-strength gin, maraschino liqueur, absinthe, passion fruit, falernum… one per customer! "We'll set stuff on fire," he promises.
But will Tiki ever regain a permanent, rum-soaked home in New York?
"I think there's still room for a place that is Tiki," Reiner insists. "I've even been been trying to push Brian [Miller] to open one. If anyone should have a Tiki bar, it's Brian… he lives, eats, and breathes it. He made it cool again."
And what does Captain Miller have to say about all this? Only what he told me when I reached him during a recent Caribbean rum expedition:
"TIKI IS NOT A FUCKING FAD. WE ARE NOT GOING ANYWHERE. DEAL WITH IT."
The caps were all his. Pirate.