There are certain NYC bar bathrooms that are so gross, they can rip you out of any cocktail-infused haze. Like, so completely disgusting that you may as well just hold whatever's in you until you get home. But make no mistake, these bathrooms don't make us love the bars any less -- in fact, in some cases, it's almost a badge of honor to have a gross bathroom (looking at you, Double Down Saloon).
Behold, the nine bathrooms that fit this mold. (And also probably have real mold.)

Welcome to the Johnson's
Lower East Side
Has a bathroom EVER been this tiny? Is it some sort of trick? Also, the graffiti-covered bathroom doesn't lock, but almost everyone in Welcome to the Johnson's knows this, so it's pretty unlikely that anyone's going to be walking in on you. Plus, you'll probably exceed lightening speed to get in and out of here.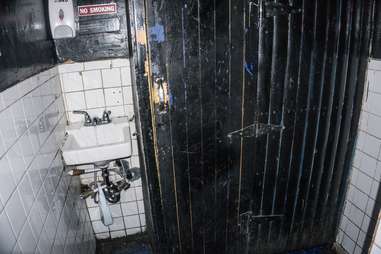 Metropolitan Bar
Williamsburg
This sink is quite possibly the only sink in recorded history that's guaranteed to make your hands dirtier, but are you really going to care? No, it's typically so dark you won't even be able to notice!
McSorley's
Bowery
McSorley's is the bar equivalent of your 90-year-old grandfather who just gives zero fucks, and that's exactly why we love it. It's been around since the 19th century.... do you honestly expect it to have a clean bathroom?
Double Down Saloon
Alphabet City
If any bar wears its gross bathroom like a badge of honor it's this beloved punk dive. Everything in this back-alley reminiscent bathroom is filthy and covered in stickers/graffiti -- except the actual toilet, which is strangely impeccably clean.
Botanica
SoHo
This teeny space not only ensures a knocked elbow (or head, depending on how many G&Ts you've had) on the sink, but there's the added risk factor of the door opening, considering the bathrooms are smack dab in the middle of the joint.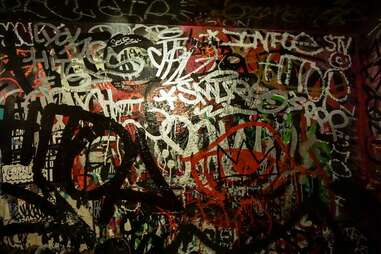 Iggy's Keltic Lounge
Lower East Side
The men's bathroom lock is notoriously untrustworthy, and in true dive bar fashion, there's graffiti EVERYWHERE... like, good luck finding that hand dryer, because this is camouflage like you've never seen before. It should probably be in MOMA.
Union Pool
Williamsburg
Union Pool's bathrooms actually look pretty decent upon first glance, but, just like an actual pool, people just pee everywhere in here and expect no one to notice. Dear patrons of the Union Pool bathroom: everyone knows!! Stop peeing in our pool!!
Doc Holliday's
East Village
Honestly, this bathroom is great. You're at Doc Holliday's for the dingy, dirty vibe to begin with, and this bathroom just owns it with lots of graffiti, almost no toilet paper whatsoever, and, again, some really shockingly clean toilets.
T.G.I. Friday's in Penn Station
Midtown
This entire place is kind of where dreams go to die, but the bathroom is the sticky, grimy, toilet-paper-always-hanging-off-the-toilet pinnacle in this seventh circle of hell.
Sign up here for our daily NYC email and be the first to get all the food/drink/fun New York has to offer.

Liz Newman is a freelance writer for Thrillist and has actually used the facilities at that T.G.I. Friday's twice out of sheer desperation. She doesn't want to talk about it. Follow her on Twitter and Instagram at @lizn813.