Just like everyone else who isn't Powder, you love drinking outside. And while there are an abundance of completely legitimate spots to Corona at, we decided to bring you just the best. Here they are, the top seven -- some stalwarts, and some sneaky spots you likely never considered, ranked from 7 to 1.
7. The Cannibal
113 E 29th St; Murray Hill; 212.686.5480
Scoring major points for boasting the strongest beer program of anything on the list (hard-to-find bottles, beer cocktails, great Summer beers), a ton of great food options, and a blissfully catatonic laid-back vibe, the only reason it's not higher is because of its Murray Hill adjacency, its relatively small size, its Murray Hill adjacency, the lack of any real view, and its Murray Hill adjacency.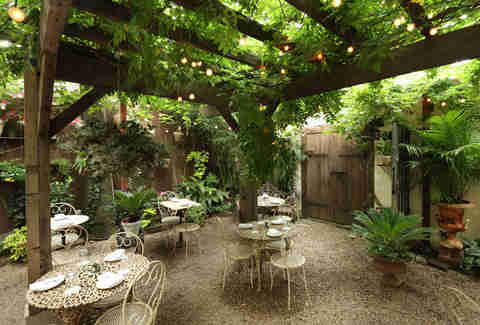 6. Maison Premiere
298 Bedford Ave; Brooklyn; 347.335.0446
MP's got an unbeatable array of cocktails and oysters, plus their lush vegetation provides a transporting experience. It only loses points for being difficult to get to (and yet somehow still slightly too crowded) for the essential post-work outdoor drink session.
5. The Boat Basin
W 79th St; Upper West Side; 212.496.5542
The only time on this list you'll have to go far uptown, the Basin is a veritable rite of passage for any recent college grad in the city, but, even if you're not there to pick up girls in sundresses (though maybe you should be), you can almost always stake out some real estate and have a great night talking about how many boats you would own if you didn't pay NY rent.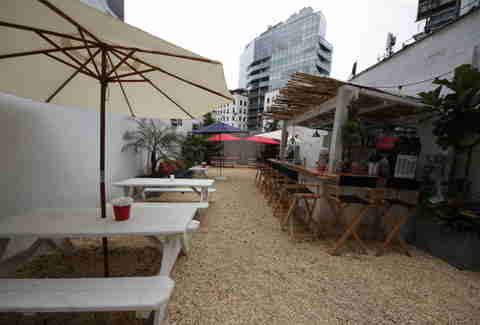 4. Gilligan's at the Soho Grand Hotel
310 W Broadway; Soho; 212.965.3000
Slipping spots mostly for being relatively unproven, Gilligan's at the Soho Grand has got everything you want in a beach bar that's not actually at the beach: sneaky-strong pitchers of frozen cocktails, a crowd that's much more attractive than your normal friends, and wood-fired feasts to bolster the stomach.
3. Berry Park
4 Berry St; Brooklyn; 718.782.2829
Although on a nice day the rooftop can get pretty intense, it's hard to not love giant German beers, pretzels, and the best view of the NYC skyline you're likely to find while taking down either.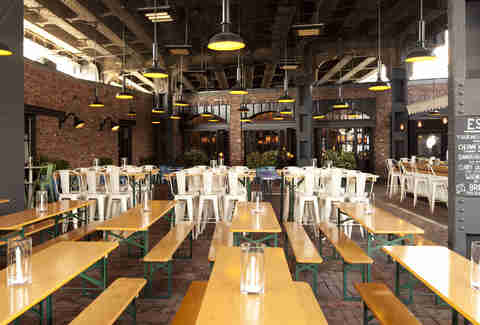 2. The Standard Biergarten
848 Washington St, Meatpacking; 212.645.4646
The only thing that holds this place back at all is the line, and even that isn't terrible if you're not in a rush. High Line proximity, tons of space, non-drinking activities like ping pong tables, and a great (and occasionally wild) crowd make the Garten of Bier our #2 pick.
1. Frying Pan
Pier 66a 26th St; Chelsea; 212.989.6363
So it's not a patio. Who cares. The Frying Pan scoops the top spot for actually being on the water in a way that no other NYC spot can replicate, a burger that's actually really good, amazing sunset views, and a magical way of making you drink at least billion buckets of Corona. Who cares if you still feel like you're rocking in the water come morning.