You know when you're at a bar in NYC and think to yourself, "hmm not enough swords"? I know, all the time. Well fear not, because a brand new bar in Long Island City has you covered on all your weaponry needs. Meet The Baroness, a cozy drinking den dreamed up by husband-and-wife bar-openingduo Melanie Lemieux and Kyle Radzyminski. Why's it cool? They open Champagne with giant-ass sabers.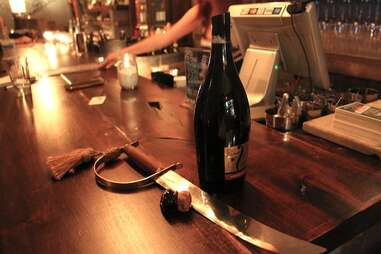 Originally from Montreal, Lemieux (who's a trained sommelier) admits a serious love affair with 19th century French tradition, which explains 1) where The Baroness gets her name (trendy Feudalism!), and 2) why she's into the whole sabering thing -- swording bottles first got popular back in Napoleon's day, mostly because sabers were the weapon of choice for his light cavalry (no, thank you, Wikipedia).
All the bartenders here are skilled in the art of sabering, and if you order a bottle of Champagne, they're happy to pass on the tradition to you.
Inside, you'll find tons of reclaimed materials from the neighborhood (the shelves behind the bar are old joists from a demolished building nearby), plenty of booze options (the menu's got wines, craft beers, and bubbly), and munchies like cheese (from Murray's!), charcuterie, and flatbreads. Pro-tip: get the Som' Bitch, topped with the house-spicy-sauce, mozzarella, chorizo, and ham. It lives up to its name.
Also cool: The Baroness -- which's one of the few bars on the Long Island City/Astoria border -- plays a slew of movies on a screen on the back wall, with films ranging from Charlie Chaplin classics to National Lampoon's Christmas Vacation.
And finally, you've now been warned: if you're headed there on a Saturday night, they host a competition called "So You Think You Can Sing".