The most American tattoo in Ontario
How does a Nashville singer-songwriter spend the 4th of July in New York? If it's Rayland Baxter -- son of Bucky Baxter, a pedal steel legend who's played with everyone from Bob Dylan to Ryan Adams -- he starts the day getting an outline of the American Flag inked on his forearm by the Brooklyn outpost of Asylum Tattoo Studios, then ends it stumbling into Ontario, a welcoming Grand Street dive that, according to one regular, serves as a hangout for approximately six actual Canadians.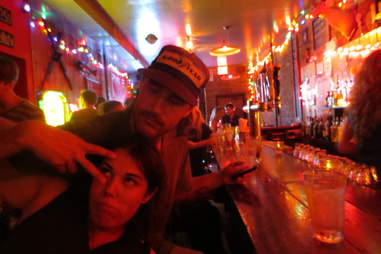 Rayland took an unusual route to becoming a Nashville songwriter sitting at a Canadian bar in Brooklyn: he played D1 lacrosse at Loyola, but tore up his knees, preventing him from signing a lucrative contract with MLL (Major League Lacrosse, obviously). He never considered becoming a professional musician until his dad heard him whistling to a Polyphonic Spree song, and complimented him on his sense of melody. Then he honed his sound playing in a barn during an extended visit with a family friend in Israel. Who even knew they had barns in Israel?
While Ontario offers three Canadian beers (Labatt Blue, Molsen, and Moosehead), Rayland stuck with a beer more suited to our nation's birthday. "I feel intensely American when I drink High Life. It's also the cheapest drink here." Not that he's jingoistic: "With every High Life comes a shot of Canadian Club. I'm one foot in, one foot back in the motherland."
Rayland's influences include Dylan and the late, great Townes Van Zandt, but he also professes a soft spot for Canucks Bob and Doug McKenzie (a.k.a., Rick Moranis and Dave Thomas), whose album hangs on Ontario's wall: "Well, we go way back. Used to buy hash from their cousin back in Antagonism County, Nova Scotia. Two looneys for a weekend's worth, then we'd hit the poker run with Ralph's four wheelers, get cocked on Canadian brown water till midnight, head out on the lobster boat and pull in a string of mackerel. Life was great then, and that album was always spinning back at the rabbicat shack. I lost my virginity to a Canadian."

And of course there's nothing more American than that.