New York City's fling with summer started early this year, and it shows no signs of cooling. Before the solstice even rolled around, signs of the season set in: the mercury rose, the layers came off, and folks everywhere started following the scent of frosés, margaritas, negronis, mojitos, and icy beer to rooftops all around town. 
When the sun is out, and the days are long, only high-altitude imbibing will do. Fortunately, NYC abouns with places to enjoy sky-high libations with the wind in your hair and the skyline in your 'gram. These are the best spots to sip or swig in the great updoors this summer. 
Tribeca
It's not always easy to get into the rooftop bar at Tribeca's James Hotel (bouncer, clipboard, all that), but it's worth a try -- and often enough, you'll be welcomed to the covered 18th floor rooftop to indulge in $19 grilled pineapple mojitos on a bench near the pool. Every seat in the house offers panoramic skyline views, and you'll be tempted to take a dip on sticky nights.
Flushing
When its balcony doors swing open, Leaf transforms from cozy cocktail den to breezy hangout. Find your place in the sun on the sofa-lined deck, or head straight to the bar for refreshing craft cocktails like the Cho Cho Dan, made with butterfly pea blossom infused gin, amaretto, oolong tea syrup, and lemon juice. Visit from 5-7pm daily for $9 cocktail specials, $7 house wine, and $5 draft beer.
Midtown West
Spending time near Herald Square may strike you as an inadvisable, wrong, and bad choice, but this 30th-floor bar elevates you out of the Midtown chaos to a 360-degree view of Manhattan and the Hudson River. Though the rooftop stays open past midnight, plan to visit at sunset for the best westward facing views and #nofilter selfie opportunities. Cocktails are neither cheap, nor spectacular (stick to beer), but the location is perfect to delay your commute and soak up some long summer day rays.
Midtown West
Though a meal at the Rainbow Room may be out of your budget, the iconic venue's neighboring cocktail bar will fill you with New York nostalgia without the massive price tag (or at least, a slightly less massive one). The views of Central Park, Midtown Manhattan, and Downtown are almost worth the price of drinks (a gin and tonic will definitely set you back $20). Enjoy it all indoors when it's too hot outside to move, or spring for the $85 per person minimum for an outdoor spot when you're feeling flush on a cooler night.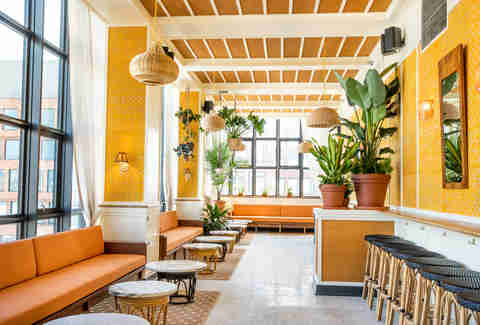 Williamsburg
Williamsburgians pining for views of Manhattan should head up to Lemon's, the scene-y Wythe Hotel's rooftop bar, which gets crowded quick on weekend nights. Up top, you'll find skyline views, DJ sets, and plenty of cold cocktails. This summer's offerings include half-a-dozen $16 spritzers like the perky Lemon's Squeeze, made with vodka or gin, Luxardo bitter bianco, lavender, club soda, and -- you guessed it -- lemon.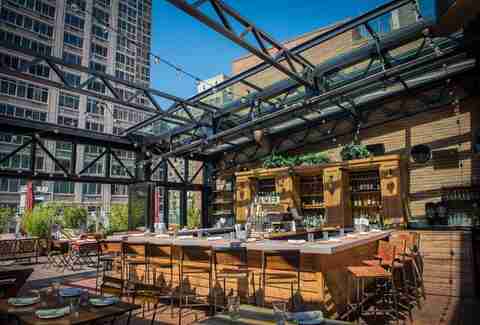 Midtown West
Exposed brick walls and industrial-style furniture allegedly paying homage to the Garment District's history welcome you to the retractable glass-covered rooftop at the Refinery Hotel. There are plenty of small bites, but you're really here for the Empire State Building views and the drinks, which you can order by the four-serving caddy. Pick from their takes on the standards, like the martini thyme, yuzu margarita, and coco Old Fashioned.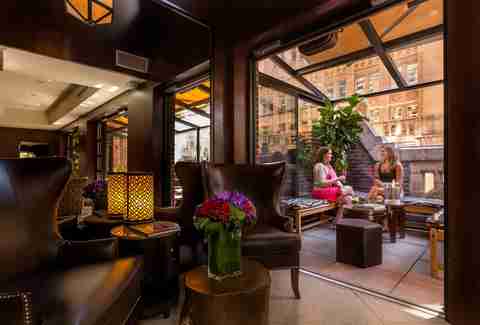 Midtown East
Just a short walk from the New York Public Library, Bookmarks is a literary oasis where you can toast to a day of reading (or taking advantage of the NYPL's free Wi-Fi) on a roof filled with bookish drinkers. Sunlight pours in during the day, and the place stays quiet even after rush hour, so you can discuss that riveting New Yorker feature with whomever you're trying to impress in peace.
Long Island City
You'll have to leave Manhattan for some of the best city views. This Queens clubsteraunt offers sweeping views of the east side skyline and the 59th Street Bridge. The 9,500-square-foot lounge doesn't really attract the commuter crowd native to Midtown rooftops, but rather Queensians visiting from all over the borough (who aren't always immune to the temptations of a sushi boat and bottle service).
Lower East Side
This 15th-floor lounge plays to the Lower East Side going-out crowd with cocktails carbonated and bottled in­-house, punches made with small-batch spirits, and Irving Roasters coffee to keep partiers awake throughout the night. Enjoy swimsuit weather by the pool with a side of fries, flatbread, or kale Caesar salad (naturally).
Williamsburg
Located high up on the 21st floor of Williamsburg's The William Vale hotel, Westlight is home to some pretty spectacular city views, in addition to fancy cocktails and equally fancy bar bites from Chef Andrew Carmellini. Sip on tipples in the tiki, spritz, highball, martini, and daiquiri, variety, and step outside for semi-ironic Top of the Rock-style standing binoculars.
Flatiron
Expect to meet plenty of tourists at this indoor penthouse/rooftop garden. The place fills up fast, and, like most rooftops, it skews spendy, so swing by on weekdays from 4-7pm for $7 beers, $8 wines, and $9 well cocktails.
Sign up here for our daily NYC email and be the first to get all the food/drink/fun New York has to offer.