The calendar says it's time for the sun to shine, for flowers to bloom, and for New Yorkers to get outside again. But New York City weather doesn't always agree with spring's technical arrival. We all want to put our coats away, break out the open-toed shoes, and bask on rooftop bars, but we've still got to be patient and ease into it.
Still, high-altitude imbining calls out. Fortunately, there are plenty of places to enjoy elevated drinks regardless of the temperature outside. These are the best places to sip or swig in the great updoors whether the season is lion or lamb-like.
Recommended Video
This Service Ships You Food From ANYWHERE in the Country in Just 24 Hours!
Tribeca
It's not always easy to get into the rooftop bar at Tribeca's James Hotel (bouncer, clipboard, all that), but it's worth a try -- and often enough, you'll be welcomed to the covered 18th floor rooftop to indulge in $19 grilled pineapple mojitos on a velvet sofa. Every seat in the house offers panoramic skyline views, and you'll want to cozy up to the fireplace on cooler nights.
Flushing
When its balcony doors close, Leaf transforms from breezy hangout to cozy cocktail den. Curl up on a tufted leather sofa in the appropriately foliage-filled interior, or head straight to the bar for Asian-inspired craft cocktails like The ChengDude, made with High West double rye, Montenegro amaro, Campari, and house Szechuan peppercorn syrup. Visit from 5-8pm daily for $8 wine and cocktail specials, and $5 draft beer.
Midtown West
Spending time near Herald Square may strike you as an inadvisable, wrong, and bad choice, but this 30th-floor bar elevates you out of the Midtown chaos to a 360-degree view of Manhattan and the Hudson River. Though the indoor rooftop stays open past midnight, plan to visit at sunset for the best westward facing views and #nofilter selfie opportunities. Cocktails are neither cheap, nor spectacular (stick to beer), but the location is perfect to delay your commute and hunker down on a rainy work day.
Midtown West
Though a meal at the Rainbow Room may be out of your budget, the iconic venue's neighboring cocktail bar will fill you with New York nostalgia without the massive price tag (or at least, a slightly less massive one). The views of Central Park, Midtown Manhattan, and Downtown are almost worth the price of drinks (a gin and tonic will definitely set you back $20). Enjoy it all indoors, while still pressing your iPhone against the floor-to-ceiling windows for the perfect Instagram.
Williamsburg
Williamsburgians pining for views of Manhattan should head up to The Ides, the narrow rooftop bar at the scene-y Wythe Hotel, which fetches a line through the hotel lobby most nights. Up top, you'll find a glass-backed bar with bottles mimicking the skyline and plenty of Brooklyn wannabes sipping pricy cocktails. Gratuity is included in the $16-20 cocktails and if you want to skip the line, you can reserve a group spot for eight or more people and smugly enjoy your pass to the front.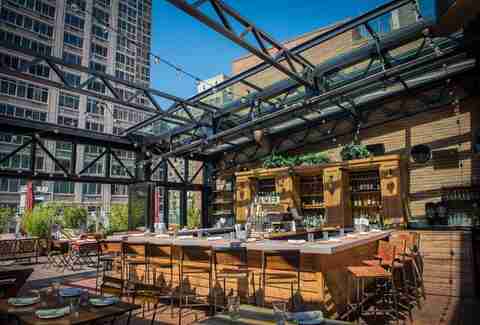 Midtown West
Exposed brick walls and industrial-style furniture allegedly paying homage to the Garment District's history welcome you to the retractable glass-covered rooftop at the Refinery Hotel. Note the looming Empire State Building above the often-rowdy bar, as well as the toasty fireplace (should you be lucky enough to earn a spot near the flames). There are plenty of small bites, but you're really here for the drinks, which you can order by the four-serving caddy. Pick from their takes on the standards, like the Bangkok mule, yuzu margarita, and exotic whiskey smash.
Midtown East
Just a short walk from the New York Public Library, Bookmarks is a literary oasis where you can toast to a day of reading (or taking advantage of the NYPL's free Wi-Fi) on a roof filled with bookish drinkers. Sunlight pours in during the day, and the place stays quiet even after rush hour, so you can discuss that riveting New Yorker feature with whomever you're trying to impress in peace.
Long Island City
You'll have to leave Manhattan for some of the best city views. This Queens clubsteraunt offers sweeping views of the east side skyline and the 59th Street Bridge. The 9,500-square-foot lounge doesn't really attract the commuter crowd native to Midtown rooftops, but rather Queensians visiting from all over the borough (who aren't always immune to the temptations of a sushi boat and bottle service).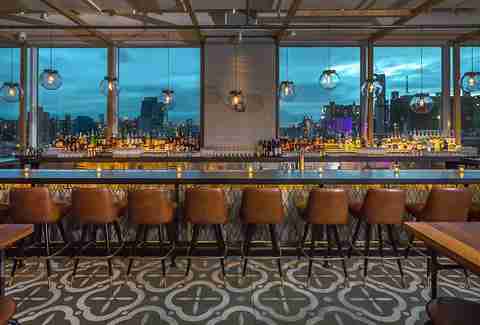 Lower East Side
This 15th-floor lounge plays to the Lower East Side going-out crowd with cocktails carbonated and bottled in­-house, punches made with small-batch spirits, and Irving Roasters coffee to keep partiers awake throughout the night. When it's not pool weather, views are best enjoyed on the indoor chaise lounges, banquettes, and high-top communal tables, where you can also order grilled cheese, franks in a blanket, or kale Caesar salad (naturally).
Williamsburg
Located high up on the 21st floor of Williamsburg's The William Vale hotel, Westlight is home to some pretty spectacular city views, in addition to fancy cocktails and equally fancy bar bites from Chef Andrew Carmellini. Sip on warming bourbon libations, stay warm inside on one of the upholstered loungers, or brave the outdoors for its semi-ironic Top of the Rock-style standing binoculars.
Flatiron
Expect to meet plenty of tourists at this indoor penthouse/partially heated outdoor roof deck. The space is adorned with artificial igloos that fit up to eight. The place fills up fast, and, like most rooftops, it skews spendy, so swing by on weekdays from 2-7pm for $6 beers, $7 wines, and $8 well cocktails.
Sign up here for our daily NYC email and be the first to get all the food/drink/fun New York has to offer.