SantaCon just hired a civil rights lawyer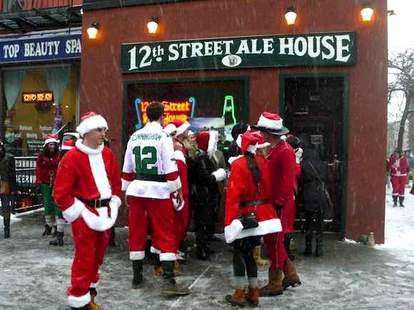 If you live in NYC then you know that SantaCon can be a giant assault to the eyes, ears, and innocence of people everywhere. It's a sea of people sloppily trouncing through the streets in disheveled Santa garb, puking on your sidewalks, peeing in public, and generally ruining your day. But did you know SantaCon is actually a matter of "civil rights"? Yeah, we didn't either.
After significant backlash against the seasonal pub crawl, SantaCon has decided to lawyer up, hiring civil rights attorney Norman Siegel -- the former director of the New York Civil Liberties Union -- to represent them against the unlawful oppression of one of the most debaucherous days of the year, and lay the groundwork for SantaCon to become a legit NYC tradition akin to the Halloween or St. Patricks's Day parades. We've reached out to SantaCon for comment and are still awaiting a response, but luckily a SantaCon organizer spoke to Gothamist on the condition of anonymity -- which is hilarious in and of itself -- and shared this pearl of white-bearded wisdom:
"With our numbers increasing it attracts a certain element that doesn't understand the ethics behind it. It's about art in public space, creativity, donning gay apparel and being festive."
So after being unwelcomed this year in Bushwick, East Village, and the Lower East Side, SantaCon began the #DontScroogeSantaCon social media campaign to try and promote good participant behavior and improve the event's suffering reputation. That's all well and good, but when your lawyer applies this quote: "People need to be able to express themselves and do it within the parameters of the First Amendment" to men dressed as Santa Claus getting handys at Duane Reade, you've pretty much jumped the shark.
SantaCon happens again this Saturday, December 13th.
Christine Fischer is a freelance writer dedicated to a strict diet of Champagne, cookies, and the occasional pizza. Follow her on Facebook and Instagram.