You have never been to a speakeasy. Unless you have a 100 year-old friend or relative, no one you know has ever been to a speakeasy. And, unless the liquor laws in New York City take a dramatic turn toward the puritanical, you will never go to a speakeasy. Alcohol is legal. You have been to speakeasy-themed bars. You have been to the adult equivalent of the Rainforest Cafe.
These bars are not hidden. They all have a web presence, a permanent brick-and-mortar location, and, most importantly, a liquor license. If the absence of a flickering neon sign with arrows pointing toward the entrance makes them "hard to find," we suggest you invest in a compass or at least open your smartphone's map app. None of this is anything to be ashamed of. In fact, it's something to be proud of. Prohibition, the nasty era from which speakeasies sprung, was a terrible moment in time.
Themes are nice and good. Categories are useful. When planning a night out, it helps to know whether you should prepare for a dive bar, cocktail spot, rooftop lounge, singles joint, dance hall, sports den, or pseudo-speakeasy. And, although the following bars are not speakeasies, they all share many qualities -- modestly obscured entrances, a paucity of signage, vaguely antiquated decor, novelty ice cubes, and old-fashioned cocktails -- that make them the best speakeasy facsimiles in NYC. Now put on your fedora, get in the Model T, and have a blast in the past.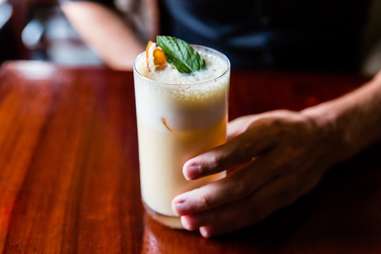 East Village
Named for the portion that evaporates during spirits' aging process, Angel's Share has been on the beaten path for decades. Yes, you must ascend a staircase, and cut through the adjacent Japanese restaurant to gain entry, but given the lines you'll endure most evenings, who would consider it a secret? The cocktails and ambiance are too divine to keep to yourself, anyway. Arrive early for a seat under the bar's ethereal mural, skip tempting selections from the inventive menu, and order a classic Prohibition throwback.
Lower East Side
Many venues inhabiting the pseudo-speakeasy space do so by virtue of what they do not have. Attaboy does not have a reservations ledger, obvious signage, a happy hour, or a menu. To visit, you'll need to arrive with your complete party (no more than six to a group), knock on the barely marked door (only an AB decal betrays what lies inside), brace yourself for a wait (put your name on the list and grab dinner nearby), and prepare to liquidate your assets (bespoke cocktail prices hover around $20.) Toast to your patience with libations crafted to your specifications in quintessential throwback environs.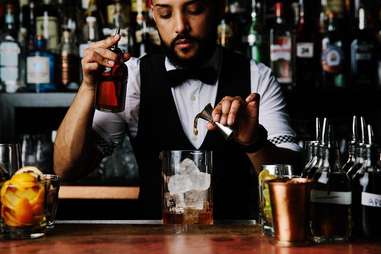 Chelsea
Hiding behind another business (Stone Street Coffee Company, in this case) is always a nice touch, but Bathtub Gin can't conceal the crowds waiting to win entry to its windowless barroom. Inside, tasseled lamp shades, damask-patterned booths, and occasional burlesque shows create a cartoonish Jazz Age aesthetic. Don your flapper garb, order a martini, and take a damn selfie in the bathtub that anchors the space, just like they did in olden times.
Astoria
After Dutch Kills was absorbed into the mainstream, and The Last Word shed its faux-hardware store facade, Astoria was left with a semi-secret-bar void. Subterranean neighbor to Uncle Jack's Meat House, Bootlegger Jack's fills the gap. The slickly-designed underground space is appointed with tufted sofas, flush-mount chandeliers, and a "fabulous" Insta-bait light bulb sign.
Brooklyn Heights
Everyone has a type. Some of us are seduced by an effortlessly cool incidental sexiness, and others are attracted to more obvious charms. Le Boudoir's appeal is of the latter variety -- it's the brick and mortar equivalent of red lipstick, a bodycon dress, and lucite heels. A host at neighborhood French favorite Chez Moi will point you downstairs, where you'll find a tactile lounge made of exposed brick and stone, textured wallpaper, leather banquettes, and crimson velvet upholstered booths. The cocktail menu, too, skews ornate, (the pisco-based New York to Lima boast six ingredients), but bartenders are equally adept at shaking up the basics.
West Village
Little Branch deserves better than the "speakeasy" misnomer that blights this city. If this one's hard to miss, you probably shouldn't be drinking -- the entrance is the only doorway on its West Village street corner. It's like the Bat-Signal for discerning imbibers. If you can manage to literally just cross the threshold, your ace detective work will be rewarded with the best possible version of any cocktail that's ever been invented, and even some that haven't been conceived of yet. Order your go-to and see what you've been missing, or play bartender's choice roulette -- everyone's a winner.
Upper West Side
This is your granddad's answer to the genre. Like most of its contemporaries, MCC has rules. Sure, they're the same unwritten rules you'd find in many regular bars (don't shout into your phone, don't be an unsolicited sleaze, don't slap anybody -- wow, the metaphorical bar is low!), but in the uptown hinterlands, the stakes seem higher. The second-story townhouse locale feels like your moneyed relative's living room. Enjoy your cocktails in moderation to stay in the will.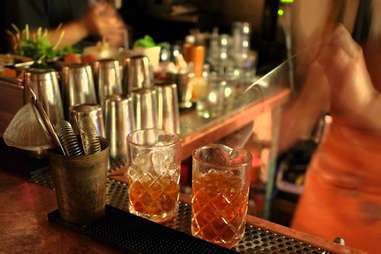 East Village
Am acronym for 'Please Don't Tell,' PDT has always been in on the "speakeasy" joke. And after 13 years in operation, everybody's been told: You enter through Crif Dogs -- a hotdog joint worth its own visit -- and slide into an adorable phone booth. Dial 1 on the rotary phone, and a disembodied voice on the other end of the line will tell you whether they have room, or, more likely, how long you'll have to wait. And you'll usually have to wait a while. It's cozy inside, plus people tend to linger over the highbrow/lowbrow seasonal cocktail and hot dog combos.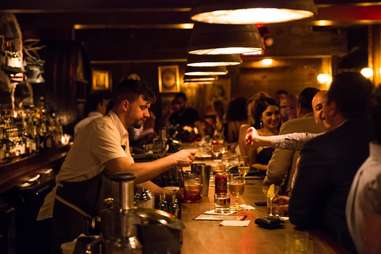 Soho
You could spend a whole day from brunch through dinner at Gran Tivoli without ever noticing that the best place for a nearby nightcap is right downstairs. Just below its big, bright, coastal Italian restaurant alter ego, Peppi's Cellar trades breezy, beachy vibes for dark wood, exposed brick, and theatrical lighting. There's plenty of space at the bar, plus a couple of cozy nooks for canoodling.
Upper East Side
Cigarette smoking? In this economy? A purple neon sign in sexy script invites Sugar East guests to "pucker up and blow" -- a Marlboro (or whatever), that is! This is the rare NYC bar of any kind where you can light up just like they did during the age of real speakeasies, before folks knew as much about the nasty habit's logical conclusion. Swinging 60s decor doesn't hark back to the jazz age, of course, but it carries the general throwback theme home. Most cocktails run $15-16, and you can snag a pack of smokes for $19 -- which might be enough to make you quit.
The Sea
Pseudo-speakeasies pull out all the stops to look like a locksmith, a graveyard, a tire fire -- anything but a bar, which is all they are. None will ever match the authenticity of the Staten Island Ferry, New York City's one true speakeasy. It's a boat. Board for free at Whitehall Terminal downtown, grab a beer from the concession booth, and settle in for unrivaled views of the Manhattan skyline, the New York Harbor, and the Statue of Liberty.
Sign up here for our daily NYC email and be the first to get all the food/drink/fun New York has to offer.