Some people come to Soho to shop, some come to be seen, and still others come to be seen while shopping. And everyone else, surrounded by all that, just needs a drink. Here are our favorite places to grab a drink in Soho after just being photographed by an entry-level street style blogger with 17 Tumblr followers.
Best bar for an under the radar burger: Fanelli Cafe
94 Prince St
Dim with dingy charm and the occasional dog panting in the window, you'd never know you were in Soho while in Fanelli's, when in fact you're just a few paces off Broadway. The burger is sincerely delicious -- the cheese melts into the onion bun rather than the meat, which at first seems unnatural but eventually makes all the sense in the world.
Best post-work Dark and Stormy: Lure Fishbar
142 Mercer St
Weather the work week in a vast sea of a-lure-ing professionals in a wave of invigorating Dark and Stormys at this fancy nautically-themed restaurant whose bar boasts a killer afterwork scene. Then try the finest crispy chicken club sandwich in human history, while ignoring the fact that a seafood restaurant serves the finest crispy chicken club sandwich in human history.
Best grilled cheese and liter beers: Houston Hall
222 W Houston St
There're five (five!) different grilled cheeses from Milk Truck and the huge steins can be filled with any of the custom-brewed ales and lagers on tap. The high ceilings and picnic tables remind me of a wood-laden sleepaway camp cafeteria, which is odd, considering I never went to sleepaway camp.
Best hotel bar for CLOSING DEALS: The Crosby Bar
79 Crosby St
Drinks at this fancy-funky hotel bar don't come cheap, but that's the price you pay for an ideal outdoor seating area on which to meet the first-round investors you're trying to sell on a Kickstarter for Kickstarters.
Best really, really, really effing old bar: Ear Inn
326 Spring St
The tavern has stood since 1817, but only got its current name in 1977, when the neon "BAR" sign was painted to read "EAR", after the music mag published on the second floor. Rumor has it that it's haunted by a sailor ghost named Mickey. And that's a great rumor, so we're going to keep spreading the word: it's definitely haunted by a sailor ghost named Mickey.
Best bar for wine on tap and an award-winning burger: B&B Winepub
25 West Houston
Chef Josh Capon has multiple Burger Bash wins at the New York Wine and Food Festival with his American cheese and onion-bacon jammed chef d'oeuvre burger. And although B&B has plenty of bottles, there's also a notable selection of wines on tap so you can taste a few before you choose one/all of them.
155 Varick Street
So guess what: they have wine. But what you may not know is that spacious City Winery also hosts excellent concerts, even if the acts are a little Baby Boomer-centric. If you're not a grown-up yet, the reserved table seating makes it easy to act like one.
15 Thompson St
Because no Soho bar round up would be complete without a ritzy hotel rooftop, here's Jimmy. The roof of the St. James comes complete with outrageous views, a stellar pool, a DJ who spins sweet '90s jams, and a general sense of superiority over all people in Ohio.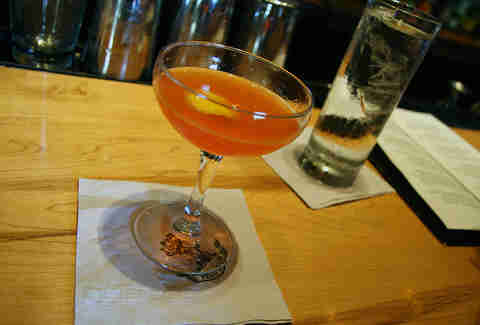 Best cocktail bar: Pegu Club
77 W Houston St
The original Pegu Club was a famous gentlemen's haunt built in Burma in the 1880s so British officers could drink gin. The Soho Pegu Club revived the classic potion culture -- big ice cubes, fresh juices, and always-homemade syrups -- and paved the way for the roughly seven billion craft cocktail bars that exist in Manhattan today. It's a city staple.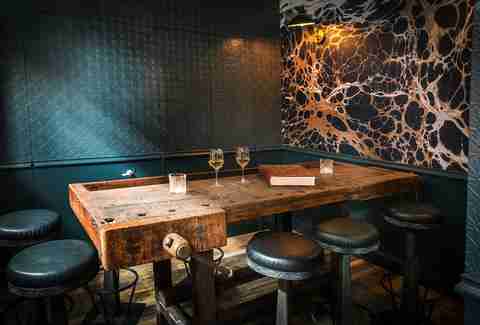 249 Centre St
The Franco-themed cafe's global wine list is absolutely colossal. Plus, the two-tops are Paris-small, which makes them perfect for Spanishing your date across the table. Wait. Frenching. That's it.
298 Lafayette St
The food is standard Irish pub fare, but it's really, really excellent Irish pub fare accompanied by solid stuff on tap and walls splashed with crazy-cool murals. It's a long-ass, bi-level bar, which means there's plenty of space for all kinds of people, just hopefully none of these 43 chumps.
363 W Broadway
A decades-old classic dive, Broome Street provides a quaint, rugged contrast to the swankiness of Soho. Get in here for a cheap beer and the inexplicably wrapped-in-a-pita-cheeseburger soon though, as the bar was recently sold off, and may not be around for much longer.


Carrie Dennis is an Associate Editor for Thrillist and likes to hit all these spots in one night. Follow her on Twitter @CarrrieDennnis.