Welcome to Gilligan's, the Soho Grand's outdoor ode to beach, booze & pizza
Summering in the Yard at Soho Grand, Gilligan's is a through-September pop-up delivering the feel of out East on West Broadway, thanks to pebble beaches, tropical plants, wood-fired grills, and a yacht-club-meets-tropical-resort vibe all cooked up by The Professor the team who brought you Montauk's Moby Dick's last Summer.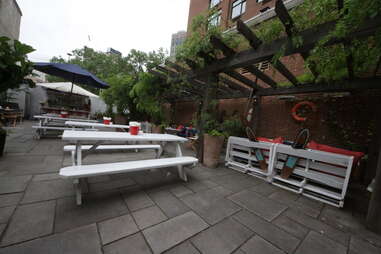 In addition to the pebble-laden, tropical-steez bar up top, there's also this Hamptons-y picnic-tabled trellis garden adorned with old-school waterskis, although luckily nothing here has jumped the shark.
Bar No. 3: a canopied space packed with mermaids, beachy director's chairs, and a chalkboard with the day's cocktails. All within two blocks of Holland Tunnel traffic!!
The cocktails are created by their mixologist from Dram and Donna in Williamsburg, and feature refreshing/ light flavors. To wit: their specialty, the Watermelon Margarita, which is dusted with a little cayenne sea salt, and packed with plenty of liquor "so you need to be careful". They also serve them in pitcher form. Be carefuler.
Beer's cans only, including beachy brands like Nantucket's Cisco Brewers. You actually get that hunk of watermelon.
And, if you've noticed the distinct smell of campfire, you're not crazy. Well, maybe you are, but they've got a wood-burning oven to forge pizzas with pork aged six months and herbs from their rooftop garden, as well as a rotisserie cranking out whole chickens conveniently broken down for optimal sharing. And you don't even have to worry about using that weird bathroom on the Jitney.