Because everything is fast in New York, and always needs to be faster, Starbucks has launched its first-ever "express" format coffee shop on Thursday -- right across the street from the New York Stock Exchange on Wall Street.
The tiny store, located at 14 Wall Street, is apparently streamlined for on-the-go coffee guzzlers who already know what they want so that they can get in and get the hell out. With just 538 square feet to work with, the coffee giant did away with its cafe seating areas and community spaces for the new format, which it describes as an "espresso shot" version of the typical Starbucks stores you'd find on every other corner. In fact, there is no seating at all and the menu has been condensed or "tailored for New York customers," and will rotate on a wall-mounted digital menu board. So basically, you probably aren't gettting that venti non-fat, add whip, add caramel, mocha frappuccino at this location.
In an effort to speed up the entire experience, customers will be greeted by a Starbucks employee right upon entering the store and take their order on a mobile device, then proceed to a counter to pay for and pick up their drinks, and finally, exit along the efficiently-designed caffeine conveyor belt so as not to disrupt the express flow. Starbucks said it plans to open four additional "express" stores in NYC in 2015.
Check out some photos of the new store here: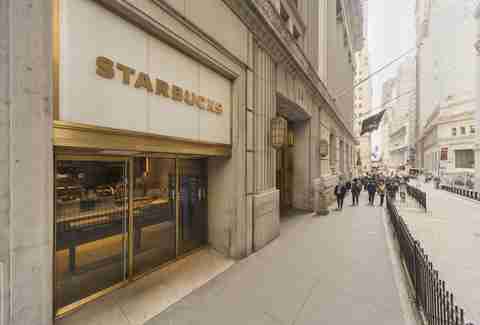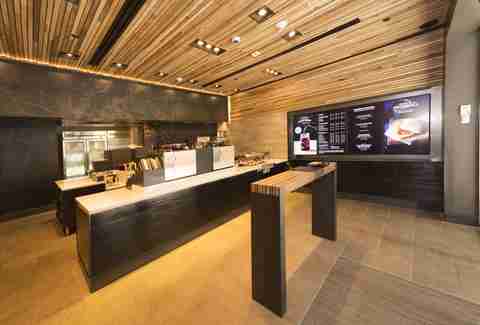 Tony Merevick is Cities News Editor at Thrillist and needs more coffee right about now. Send news tips to news@thrillist.com and follow him on Twitter @tonymerevick.